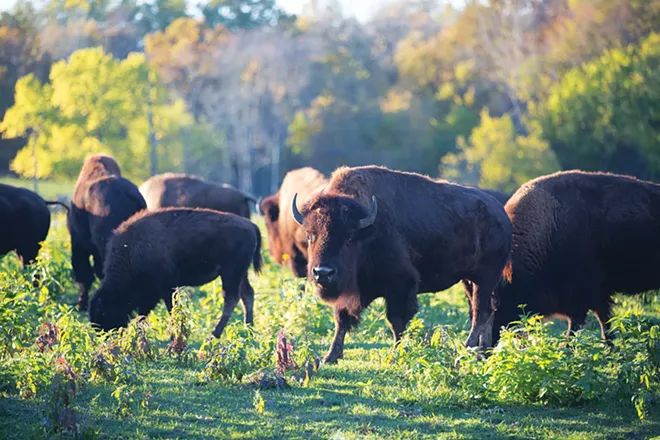 North. East. West. South. Any direction you head in Illinois, the NEWS is good for salvaging some summer adventures.
As the state awakens from its pandemic hibernation, tourism sites are opening and scheduling events for August and September – with precautions and caveats, of course – creating opportunities for daytrips and weekend destinations.
As Carol Hoffman of the Southernmost Illinois Tourism Bureau says, "People are eager to get on the road again this summer and fall, but their vacations are going to look a little different for a while." People are looking at close-to-home car trips and the chance to get outside, she explains.
Here is what some popular spots are offering, although be sure to check with the sites before heading out, in case new restrictions and closures occur.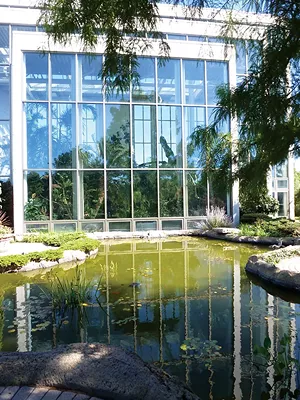 Quad Cities
While some of the Quad Cities' most popular attractions, such as the John Deere Pavilion in Moline and the Rock Island Arsenal Museum remain closed, plenty of other places make the area a good destination, according to Jessica Waytenick of Visit Quad Cities. A long list of events also are on tap for August and September in the cities straddling the Illinois-Iowa border, a 170-mile drive northwest of Springfield.
"Almost everything is open, but some with capacity restrictions," she says. "All of them ask you to practice social distancing if at all possible."
The Niabi Zoo in Coal Valley and the Quad City Botanical Center in Rock Island require reservations for timed entry and masks when indoors. The same is true for the Figge Art Museum in Davenport, the German American Heritage Center in Davenport, the Buffalo Bill Museum in LeClaire and the Putnam Museum and Science Center in Davenport. Visitors can cruise the Mississippi River on the Celebration Belle, Riverboat Twilight or Channel Cat Water Taxi.
Masks are encouraged at the Mississippi Valley Fair in Davenport Aug. 4-9 and the Beaux Arts Fair in Davenport Sept. 12-13. Participants in Floatzilla, Aug. 15 at the Sunset Marina in Rock Island, will attempt to break the world record for the largest flotilla of canoes and kayaks.
The Quad City Symphony Pops will perform at LeClaire Park Sept. 12, but you need advance tickets and a mask in common areas. East Davenport hosts the outdoor Riverssance Festival of Fine Arts with more than 100 fine artists in Lindsay Park Sept. 18-19.
For more information on attractions and events in the Quad Cities, go to visitquadcities.com.
Peoria
Seventy-two miles northwest of Springfield, Peoria highlights its location on the Illinois River with the Riverfront Museum full of displays on the waterway, history, athletics and art; planetarium; giant screen theater and discovery center for kids. The museum is open, but the next-door Caterpillar Visitors Center with its massive machines remains closed, according to MacKenzie Taylor of Discover Peoria.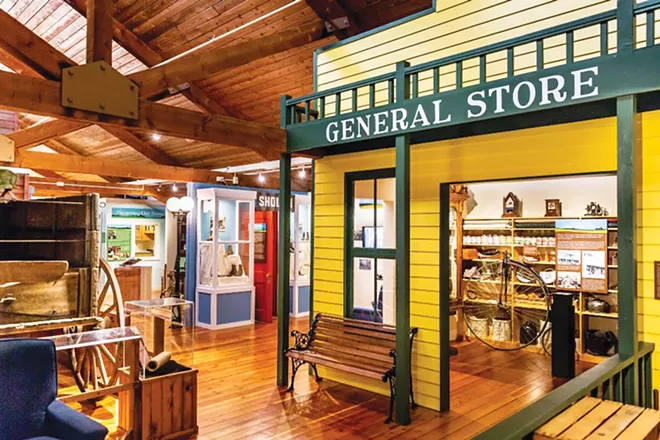 She says the Peoria Riverfront Market, with plenty of fresh produce, is operating every Saturday morning. Animal lovers can once again enjoy the Peoria Zoo in Glen Oak Park and 1,800-acre Wildlife Prairie Park, 10 miles outside the city. The wildlife park has 60 different species of animals that were or are native to the area, including black bears, cougars, wolves, elk and bison. You can stay overnight in a cabin, converted caboose or grain bin. Camping is also available.
The Spirit of Peoria riverboat on the waterfront is open for lunch, dinner, murder mystery and music cruises throughout August and September. Guests need to wear masks, wash their hands and try to stay six feet away from others.
Five Points Washington, across the river from Peoria, has a free concert series every Friday night for the summer.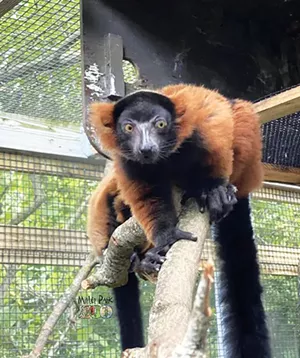 "Peoria is rich in outdoor travel options that are perfect for families and couples," JD Dalfonso, president and CEO of Discover Peoria, says. He recommends the new cabins at Wildlife Prairie Park, the 4.5-acre Luthy Botanical Gardens also in Glen Oak Park and riverfront walks downtown and in East Peoria as opportunities for safe, socially distanced travel.
Go to peoria.org for more information about area attractions and events.
Bloomington-Normal
The Miller Park Zoo, Comlara County Park, Moraine View State Recreation Area and a host of outdoor events in August and September make the Bloomington-Normal area a good choice for a day's outing.
Kelli Highland of the Bloomington-Normal Area Convention and Visitors Bureau says the David Davis Mansion is also open for indoor tours of 10 people at a time with masks required. The mansion is a state historic site and was home to a close associate of Abraham Lincoln.
Visitors to the zoo can stroll a one-way path to meet the newest addition, a baby red ruffed lemur, as well as snow leopards, a tiger, flamingos, wallabies, otters and an albino alligator. The zoo is open from 9:30 a.m. to 4:30 p.m. every day. Miller Park also offers walking paths, a small lake and plenty of picnic areas.
Highland says Comlara County Park is a great place to explore nature with more than 10 miles of trails for hikers, bikers and equestrians, plus campsites and the 900-acre Evergreen Lake for boating and fishing. You can rent canoes, kayaks, rowboats, paddleboats and 5-horsepower outboard motorboats. Fishing enthusiasts can try for hybrid walleye, muskie, crappie and bass. Several fishing piers, fully accessible docks and a bait shop can aid the catch.
Another natural area is Moraine View, 15 miles southeast of Bloomington. Its 158-acre Dawson Lake offers fishing, boating and swimming, and its 10 miles of trails appeal to hikers and horseback riders. You can rent small watercraft, picnic or camp overnight.
The Mackinaw Valley Vineyard, west of the twin cities, has live music every Saturday in August and the annual Grape Stomp and Harvest Festival on tap for Sept. 6. The 3rd Sunday Market, packed with antiques and collectibles, happens Aug. 16 at the Interstate Center in Bloomington. Uptown Normal will "Light the Night" on Sept. 3 and host a "Day of Play" on Sept. 26.
In nearby Lexington, the Castle Home and Garden Tour takes place Aug. 1 and Sept. 5 with advance tickets required. The site features a restored 1898 Queen Anne home, formal gardens, a miniature passenger train and 36-horse carousel.
For more information on the Bloomington-Normal area, go to visit BN.org. The cities are an easy 70-mile drive northeast of Springfield on I-55.
Champaign-Urbana
Head east on I-72 for 85 miles to take in some of the area's delights. Those include the Museum of the Grand Prairie in Mahomet, Curtis Orchard and Pumpkin Patch and the only International Dark Sky Park in Illinois. Other attractions such as the Krannert Art Museum, Krannert Center for the Performing Arts and the Spurlock Museum, all on the University of Illinois campus, hope to open sometime in August.
The Grand Prairie Museum alone is worth the drive if you like early Illinois history. Displays on Native Americans, pioneers, blacksmithing, one-room schooling and Abraham Lincoln fill the space. Visitors will need a reservation so they can distance themselves from others, but outside they can explore a small botanical garden, a covered bridge, fishing in Lake of the Woods and a golf course.
You can entertain the kids at Curtis Orchard near Savoy with apple picking, shopping in the store and outdoor dining at the café. The orchard remains open through apple and pumpkin harvest in the fall.
At the Middle Fork River Forest Preserve's 1,600 acres near Penfield you can picnic, camp and gaze at stars at the state's only Dark Sky Park.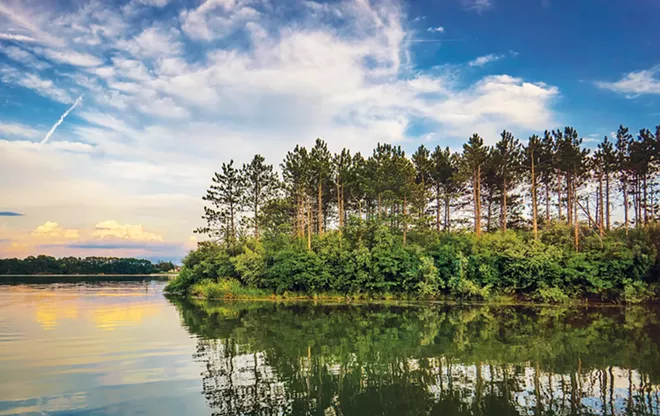 The Orpheum Children's Science Museum in downtown Champaign closed for good this summer, but the popular Hardy's Reindeer Ranch with gift shop and corn maze near Rantoul plans to open in early September.
Terri Reifsteck of Visit Champaign County says the Hot Rod Power Tour is currently still scheduled for Aug. 27 at the State Farm Center, but plans could change if the state's Phase Four reopening varies. Area farmers markets are operating with limitations and various outdoor venues continue to have live music.
For more information, go to visitchampaigncounty.org.
Quincy
On the banks of the Mississippi River in the far west region of Illinois, Quincy offers visitors free bicycles for two hours to explore the historic streets chock-full of architectural gems. You also can spot the work of various artists on colorful murals, part of a new Mural Find and Dine initiative.
Holly Cain of the See Quincy visitors bureau says the city is launching a Mid-Modern Architecture tour with 30 sites of both mid-century modern and art moderne structures highlighted. It is a self-guided outside look at private homes, businesses, the regional airport terminal and St. Boniface Catholic Church. The church features a 160-foot steel steeple and is considered one of Illinois' 150 most important structures.
The Moroccan-style Villa Kathrine with its indoor courtyard, tiled reflecting pool and perch above the Mississippi is open, as is the downtown History Museum with displays on Native Americans, Mormons and river explorers and the Quincy Museum in a restored 1890s mansion. If you don't feel comfortable being inside such places, you can enjoy the city's outside architecture and historic homes via a designated drive.
It is worth donning a mask for a stop at Underbrink's Bakery near the Quincy University campus to stock up on cookies, bread, pastries and the signature iced angel food cakes. Underbrink's was named the top Illinois bakery by Taste of Home in 2019. It has operated since 1929 and is home to the third-oldest Hobart mixer in the country. Go early before baked goods sell out; the doors close at 2:30 most days.
Cain says Quincy is working to have Oktoberfest on Oct. 10 and the Early Tin Dusters annual show of cars from 1949 and earlier on Oct. 16-18. Both events will feature various locations to spread out the crowds.
Quincy is 115 miles from Springfield. For information on attractions and events, go to seequincy.com.
Southern Illinois
The region is open for business with hiking in the Shawnee National Forest, wineries and festivals among the highlights, says Hoffman of the Southernmost Illinois Tourism Bureau. "During this time of social distancing, get close to your loved ones on a road trip to the Shawnee forest," she recommends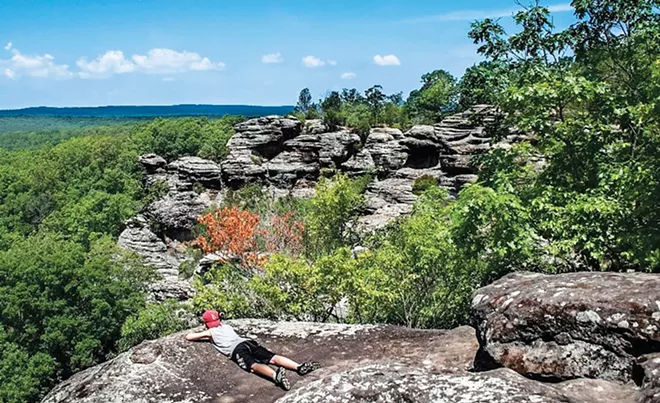 The forest covers 280,000 acres of varied vistas between the Mississippi and Ohio rivers in southern Illinois. Hiking trails are abundant, and bikers and water enthusiasts also will find plenty of places to explore. Because the area is 170-200 miles from Springfield, you may want to rent a cabin in the woods or pitch a tent in one of the campgrounds for a longer stay.
A particularly striking spot is the Garden of the Gods Recreation Area southeast of Harrisburg, one of the most photographed places in Illinois. The view from atop the bluffs looking over a canopy of trees is well worth the hike. The name is said to come from the area being fit for a deity.
Hoffman also recommends the Cache River Wetlands, designated as a wetlands of international importance. Visitors can walk, hike, bird watch or paddle a canoe or kayak and learn about tupelo-cypress swamps, hardwood trees, sandstone bluffs and limestone glades, she says. The 1.5-mile Heron Pond Trail features a floating boardwalk to the middle of a cypress grove and interpretive panels on the flora and fauna along the way.
"With its wooded hills and cypress swamps, it would be easy to mistake this magical place for Louisiana, rather than Illinois," Hoffman says of Illinois' "hidden bayou."
If you like road trips, the bureau suggests a 50-mile one on State Routes 127 and 146 and old U.S. 51. Along the way are the 111-foot-tall Bald Knob Cross near Alto Pass, the 5,000-acre Trail of Tears State Forest, the popular Giant City State Park with its iconic lodge and sandstone bluffs and several vineyards.
Most wineries on the Shawnee Hills Wine Trail are open with outside service, social distancing and limits on group size. Some still offer tastings but others are postponing that during the pandemic.
As for events, Hoffman says plans are moving forward for the Blessing of the Jeeps on Aug. 15 at Bald Knob, the Super City Brew Fest on Sept. 12 in Metropolis, Murphysboro's Apple Festival on Sept. 18-19 and the Makanda Mushroom Festival on Sept. 25-27.
For information on attractions and events, go to southernmostillinois.com.
Mary Bohlen of Springfield enjoys exploring what Illinois has to offer and writes about travel for Illinois Times.