Books with an Illinois or Springfield connection make great holiday gifts, whether you're looking for something for children, photographers, cooks, Lincoln buffs or sports enthusiasts. There are books that inspire, instruct and inform. There are ones that tell a story, and ones that take you on a trip back in time. Local book stores and museum shops offer a nice variety of Illinois on the printed page.

Local authors

Images of Modern America – Springfield, by Sangamon Valley curators Curtis Mann and Linda Garvert. Photos from the extensive archives of the Sangamon Valley Collection accompany text about places and culture of Springfield with chapters on Education, Tourism, Commerce, Entertainment and Civics. ($22.99)

The Abraham Lincoln Presidential Museum shop offers two books that were produced by the staff at the museum:
Gettysburg Replies – The World Responds to Abraham Lincoln's Gettysburg Address
In 2015, Carla Knorowski, CEO of the Abraham Lincoln Presidential Library Foundation, compiled selections of responses by notable people to the 272-word Gettysburg Address. The staff at the museum asked actors, poets, past presidents and others to write their own 272-word comment on the meaning of the Gettysburg Address. Included are responses by Supreme Court Judge Sandra Day O'Connor, presidents Jimmy Carter, George H.W. Bush and Bill Clinton and producers Ken Burns and Steven Spielberg to name a few. ($26.95)
Under Lincoln's Hat - 100 Objects that Tell the Story of his Life and Legacy Compiled
by James M. Cornelius and Carla Knorowski of the museum staff in 2016, the book offers a fun exploration of items that provide insight into Lincoln. They include a necklace of Tiffany diamonds he gave to his wife, Mary, his quill pen, a clock and the gloves in his pocket the night he was assassinated. ($24.00)

Corn Kings and One-Horse Thieves – A Plain-Spoken History of Mid-Illinois
by James Krohe Jr, longtime writer for Illinois Times. Krohe presents fun stories and fascinating facts about "mid-Illinois." An extensive index and a series of illustrations accompany the stories. The diverse topics include the influence of native Americans, the impact of people who settled and developed towns, and people who became known as "corn kings" and "cattle kings." There is so much history in this book. (SIU Press, 2017. $29.50)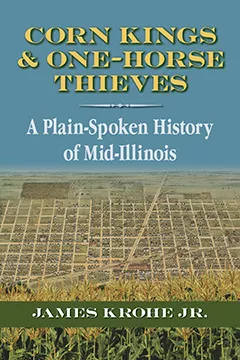 Cotton, Violins, and Shots in the Night – A Timeline Visit to Rochester, Illinois by Ray and Pam Bruzan, provides the history of decades in Rochester, with short vignettes about the people, places, businesses and development. Stories are funny and sad and sometimes unbelievable, but all interesting. ($28.00)

The Round Barn: A Biography of an American Farm. Vol. 4
by Jackie Jackson, longtime professor at the University of Illinois at Springfield, tells what farm life was like – showcasing aspects of her grandfather's farm. She had always promised she would write the story and calls it a "memoir of a farm," with funny, poignant and interesting accounts. ($24.95)
New from U of I Press

Chicago's Grand Midway – A Walk Around the World at the Columbian Exposition
by Norman Bolotin. The Dome Building from the 1893 Columbian Exposition in Chicago was dismantled and rebuilt at the Springfield fairgrounds. It became a popular spot for fairgoers for over 20 years. Built of glass with wooden beams, it caught fire and within 30 minutes burned to the ground in 1917. ($22.95)
For fans of the University of Illinois, there are several titles, including the
Orange, Blue and You Coloring Book
($9.95), the first adult coloring book of U of I campus sites.
An Illini Place – Building the U of I Campus,
by Lex Tate and John Franch, presents the development of the campus from its beginning in the 1860s, the buildings that were added and redesigned and people who helped build and expand the campus. ($16.50 for ebook)
Illini Legends, Lists and Lore
by Mike Pearson, now in its third edition, includes over 900 photos that chronicle the 130-year history of the school's varsity athletic teams. ($34.95)
Connections to Springfield
or places nearby
Pioneers in Illinois History
by Dale Fitzpatrick. The author and his 13 siblings grew up in Waverly. After his mother's death when a friend said, "Your mother was one of the last of the pioneers who built this country," Fitzpatrick was inspired to write the history of aspects of Illinois. He also shares information about his family. The book includes a timeline of Illinois history and information about all of the governors, compiled by Don Handy, formerly of Springfield. (Available on eBay for $14.95)

New Salem – A History of Lincoln's Alma Mater,
by Joseph M. DiCola, describes the towns founding fathers, residents and plat maps as well as Lincoln's life in the small village from 1831-1837. ($21.00)

For children
My Little Golden Book about Abraham Lincoln
introduces children to our 16th president, focusing on Lincoln's lifelong fight for what was right. The Abraham Lincoln Museum historian, Ian Hunt, receives thanks in the acknowledgments for his help in providing historical accuracy. (2016, $4.99)
I am Abraham Lincoln by Brad Meltzer teaches about the importance of standing up for people who can't stand up for themselves with the message that one "can never take away your voice," which certainly resonates in today's political world. Examples include young Lincoln stopping a group of boys who were harming a turtle and, as president, fighting to abolish slavery. (2014, $14.99)


Photography/ History/ Lincoln

A coffee-table book by Time Life, Lincoln
– An Intimate Portrait, covers Lincoln through pictures and a large selection of his portraits. The Springfield chapter showcases beautiful glossy photos of Lincoln's tomb and home. The text is written by well-known Lincoln historian Allen C. Guelzo. 2014, $40)
Try a fun and unique way to explore Lincoln in the book
Lincoln in 3-D – Amazing and Rare Stereoscopic Photographs of his Life and Times
by Bob Zeller and John J. Richter. The book comes with 3-D glasses that bring the fuzzy large photos to life. Various chapters focus on War, Mary, Gettysburg and Washington, D.C. (2010, $35)
A lovely book,
Abraham Lincoln Traveled This Way, The America Lincoln Knew,
with photos by Robert Shaw and narrative by Michael Burlingame, takes the reader to over 70 historical sites from Lincoln's life. These include Kentucky, where he was born, Illinois and Washington, D.C., with many other stops he made. ($36, available signed at the Abraham Lincoln Presidential Museum gift shop)
Lincoln in the Bardo
by George Saunders is a novel written in 2017 that won the Man Booker Prize. The novel takes place on one night in a graveyard in February 1862. Lincoln goes to the tomb of his son, trying to find solace. The book reads like a script of a play with the various voices, quotes from authors such as Elizabeth Keckley, a former slave who was Mary Todd's confidante, and Margaret Leech, author of Reveille in Washington 1860-1865. ($28.00)
Abraham Lincoln In the Kitchen – A Culinary View of Lincoln's Life and Times
by Rae Katherine Eighmey. Cooks may enjoy the paperback, now available, which takes the reader into the kitchen with 55 recipes that connect with Lincoln. Intriguing chapter headings such as "Eating Up Illinois Politics – BBQ, Biscuits, Burgoo" provides recipes of food that Lincoln would have eaten on the campaign trail. "Talking Turkey – Clues to Life in the Springfield Home" includes a recipe for "Forcemeat for stuffing turkey craw," simply a breadcrumb dressing. And "Courtship and Cake" includes Mary Todd Lincoln's famous almond cake. (2013, $14.95)

Cinda Klickna of Rochester taught high school English in Springfield and loves books.