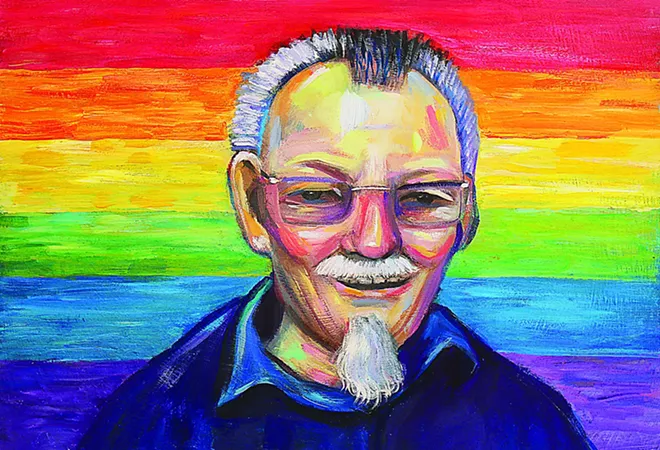 Harry Carlsen roasted a pig while his uncle, Buff Carmichael, sat in the backyard under a tent. A line of friends took turns greeting him. They wore masks and sat in distanced lawn chairs on a summer day in August. A rainbow windsock twirled nearby. A Black Lives Matter sign was planted in the lawn. Conversations lasted long into the night.
Carmichael sported a tight tank top, black with bright orange flames. The flames were reminiscent of some of his life's proudest work, Prairie Flame newspaper, downstate's premiere source for LGBTQ topics from 1996 to 2008.
The party in honor of Carmichael was organized by Carlsen and his wife, Lori, who is living with her uncle-in-law as his caretaker. It was one example of the legacy Carmichael, 73, has built. His life is dedicated to community building, policy change and visibility for the LGBTQ community. His influence on downstate is undeniable, the rippling effects of his work impossible to fully capture in scope.
Hailing from Texas, as is evident by his twangy accent, Carmichael repressed his sexuality well into his adult years. When he did come out, it was Carlsen's mother, Carmichael's sister, who stood by him. And later, when his nephew adopted a Black daughter, it was Carmichael who defied the family's racist roots and welcomed his new niece into the family wholeheartedly.
Carmichael has cancer that he's decided not to aggressively treat. He prefers to experience the end stages of life with his eyes wide open. He's free from hospital confines, which can be especially isolating given visitor restrictions during the pandemic. He's living at home where he can regularly visit with friends in the lawn or the breezeway. And he's planning for the future.
Carmichael is a member of the Abraham Lincoln Unitarian Universalist Congregation in Springfield. He's also part of an ongoing study group based on a book called A Course in Miracles.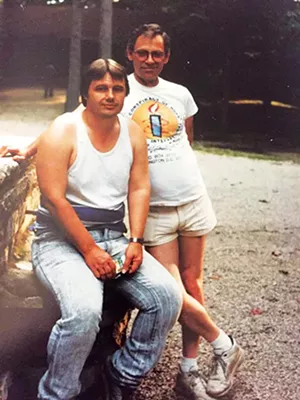 "A miracle is anything that somebody does with no expectation of reward," said Carmichael. The book was published in 1976. Its author claims to have been inspired by divine intervention. Its premise, though, is largely based in this world. Carmichael said it's about how we all have the power to help others through the choices we make, even if we never come to know about it. "Miracles are the natural order of things," he said. "When they don't occur, that's when something's wrong."
Carlsen, a grief support specialist who lives in Wisconsin, had helped organize the August party as a way for Carmichael to connect with family and friends, to speak of miracles and make them known. It was a chance for friends and family "to tell him how much they appreciate him and the work that he did," said Carlsen. "It was a chance for me to tell people how much I appreciate them. Everything I did was with the support of somebody," said Carmichael in response.
Visibility
Carmichael was baptized in activism by protesting the death penalty in Texas. Carmichael moved with his family to Dallas in 1978, where he sought a fresh start. Before, he had directed funerals in the Waco area. He was adept at consoling those going through difficult times and found the work fulfilling. But after about 12 years, the business folded. At the time, Carmichael was married to a woman. They had four children.
In Dallas, he was propelled toward activism. He was slowly beginning to come out of the closet. His marriage had a sort of don't-ask-don't-tell policy for a while. He was passionate about both criminal justice reform and gay rights. The latter movement was less eager to work with him. "I wasn't pretty enough, I wasn't rich enough and I wasn't young enough." Meanwhile, "The criminal justice movement said, here's a microphone, there's the camera. Look that way and talk."
"I found myself being a leader of the movement to abolish the death penalty in Dallas." He helped organize demonstrations and he visited prisoners, working on the cause there from 1979 to 1991.
Then, in the early '90s, when Carmichael moved to Decatur for work, "The opposite happened." Those working on the death penalty issue said it was already covered by others in Chicago. They didn't need him. "It was the gay community that said, 'Help.'"
While living in Decatur, Carmichael drove 40 minutes to Springfield to attend the closest Metropolitan Community Church, a welcoming and affirming denomination. After church, he followed some new friends to a gay bar for Sunday night line dancing, where he met the love of his life, Jerry Dean Bowman. Within a few months the two lived together. They both would later retire from state jobs in Springfield. They were inseparable. Bowman died in 2017 at age 62.
The two were an activist team, some noting they balanced each other out. Bowman had a sort of teddy bear personality and a knack for disarming tense situations with a quick joke. Carmichael was more focused and forceful – both were unpretentious and willing to work with those they didn't always see eye-to-eye with for the greater good. Both enthusiastically invited others to join them.
By 1996, Carmichael was publishing Prairie Flame, the LGBTQ newspaper. Over the years it grew to have bureau chiefs in eight downstate locations, including Bloomington and Champaign. Carmichael was the editor and publisher. He and Bowman ran the whole operation from their home for the first two years, before graduating to renting office space.
Carmichael found the paper was a way to help unite those living in communities where being openly LGBTQ was not easy or common. It was entirely a labor of love. As former staff writer Dusty Rhodes wrote for an Illinois Times story about the paper shuttering in 2008, "He never calculated the number of hours spent at the paper per month, but figures it was usually about 60, often slammed toward the bottom row of the calendar. But he could have made the job easier on himself. While most newspapers carry a 50/50 mix of ads and articles, or even 60/40, Carmichael made sure that Flame devoted twice as much space to articles as advertising." Carmichael told her the paper never made any profit. Topics included the AIDS epidemic, politics, hate crimes, drag shows and culture.
In the mid-'90s Bert Morton of Springfield saw Carmichael and Bowman march in a Martin Luther King Jr. Day parade, representing the now-defunct Central Illinois Gay and Lesbian Task Force. Morton and his partner were "looking forward to being social justice activists ourselves." Morton said he and his partner joined Carmichael and Bowman in the parade, and went on to become lifelong friends. Morton visits Carmichael each Tuesday. And Morton and his now-husband certainly reached their goal of becoming activists. In 2012 they joined other plaintiffs in a lawsuit arguing Illinois' law that defined marriage as being between a man and woman was unconstitutional. They had already been together for 30 years.
In 2016, Morton helped CORAL publish a nonfiction book called, Perhaps If You Saw One: A Story of Visibility, Understanding and Human Rights. It recounts how when a gay resident asked a state legislator representing Springfield whether he supported a bill protecting LGBTQ residents from discrimination, the politician allegedly answered that the legislation was not needed, because "he only knew of two homosexuals in Sangamon County." From the book: "Here in the capital of Illinois, we were still struggling with an LGBT identity shaped by something other than the AIDS crisis or hate crimes." And, it appeared, they were struggling to be seen at all.
The incident was discussed at a 2004 CORAL meeting. CORAL stands for the Coalition of Rainbow Alliances. As Carmichael writes in the book, he discovered upon his arrival to Springfield in 1993 that the LGBTQ community was segmented into groups that didn't interact. CORAL was meant to rectify that by bringing the groups together. Carmichael, Bowman and Morton were founding members in 2000.
In the wake of the legislator's comments, the umbrella organization doubled down on its mission. Morton – who loved parades and, with his background in landscape architecture, had the know-how – would coordinate efforts to build floats that could not be ignored for the Illinois State Fair. The first one they did, in 2005, had light and sound systems. They won the director's award. In 2006, a troupe waving rainbow-colored flags joined in. Many more awards came their way.
Morton and others had witnessed gay people lead private lives. Less pride, more hide, as Carmichael put it. The floats were a direct rebuttal to that. Morton said, in his estimation, Carmichael's biggest contribution to LGBTQ progress in central Illinois was his invitation for others to come out of the closet in a way "they couldn't refuse." Even straight people would dance to the sounds coming from the gay pride float. After all, it had the best music.
Movement
Tracy Baim is publisher and editor of Windy City Times, an LGBTQ periodical. She's also the publisher of Chicago Reader. (Windy City did a series of interviews with Carmichael earlier this year. Read them here, here and here.) She co-chaired the March on Springfield for Marriage Equality in 2013. Legislators had promised a vote during spring session. When the bill didn't make it through both chambers on time, activists were inflamed. Baim channeled the energy into a successful demonstration in Springfield.
"When I started this March on Springfield idea, all the organizations and leaders told me not to do it," said Baim. "But Buff didn't tell me not to do it." Baim said when it came to downstate organizing, there was no one she trusted more. "He took that leap with me and I will forever be grateful because I needed him," she said. "Buff was a critical person to have support early on to make it work." Wasting no time, the rally and march of thousands happened on the first day of the fall veto session. The Illinois equal marriage bill passed on the heels of the demonstration.
Carmichael and Dean married in the woods of a state park in Clinton in 2014. They wore button-up tank tops, jeans and sandals. The wedding color was tie-dye. Baim was there to celebrate. "A lot of the gay weddings I go to are very pretentious. And it was one of the sweetest ones I've been to – in the middle of the woods with family and friends," she said. "It was about the people, not all the little things that people get caught up in (such as) napkin choices."
Baim said Carmichael's lessons endure. "The most important thing I think he taught me is to listen and hear what people are saying about their past experiences, so that you do not repeat them."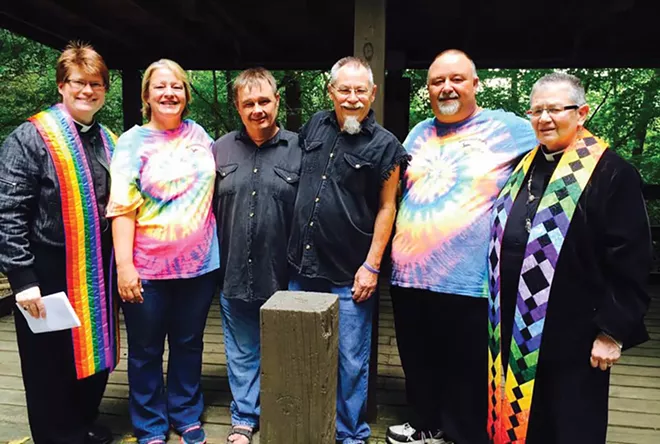 Mike Ziri of Equality Illinois, the state's leading LGBTQ rights advocacy organization, grew up in Springfield. He would notice copies of Prairie Flame during his closeted youth. "Seeing it in grocery stores or seeing it out and about" was a comfort. Ziri is one of the countless people who have entered Carmichael's orbit, with run-ins at the fair and other political events. Ziri said one of the most memorable encounters was at a campsite. Carmichael and Bowman had organized camping trips for years. One particular night at Sangchris Lake State Park the couple shared their stories and insight on central Illinois LGBTQ history with members of Equality Illinois, a memory Ziri holds onto. It was clear they were "pillars of the community," as he put it.
Jonna Cooley, executive director of the Phoenix Center in Springfield the past 14 years, keeps in contact with Carmichael. "He's been doing this work for so long and has (worked for) equality before it was ever even in the realm of possibility. And then was still there working for it with the March on Springfield and the passage of marriage equality." He's been a wealth of knowledge and a source of solutions, she said. And he's still working. "I'm currently working with him on the committee to bring back the AIDS Walk," said Cooley.
Community
Carmichael had been to Chicago several times before he traveled there with Bowman, who had been born downstate and never made it up until their first trip together. "He was petrified," Carmichael said with a chuckle. The two would later go back for galas and other events. It was nice to visit. But "this is my home down here. I belong down here," Carmichael said of Springfield. He has relished the slower pace and the ability to dig into the ins-and-outs of a place. To clearly see all the connections.
For most of their relationship, the couple lived in a mobile home. In 2009 they both retired from the state. Afterward, they bought a house on a corner lot near a church in the central part of the city. There they took joy in decorating and held many dinner parties. "We'd go on camping trips with friends and delighted in being retired and enjoying life," said Carmichael.
The dinner parties go on. On a chill September night, a dozen friends gathered in his yard eating out of bags of food they had brought along. It was their regular Friday night dinner date. With the pandemic, meetings had stopped. Then they resumed at Washington Park, where one friend set up an ornate table with a tablecloth, gourmet food and a candelabra.
The group includes those who have orbited Carmichael and Bowman throughout the past decades. They've paraded together. They've partied. They've rallied for access to basic human rights. They've mourned the loss of those who succumbed to AIDS and helped build a memorial in Lincoln Park to remember them by. They have witnessed ever-shifting needs, and they have come together to address them.
Robert Weis was one of the younger dinner attendees. With CORAL, he coauthored a survey and report about communication and collaboration within the local LGBTQ community. It's an ongoing effort, largely inspired by Carmichael's observation, all those years ago, that there should be more unity. In recent years, CORAL also helped form a group for young LGBTQ professionals in the Springfield area.
Weis said he used to work at Blackburn College in Carlinville, which distributed copies of Prairie Flame. "On more than one occasion, we had students who would come to visit our campus, and they would say, 'I chose this institution because I saw that publication sitting out and realized this is the kind of place that's comfortable with this.'"
Weis said when Bowman and Carmichael would host friends, they would "hold court." When he met them, they seemed almost like "mythological people" who clearly carried a great amount of influence. "People are pretty candid and direct around Buff," said Weis. "It's not like people are just passing niceties. ... I do think that's a legacy of Buff and Jerry – being very candid and direct." Even in the arguments that ensued, Weis said, there was always respect. The common fight for justice continually brings the group together despite lesser disagreements.
Carmichael knows if his husband were still alive, he'd likely advocate for a more aggressive treatment plan for the chronic obstructive pulmonary disease and bladder cancer he lives with. But Carmichael explains the treatments would come with various complications of their own. "It seems to me that I'm facing less suffering and, quite frankly, I'm not the least bit afraid of dying." As he evolved to do over time, he's living life on his own terms. Surrounded by friends and family who support him. Working for liberation. Unafraid.
Contact Rachel Otwell at rotwell@illinoistimes.com.