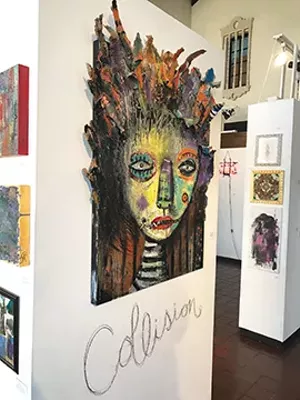 This past weekend, two of Springfield's most vibrant creative organizations joined forces for a unique two-day show. The Pharmacy Gallery and Art Space – which for seven years has hosted seasonal exhibits featuring new work by its member artists in a variety of media – and the Southtown neighborhood's Black Sheep Café – which for 12 years has been largely known as an all-ages venue hosting DIY punk concerts – joined forces for a collaborative show, appropriately named "Collision." The resulting, well-attended exhibit, which ran on Friday and Saturday at the Pharmacy's space at 711 S. Fifth St., was a veritable riot of sights and sounds, with the varying sensibilities of the two organizations (plus invited guests) brushing and clashing against each other.
With a total of 159 visual pieces on display, along with a rotating cast of musicians performing in the Pharmacy's loft, high above the heads of the crowd, the experience was sometimes overwhelming. But it was never boring, with work ranging from a display of splashy, arresting concert flyers by the Black Sheep's Brian Galecki to the precise line work of Jen "Arty Farty Slumber Party" Santarelli's canvases to the atavistic construction paper stylings of four-year-old Bee Otwell. All of which served to throw the expected fine work of Pharmacy standard-bearers such as William Crook Jr., Diane Scheyhahn, Felicia Olin and Patricia Myers in dramatic relief. Add in a rather gruesome, working arcade-style video game set in a slaughterhouse ("Pig Sticker") created by Jeff Miller and video projections by experimental artist-musician David Cain and you had an artistic smorgasbord at times bordering on sensory overload. In other words, something not unlike a collision.
"B.J. Pearce and Clare Frachey from Black Sheep had talked to us several times over the years about some sort of collaboration," said Pharmacy member artist Jeff Williams, discussing the origins of the show. "This past fall it started coming together and we started to slowly talk about how it might be cool to do an event together where it would be partly our artists and partly people who they reached out to."
Frachey, co-owner of Black Sheep Café, was in charge of coordinating the artists, while fellow Black Sheep co-owner Pearce was put in charge of putting together the musical program, which included sets by synthesizer-and-guitar whiz Eric Marvel and singer songwriter Kate Laine, among others. "It's definitely a collision of many different styles, many different forms of content and media," Frachey said.
"There's so much that Springfield offers," said Pearce. "We wanted to showcase the young artists from Southtown and this gives them the chance to have an amazing, professional setting to show their work. It's not necessarily a punk show or anything but it has almost a punk attitude to it, so you can see that edge that we do have in Southtown."
"Part of the impetus for the show was as outreach, to try to spur more collaboration within the art community here in town," said Timothy Donovan Russell of the Pharmacy. "This kind of show will hopefully help foster a less competitive feeling in the overall art scene. It was a messy process getting it all together but it was well worth it."
Contact Scott Faingold at sfaingold@illinoistimes.com.