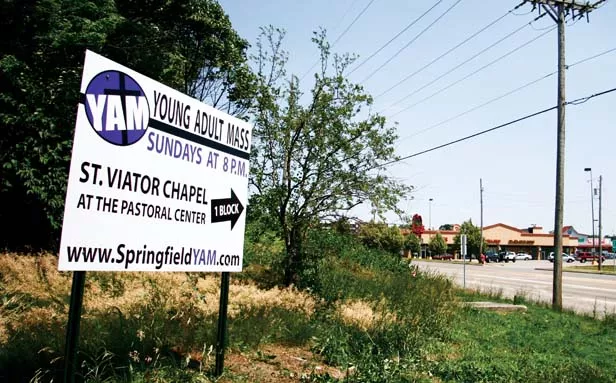 If a woods fall and eight aldermen are not listening, does it make a sound?

A few days ago the Springfield city council voted 8-2 to replace Griffin Woods, the 20-acre patch of forest at Bruns Lane and Washington, with a parking lot with a building on it. The building will house yet another Schnucks supermarket. Neighbors, presumably, are delighted at the prospect of being fully serviced with convenience, freshness and quality.

The decision to rezone is notable less for its substance that for what it revealed about land use regulation in 21st century Springfield, which is, basically, that it is still done according to mid-20th century methods and assumptions. Ward 7 Ald. Joe McMenamin, for example, said he wished Schnucks had held a neighborhood meeting beforehand to address the concerns of people who live nearby. Such meetings are part of the planning process in virtually every well-administered city. Why isn't a neighborhood informational meeting – not a hearing in city hall, mind you, but a proper after-supper-but-before-the-kids-go-to-bed meeting in the neighborhood – required for every major rezoning in Springfield? McMenamin also said he was worried about increased traffic in the area. That's an appropriate concern; was a traffic study done? Why not?

The affected land was zoned residential in previous city plans, for what we must assume were good reasons. Why then did the aldermen change it in a city that, urban experts agree, is already egregiously over-zoned for commercial uses? The only reason advanced publicly is that the council had to zone for a store for Schnucks because it had already rezoned for a competitor's store, the new County Market at Second and Carpenter. (See "A double shot of urban-type feel," May 10.) Denying Schnucks, it was hinted, would open the city to a lawsuit on grounds of .... well, what exactly?

The law allows discretion in zoning precisely because cases differ, and differ these two cases do. County Market wanted to put a new store in a moribund area with no convenient access to a full-service food store, whereas Schnucks wants to build across the street from an existing supermarket in a part of town that soon will have four full-service food markets within a convenient drive. The lots at issue in the County Market project had been zoned for industry, so its reclassification for community shopping and office us remedied an outdated classification. The Griffin Woods property had been residential in a neighborhood that remains residential.

The new Schnucks will be only one of several new full-service food markets opening in Springfield in coming months. In addition to the aforementioned County Market, Wal-Mart last fall opened its newest supercenter on Freedom Drive and Schnucks has a second new store in mind for Dirksen and Singer. As noted, a County Market store stands across the street from the Griffin Woods site, another Schnucks is only 7 minutes by car away down Chatham Road and and a Hy-Vee going into the former Kmart on MacArthur, only 8 minutes away. Surely not even a population so obviously devoted to its stomach as Springfield's can support that many supermarkets.

It has been noted that Schnucks is run by smart guys, who wouldn't be opening a store at this spot unless extensive market research had convinced them that it would make money. Of course Schnucks thinks it will make money here. Every new business thinks it will make money. Editorializing, the State Journal-Register helpfully explained, "That's how competition works." Indeed it is – with each company trying to cannibalize its competitors until one or more others, weakened by the bloodletting, dies or crawls off the field. Their rotting corpses lie where they fall, leaving the city with more empty retail buildings and more blight.

So unfettered free enterprise has risks for the city. Doesn't it offer rewards too? In a press statement announcing its plans, Schnucks stated that its two new Springfield markets "are sure to bolster the Springfield economy with additional jobs and tax revenue." Sure to bolster the Springfield economy? How? A Schnucks ain't a Scheels. People who will drive to Springfield from Godknows to buy trolling rods and shad lures aren't going to drive to Washington and Bruns Lane to stock up on weiners and frozen pot pies. Supermarkets don't generate new sales, they just slice a given food sales pie into smaller pieces, leaving someone hungry. The jobs and sales taxes generated at the new store will come from reductions in jobs and tax revenue at other, smaller food retailers in Springfield that Schnucks will, eventually, starve to death.

With that in mind, let us hope that before the permits are signed the council imposes conditions on Schnucks in return for its allowing Schnucks to make a packet of money in Springfield. The "free" in free enterprise means "unfettered," not "without cost."

Contact James Krohe Jr. at KroJnr@gmail.com.