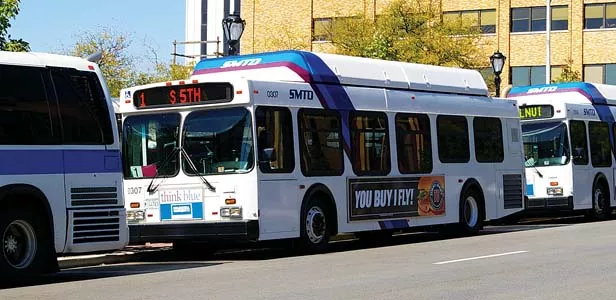 When United Cerebral Palsy Land of Lincoln surveyed its clients recently, the organization found that people with disabilities need better access to recreational and social activities.
Bridget Gilliam, UCP's children's services manager, says that many families are eager to explore Southwind Park, an 80-acre "all-abilities" venue near the intersection of Interstate 55 and Toronto Road that's set to open next spring [see "
How to build partnerships
," Aug. 6, 2008]. Now they just need Springfield city buses to take them there.
"Southwind is going to be a great opportunity," Gilliam says, "but we want to make sure we can get public transportation so we can help the people we serve get out there."
In the past year, park developers have met with staff from the Springfield Mass Transit District and Perteet, Inc., a Washington-based engineering firm hired to help improve the city's bus service. After submitting a request for regular bus service to Southwind Park, plus letters of support from service agencies like UCP, developers heard last week that their request would be denied.
During a special meeting held to discuss recommendations for improving SMTD service, Thomas Wittmann, the transit division manager for Perteet, Inc., said that he's never seen a park stand alone as a sole destination for bus riders. Plus, he said, the Southwind Park site is two miles from the nearest bus stop with no other nearby stopping points.
"At this time, Southwind Park does not have the ability to support a fixed transit route," Wittmann said. "The market needs to grow first."
Instead, SMTD proposes offering a service route to Southwind Park at designated times on Saturdays. People interested in riding to the park would call the downtown service center, explains SMTD managing director Linda Tisdale, and a bus would be sent to pick them up.
"When you've got an uncertainty, the best way to start is with a service route," Tisdale says. "You take baby steps, and if you reach capacity, which means you're turning people away consistently, then you know it's time to bump it up to a fixed route."
Diane Mathis, a lead developer for Southwind Park, says SMTD will offer a great opportunity to park visitors with Saturday service. The transit district will also provide Access Springfield, a curb-to-curb service for people with disabilities who cannot use the city's fixed-route buses, as transportation to the park.
"Of course we would like them to come right there, but everyone would like them to come to their destination," Mathis says. "Our park guests and our program participants that utilize the bus service need to show that they're going to use it. SMTD will continue to look at it, and so will we."
Wittmann said Perteet, Inc., plans to hold another public hearing before the SMTD%u2008finalizes any changes to the city's bus service plan.
Contact Amanda Robert at
arobert@illinoistimes.com
.