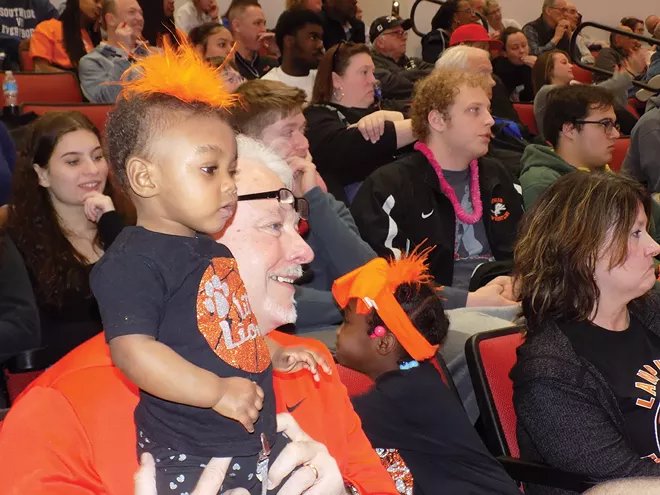 Ken Graves says the light bulb went off about seven years ago, while he was driving his daughter to school.
Kelly Graves was a sophomore basketball player at Glenwood High School. "She was upset because they'd had an away game the night before and she hadn't had a chance to get her homework done," her father remembers. Girls played in the small gym, usually on Tuesday nights and Saturday mornings or afternoons, while boys got the big gym on Friday nights.
"I said 'Kelly, it's because you're a girl that you're being treated as something less than the boys,'" Graves recalls. "The whole gender disparity thing dawned on her at that point."
Girls had it tougher than they should have, Kelly Graves says. "Doing your homework on the bus, constantly, is no fun, especially knowing the guys barely had to do that," she tells me.
Graves gave up basketball after a shoulder injury, but still starred at soccer, earning a scholarship at Virginia Commonwealth University, where she was named most valuable player as a sophomore and became a team captain. She graduated with a 3.75 GPA and is now an assistant soccer coach at University of Illinois Springfield. At Glenwood, opportunity came in the guise of a term paper assignment: Write about something in society that you'd like to change.
"I immediately thought of how I wished we could play in the big gym, the boys' gym," she recalls. "When I was writing it, I wasn't thinking I would do something about it. When I finished researching, it outraged me. There was no reason we weren't being treated the same."
Graves gave her paper to coaches and the athletic director, who is no longer at Glenwood. "They read it and they all told me the same thing: 'It's always been this way – maybe we can paint a wall in the small gym to make it look better,'" she recalls. "I was a 15-year-old girl talking to these grown men, really shooting me down in every way possible. They could care less."
Graves went to the district superintendent. "She honestly told me: 'I had no idea this was happening here,'" Kelly says. "After I talked to the superintendent, she put it all in motion very quickly. We loved being able to play in the nice, big gym. It's a huge deal."
Ken Graves, a lawyer, offered help. "They weren't going to do anything," he remembers. "At that point, I asked Kelly if she wanted to take it up the chain." He called the U.S. Department of Education.
In a 2013 document signed by athletic directors in the conference that includes Glenwood, honchos promised to create schedules so that boys and girls would play an equal number of "prime time" games held on evenings when school wasn't in session the following day. In the recently concluded season, Glenwood boys played 16 prime time games; girls played two.
"The fight goes on," Ken Graves says. Sarah Fowler, a Glenwood parent, can attest.
More than a year ago, Fowler says, she and other parents of girls basketball players, unaware of the 2013 agreement, asked why girls were playing so many games on school nights. "This seemed like an unnecessary disadvantage from an academic standpoint as well as student body attendance and support for girls," Fowler writes in an email. She says emails to Dusty Burk, the district's athletic director, and Doug Wood, district superintendent, did no good. "Both made multiple statements that this will be a difficult change and that it is a longstanding tradition for boys to play Friday nights," Fowler says.
Fowler and other parents brought concerns to the school board last June and again in July. Seeing no imminent change, parents then complained to the U.S. Department of Education, which found a catalogue of disparate treatment beyond lousy schedules and girls playing in a second-class gym.
Cheerleaders root and bands play at boys games but not girls contests. The district has fewer spots on athletic teams for girls than for boys. Early morning physical education classes are open to boys, but not girls, which superintendent Doug Wood says is no longer the case; Fowler has course schedules and a class registration form dated January that show it's been boys only. The district has promised improvements in an agreement with the feds that carries more weight than the 2013 deal.
Fowler says that parents wouldn't have filed a federal complaint if the district would have listened. "Now, it's become a much bigger deal than if they'd just thrown us a Friday night game," she tells me. "We tried so hard to get them to do a little something. And it was just nothing."
Like Fowler, Burk says he wasn't aware of the 2013 agreement. Change, he says, is afoot. "We've been working for a long time to move the needle in the right direction," he says. "We want fairness. Some of these issues are big, large ships that take a long time to move and make things happen."
Move faster, some say.
"It's really a cultural problem there," Fowler says. "People need to get with the times."
OOPS In last week's column, I wrote that Lady Ashcombe had visited Phyllis Brissenden. Turns out, it was someone else, a mere baroness, who enjoyed a meal at Loukinens'.
Contact Bruce Rushton at brushton@illinoistimes.com.