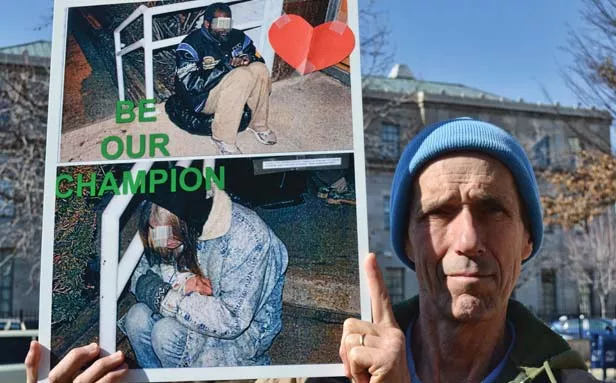 After several years of being unsatisfied with conditions of the homeless, several Springfield groups want Mayor Mike Houston to get more involved.

On Feb. 13, Homeless United for Change, an advocacy group of homeless residents, pastors and other activists, gathered to talk to Houston about the conditions of the homeless. The group requested a meeting with the mayor, but were unsuccessful.

The group organized in front of the Lincoln Library, an area heavily populated by the homeless, and marched to the mayor's office to have a meeting. They offered the mayor a Valentine with a list of requests, asking Houston to extend the Springfield Overflow Shelter to a year-round service, join volunteers at SOS to serve a meal and establish an administrative review panel for people denied service at SOS.

Currently, 38 percent of Springfield's homeless population is chronically homeless. Chronically homeless is defined as a person being homeless for a year or more, or having three or more stages of homelessness in a year. According to Linda Gessaman, executive director of HUC, this is three times the nation's chronically homeless average of 10 to 15 percent. With a chronically homeless population higher than other cities, accommodating those most in need has become difficult, she said.

"Resources are really scarce, and the agencies have to choose to use their resources on those who are most apt to be successful and healthy in getting off the streets," said Barbara Olson of HUC. "Whatever the reason, it would appear services in Springfield for the most needy people are kind of thin and far between."

Helping Hands in Springfield helps provide many with shelter, food, money management and other resources.

Shannon Bradley, Helping Hands shelter director, said of those who are in need, intact families, men and children, sex offenders, and those who have mental or health issues are most vulnerable. There is no shelter in Springfield to accommodate these types of individuals.

"I don't think that they [the public] understand that there are homeless here in Springfield," Bradley said. "There are honestly a solid 300 to 400 people who are truly homeless."

Bradley also said she does not think the overall homeless population has increased, but certain groups within the homeless community have, such as the mentally ill and disabled. She said she thinks this increase stems from the closing of state facilities and a decrease in funds, which previously were available for assistance to these groups.

"I think money is the big thing," she said, adding that social service funding is often the first to be cut from national and state budgets.

After March 31, when the SOS shelter is scheduled to close, 40 to 50 people will be back on the streets. There are not enough beds for the chronically homeless. HUC wants Houston to use a "low-demand approach," which the United States Interagency Council recommends. It is a strategy to get people into housing first and then treat their personal issues later.

Jana Little, 31, of Springfield recently became homeless. She participated in the march and was the representative for the homeless.

Regarding her experience at the demonstration, Little said, "It's amazing. I'm happy." However, when asked about her experience being homeless, she said, "This is my first time being homeless and I'm not used to it. It's really hard; it's really, really hard. You're not used to it. Your first time being homeless, you're scared, you feel like you're alone, you feel like you have no one to talk to."

Although HUC was unsuccessful in meeting with Houston, the group plans to gather clergy members to pursue another meeting with him in order to make substantial changes for the homeless population.

Ron Lane, executive director for Helping Hands, said it's the community's responsibility to create an environment where homeless people can be helped.

"Not everyone can be independent. That's one thing people don't understand," he said. "People can be stable, and sometimes that takes a community. Sometimes it takes a group environment."

Contact Jacqueline Muhammad at intern@illinoistimes.com.