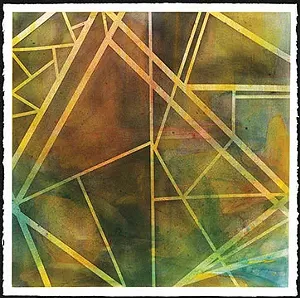 This past Friday saw two concurrent opening receptions featuring eight artists spread across two galleries on the Springfield Art Association campus in the Enos Park neighborhood. Between the two exhibits, Springfield art appreciators were exposed to innovative work from artists based in Illinois, Iowa, Ohio and California.
Camille Silverman credits the sense of hectic movement and urgency in her recent work to the culture shock of having relocated from the relative tranquility of Colorado to what she described in an artist statement as the constant "growth, decay, invention, opportunity" of Chicago. Fittingly, her paintings and drawings, presented as part of "Borrowed and Shared" at the M.G. Nelson Family Gallery, have a nervous, vibrant quality which seems to yearn for a calmer place and time while fully engaging with the chaos of a present reality.
Cincinatti-based artist Matt Litteken's work in "Borrowed and Shared" takes an obsessive perspective on currency, providing what seems like both a meta-comment on the pop art movement's appropriation of consumer items (think Warhol's soup cans or Lichtenstein's comic book panels) while also taking the idea to a logical extreme – why not skip the middleman of products and go straight to objectifying money itself? The work itself is visually pleasing, taking, for example, familiar but isolated elements of a dollar bill, changing the color and perspective, and presenting it as its own aesthetic item – both inspired by the design of money and, not coincidentally, available for purchase using the same currency it depicts.
A brief and pleasant stroll across the Edwards Place parking lot leads to the small house (formerly serving as residence for the historic property's caretaker) which serves as the DEMO Project gallery, currently displaying "PIEZO," a group exhibition organized by Chicago-based curator Teresa Silva. According to a DEMO press release, the exhibit "presents the work of artists who look to house or home as sources of creative inspiration and unstifled independence," a fitting theme for a gallery that itself maintains the earmarks of the domestic space it originally was.
The work in "PIEZO" (a word defined by dictionary.com as "a combining form meaning 'pressure,' used in the formation of compound words") addresses its themes in multiple ways. An untitled collaborative work credited to Sebastian Aguirre of Chicago and Tony Koerner of Los Angeles, seems to be merely a wooden case filled with 22 oz. pale ale bottles placed on the floor of the gallery, creating a lived-in atmosphere. A few feet away, a series of watercolor paintings by Chicago artist Holly Cahill are evocative of scenes glanced in passing through windows. Meanwhile, in the tiny rear gallery, an untitled sound installation by Norman W. Long, also of Chicago, uses three speakers and a CD player to create an inhospitable atmosphere indeed, consisting of a 15-minute-long, seemingly arrhythmic soundscape. The sound may well have changed to something more pleasant, but I found myself unwilling to remain in the room for the duration of the piece.
"Borrowed and Shared" will remain on display at M.G. Nelson Family Gallery, 400 N. Fourth St. through May 27. "PIEZO" will remain on display at DEMO Project, 732. N. Fourth St, through June 3. For inquiries, please email
demoprojectspace@gmail.com
or visit
demoprojectspace.com
.
Contact Scott Faingold at sfaingold@illinoistimes.com.