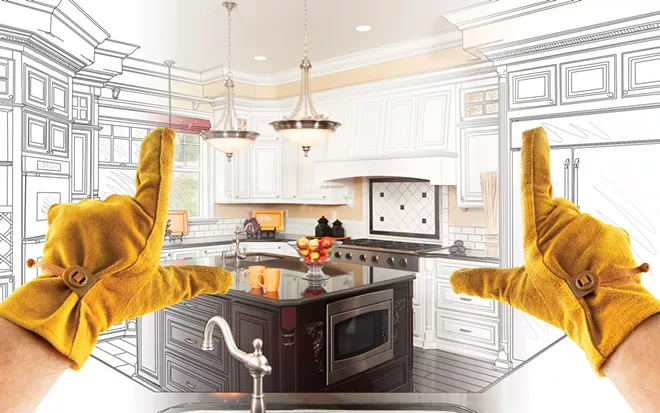 Spring is finally here and it is prime time for home projects. Since you have been looking at the inside of your home for more than a month, it's likely you have come up with some ideas to give your home a facelift, make it more enjoyable, or maybe even prepare it for sale. Perhaps you received stimulus funds and want to reinvest in your home. If you're not ready for a major project such as a kitchen or bathroom remodel or building an addition, what projects might you accomplish with a budget of just $1,000-$2,000?
First, look at your home as if it were for sale and you are the buyer. Gina Wolter, Broker/Realtor with The Real Estate Group, 3701 Wabash Ave., advises, "Be realistic as you tour your home's interior and look at it as a buyer would – with a very critical eye. Determine projects that need the most attention. Some things on your list may require just a little elbow grease, while others may require assistance from a professional. Whichever the case, set your budget and work from there."
Start with the interior. Shaun Shaw, operations manager of Bobby Shaw Building and Remodeling, 2466 Glencoe, suggests "smaller bathroom updates such as new shower doors, vanity, faucet and countertop. These provide an updated, clean look and also boost appraisal" if you are considering selling.
Similar updates can be done in the kitchen. Shaw recommends replacing the kitchen faucet to modernize the look. If you don't have it in the budget to replace the cabinets, paint them and add a backsplash and the kitchen will look new.
Speaking of paint, Wolter suggests, "A fresh coat of paint is probably the easiest way to make the greatest update to tired walls. It's crisp and covers scuffs or damage resulting from day-to-day living in your home. A go-to paint color is Sherwin Williams, Agreeable Gray. It's trendy, neutral and makes any room cozy and welcoming."
The laundry room or mud room need not be neglected in the home facelift. Kaye Brittin, Broker/Realtor with ReMax Professionals, 2475 W. Monroe St., said, "An affordable update to the laundry or mud room is to switch out the flooring with 12-inch x 12-inch vinyl tiles."
The stay-at-home order has provided an opportunity for people to declutter and organize. While you are doing so, give the same attention to the garage. "Garage organization can be as easy as installing pre-made metal cabinets and shelving," Shaw said. "Or, to customize your garage on a budget, have shelves built to size and have hooks installed to hang bikes. Build a tool organizer and create a soccer and basketball corral with bungee cords," for just a few examples.
Take a look at the outside of your house. Does it have the curb appeal that would grab your attention today? Brittin recommends "updating the house numbers, mailbox and porch light fixtures. Make your home welcoming by putting a fresh coat of paint on the front door. Navy blue is one of the most favorable colors when it comes to front doors." Shaw added, "Replacing the front door or adding a storm door can change the appearance significantly."
Once the front door is spruced up, turn your eye to the porch. Brittin said, "For a deck or porch, power wash it and when it's dry, brush on a coat of semi-transparent stain. Consider building a railing planter or two for seasonal flowers and greenery." Harry Griffitts, Griffitts Construction Company, 1501 N. Dirksen Pkwy., suggested budget friendly projects such as replacing porch railings and porch ceiling beams.
Before the power washer is put away, clean the exterior of your home. Griffitts suggests adding shutters to frame windows and introduce some color. Replace or paint weather-worn shutters.
Landscaping adds interest and beauty to your home. Brittin suggests landscaping with low-maintenance perennials such as peonies, hostas and irises. Border a front pathway with solar landscape lighting or spotlight a favorite tree. As a finishing touch, create symmetry by flanking matching potted plants on either side of the front door.
Holly Whisler is a freelance writer from Springfield who started writing for Springfield Business Journal in 2004.