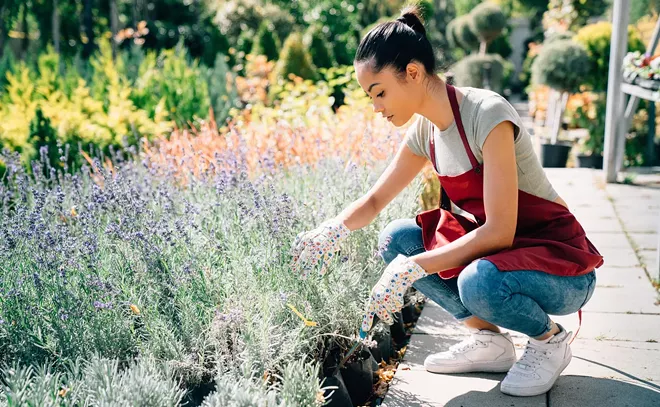 Apple Barn
2290 E. Walnut St., Chatham
217-483-6236
applebarn.net
Seasonal flowers, perennials and garden supplies.
Archer Creek Landscaping
7025 W. Iles Ave., New Berlin
217-502-0089
archercreeklandscaping.com
Landscaping services, outdoor kitchens, garden beds, lighting and containers.
Artisan Stone
2475 Peerless Mine Road, Springfield
217-697-8433
artisanstoneproducts.net
Offering walk-through displays in a park-like setting to view the available natural stone and landscaping products.
Bedrock Materials
3600 N. Dirksen Pkwy., Springfield
217-525-3466
bedrockmaterialsinc.com
Mulch, rock, boulders and landscape materials for pickup or delivery.
Bloomfield Greenhouse
Old Route 36, New Berlin
217-652-0112
Annuals, perennials, garden vegetables and herbs.
Buckley's Prairie Landscaping
3735 Chatham Road, Springfield
217-787-5033
buckleysprairielandscaping.net
Landscaping and full-service retail garden center.
Central Stone and Landscaping Supply
3216 Brickler Road, Springfield
217-788-0820
centralstone.net
A wide variety of landscape products as well as design and installation of outdoor living spaces.
Chapman Stone
3601 Chatham Road, Springfield
217-546-6933
chapmanstone.net
Specializing in both residential and commercial landscaping services.
CopperTree Outdoor Lifestyles
3111 Cockrell Lane, Springfield
217-793-0900
coppertreedesigns.com
Full-service landscape design and installation, including the finishing details.
Davidsan's Japanese Maples
919 S. Farmingdale Road,
New Berlin
217-303-2641
davidsansjapanesemaples.com
Japanese maples and other varieties, rare trees, conifers, ginkgos and granite garden statuary.
Dearduff Landscaping
217-827-0259
217-324-5360
Tree shaping and shrub trimming.
Designer Landscapes 4110 Morrisonville Ave., Farmersville
217-227-3256
designer-landscapes.com
A full-service landscaping company providing design and installation of perennials, trees and hardscapes.
Fancy Creek Landscaping
2437 S. 15th St., Springfield
217-528-2434
fancycreeklandscaping.com
Design and build commercial and residential outdoor projects, plus container displays, pools, paving, walls, drainage and planting.
Farmers Market Garden Center
1990 Wabash Ave., Springfield
217-787-1061
Garden plants, hanging baskets, perennials, annuals, tropical plants and statuary.
Green View Companies
3000 W. Jefferson St., Springfield
217-787-4700
greenview.com
Landscape design-build services and retail garden center.
Hilltop Nursery and Landscaping
4739 S. Williamsville Road, Sherman
217-629-7506
hilltopgardens.com
Garden center and landscape design and installation.
Illinois Brick Company
800 S. Ninth St., Springfield
217-788-0300
illinoisbrick.com
Landscape supplies and accessories.
Knob Hill Landscape Company
661 W. Camp Sangamo Road, Springfield
217-314-9435
knobhilllandscape.com
Outdoor living fixtures, patios, hardscapes, other natural stonework and general landscaping.
Land Design Landscaping
604 N. Park Ave., Springfield
217-793-3920
landdesignlandscaping.net
Specializing in residential and commercial landscaping.
Landscaping Unlimited
1931 S. Glenwood Ave., Springfield
217-787-2286
landscaping-unlimited.com
Custom landscaping design and installation for residential and light commercial properties.
Monarch Landscaping and Garden Center
18170 State Route 4, Auburn
217-965-3819
4440 Ash Grove Dr. Suite A1, Springfield
217-679-4501
monarchlgc.net
Full service landscaping and a large line of natural stone, plants, pots and garden gifts.
New City Greenhouse
5567 New City Road, Pawnee
217-801-5127
Offering a wide variety of plants, baskets, garden vegetables, seeds and fresh produce when in season.
P. H. Broughton and Sons
905 N. Lincoln Ave., Springfield
217-787-2393
Landscape rock, hardwood, mulch, compost, pulverized topsoil, a variety of pea gravel, limestone and double grind milling.
Paul Tree Farms
12430 State Route 125, Pleasant Plains
217-626-1616
paultreefarms.net
A large variety of trees sold directly to homeowners as well as large nurseries.
Pleasant Nursery 4234 W. Wabash Ave., Springfield
217-522-2222
pleasant-nursery.com
Commercial and residential landscape design and installation, large tree transplants and perennials.
Schoony's Greenhouse
310 S. First St., Kilbourne
Annual, perennials and garden vegetables.
Seaney Farms
10544 IL-97, Tallula
100 Illini Boulevard, Sherman
217-361-8387
seaneyfarms.com
A variety of annuals, perennials and tropicals. Tomato and vegetable plants.
SiteOne Landscape Supply
3534 Ogden Road, Springfield
217-787-1912
siteone.com
Landscape supplies and accessories, flowers, plants, trees and shrubs.
Suttill's Gardens
2201 Groth St., Springfield
217-744-9379
Fresh produce, seeds and onion and potato sets.
Triple Creek Farm Greenhouse
116 S. Fifth St., Petersburg
217-632-0299
triplecreekfarm.net
Perennials, annuals, vegetables, herbs, rose bushes, flowering vines and ornamental grasses.
Tripp Landscaping
556 Woodside Road, Springfield
217-529-7289
tripplandscaping.com
Commercial and residential landscaping, hardscaping, trees, shrubs and perennials.
Woare's, Inc.
2500 Peerless Mine Road, Springfield
217-528-7368
woares.com
Landscape materials and outdoor living products.