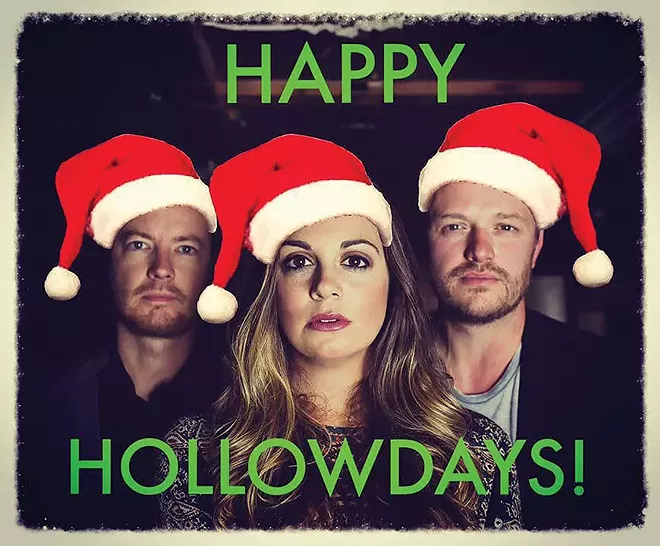 As the huge holiday happening comes closer, music-related performances continue to escalate. Let's enjoy it while we can, watching out for the Scrooge-like temptation to go pooh-poohing all the Christmas-connected holiday stuff as just way too much. And if you do succumb, there's still plenty of live music lacking the trappings of the season for you to check out.
Friday gives the gift of one of our favorite shows of the year when The Deep Hollow presents their annual Happy Hollowdays concert upstairs at Arlington's. Doors open at 7 and the music starts at 8 with prizes for the best dressed "Hollowday" holiday outfits, deals on band merch and just a whole lot of fun happening with Elizabeth, Dave and Micah. I think this has gone on long enough to be officially proclaimed a holiday tradition and one we can all support with bells on.
Friday also gives us the Dual Piano Christmas featuring Damien Kaplan and Mark Gifford at the LRS Theater in the Hoogland Center for the Arts. The very popular show continues on Saturday night and concludes with a Sunday matinee to give you several chances to see these two accomplished musicians delivering the goods.
Let's get our lords a-leaping to Saturday night when the Curve Inn hosts a Deja Voodoo Christmas with the '70s cover band doing, what else, but '70s Christmas song covers. I hope they throw in some 1870s Christmas songs which could accurately include Jingle Bells since that well-worn classic was just becoming popular back then and also would technically still be in the '70s. Maybe updating it with the "Batman smells. Robin laid an egg" lyrics would bring it back into the 20th century with gusto. We do know that whatever they do, Deja Voodoo does it well.
On Saturday, come experience Gus Pflugmacher and the Capitol Big Band performing hopping versions of holiday classics in the White Oaks Mall near the Yankee Candle store from 1 to 2 p.m. Gus has been entertaining folks around here with his music for a wonderfully long time. He's truly a true treasure of a person and dedicated musician, so get out and say hello when this 16-piece band hits it.
There's also live music happening downtown on Saturday afternoon by the south side of the Old State Capitol, plus the last week of the DSI-coordinated holiday walks slide in on Wednesday.
And the UIS Performing Arts Center hosts a Holiday Pops in the Heartland concert Saturday night when the ISO is joined by the Bloomington-Normal Youth Symphony, Illinois Symphony Youth Orchestra, Springfield Ballet Company, Springfield Youth Ballet and the Twin Cities Ballet to celebrate the classics with a community effort.
Now for live music unrelated to the aforementioned holiday season, look at Tantric playing Danenbergers this Friday night touring behind a new record, The Sum of All Things. With original lead vocalist Hugo Ferreira still at the helm of the "post-grunge" gold record-producing band, expect the hits plus plenty of new songs and music too.
It's time for Friday Night Jazz at Boone's as the weekly series hosts the Blue Note Boosters from 5:30 to 7:30 p.m. Band mates in BNB include a stellar lineup of top-shelf area musicians including Mike Lang, Buddy Rogers, David Moore, Manley Mallard and David McEathron.
On Saturday night, Wayward Motel, with special guests the Colin Helton Band, check in to George Ranks, Black Queen fills the Stadium and Gabe Marshall marches on at Blue Grouch.
And that's not all folks, so please peruse the live music listings for more of the good stuff.