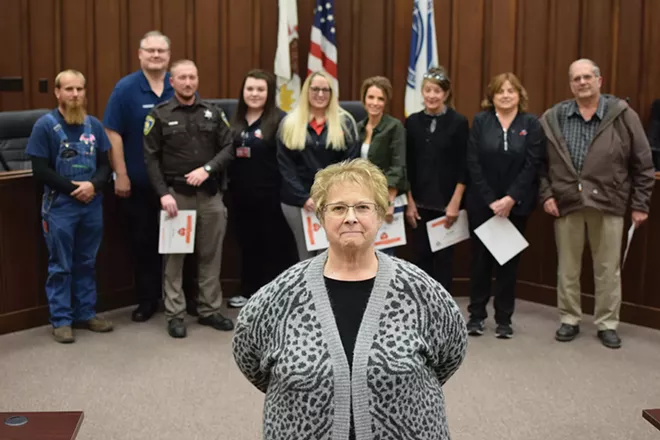 A home, sobriety, a future, a new career, and the chance to live. These aren't your typical holiday gifts but they are greatly appreciated by the recipients, whose lives have been changed, and saved, during 2021.
In these pandemic, politicized and polarized times it's humbling and encouraging to learn that good things still happen to people. Here are five who are extremely grateful for the blessings they have received during 2021.
"You get something wonderful out of it"
There's no place like home for the holidays, and that's especially true for Dylan Prevost of Springfield and his Habitat for Humanity house.
"It means a whole lot," Prevost said.
Prevost, who has cerebral palsy, had been living in a high-rise apartment building that was only partially accessible, which caused him struggles with his daily routine. He qualified for federal rent assistance but those funds were limited in Prevost's case because he was employed.
Prevost had previously volunteered at Habitat for Humanity of Sangamon County, but ended his volunteer commitment there when he secured a job. But Prevost always remembered what Habitat was about. "When I left Habitat I told them I would be back in the future for them to build me a house," he said.
As the years went by and living became more difficult at his apartment complex, Prevost decided to make good on his promise and returned to volunteer at Habitat.
"I jumped in with both feet," Prevost said. "When my name was on the list to start taking classes for home ownership, everybody at Habitat for Humanity was excited to see me."
Habitat for Humanity home recipients are required to put in a certain number of hours helping to build their homes. Since Prevost has a disability, he was instead allowed to perform volunteer service at the Habitat office and store. But Prevost was frequently on site while the construction was underway.
"I was a person of encouragement so the builders could see exactly who they were building the house for," Prevost said.
Habitat volunteers constructed the home and Prevost moved in during the height of the COVID-19 pandemic in 2020.
"The process was long and time-consuming, but in the end you get something wonderful out of it and you also have a sense of accomplishment," Prevost said. "I have a walk-in shower, a closet that I can turn 360 degrees in. I have a bathroom that is big enough to have my wheelchair in. I'm really, really happy."
"It means a sense of security, a sense of freedom, not having to worry about an outrageous amount of rent," Prevost said. "Being able to have your own home, it's a good thing."


"People say that I'm their motivation"
"I'm so proud of myself that I just want to jump up and down all the time about it," said Kayla Kirk. "I love telling people my story."
Kirk's story is about her struggles with addiction, her ongoing recovery, and her newfound life mission of helping others.
The 31-year-old Springfield resident's tale begins during her childhood with a drug-addicted mother. Despite Kirk's best efforts, she followed in her mother's footsteps.
"I always thought I was going to do good in life but I ended up dropping out of school and getting into a lot of hard drugs," Kirk said. "I couldn't get clean for the life of me."
Kirk's drug use was halted by drug court probation, which required frequent drug testing. Kirk was also helped by her subsequent involvement with Wooden it Be Lovely, a Springfield organization that offers hope and employment for women dealing with addiction, poverty or abuse. All was going well for Kirk until she neared the end of her court probation.
"In my eyes that was the only reason why I was staying clean, because I had to do urine tests all of the time," Kirk said. "I was freaking out. I didn't trust myself to be off drug court and stay clean."
The staff at Wooden it Be Lovely heard Kirk's concerns and hired her under certain conditions, one of which was that Kirk must attain her general educational development (GED) degree and start college.
"Margaret Ann at Wooden it Be Lovely hired a person to tutor us while we were on the clock," Kirk said. "That was a big motivation for me because I couldn't afford to miss work to study for school."
That encouragement from others is all it took, and now Kirk is majoring in psychology at Lincoln Land Community College and, "I am acing my classes."
Kirk also had a desire to help others who are facing the same struggles as she had, so she applied with AmeriCorps, an organization that gets recovering addicts into the field, working in treatment centers with addicts.
"I didn't really think I would get the job because I had only been clean 14 months," Kirk said. "But they called me back and said they'd really love to have me serve with them."
Kirk is an intern at Family Guidance Centers Inc. in Springfield and plans to soon take her Certified Recovery Support Specialist test. Once certified, Kirk's goal is to be hired as a full-time counselor at Family Guidance Centers.
"This very office is my old counselor's office," said Kirk recently while seated in her space at the Family Guidance Center. "I've been in treatment here, I used to sit in that chair. It's amazing how many people I help.
"There are people that come off the streets in here that I used to get high with," Kirk said. "I've heard several people say that I'm their motivation, I'm their hope, I'm the light at the end of their tunnel. That is like a natural high to me."
Kirk is back in the lives of two of her four children, and hopes to someday be involved in the lives of her two youngest children who were put up for adoption because of her persistent drug use. Kirk attends Narcotics Anonymous meetings, recently got her driver's license back, and is engaged to be married.
Kirk hopes that she can serve as an example for anyone who feels overwhelmed by addiction.
"I see the change in people, how much I can help people, and that has been my motivation to never want to use again," Kirk said. "I'm an open book. I'm not scared to recover out loud. I hope it saves somebody's life."

"You can make anything out of yourself"
Jasmine Winston is grateful to have a roof over her head, a job she loves and a future. Until recently, she didn't have any of those things.
The 26-year-old had left a "toxic" family environment in DeKalb at the age of 19 and moved to Springfield, where "everything was pretty good for me, it was a change of scenery and a new opportunity," Winston said. "I knew that I wanted more for myself but I just didn't know how to get there."
Winston moved to Peoria, returned to Springfield and had a child with a man who soon left her. Then, Winston lost nearly everything in a devastating fire.
"I fell into a depression because I didn't have the type of support that I needed to raise a child," Winston said. "I didn't have a family that could help guide my daughter, and I couldn't find day care to help me get back to work."
"I had to figure it out and I couldn't, so I ended up thinking, I could either give up or I could ask for help," Winston said. "I'm not saying I thought I was too good to go to a shelter, I just didn't want to. But I knew there was a reason I had to."
Winston went to Contact Ministries for shelter and assistance, then got an apartment through Mercy Communities.
"They helped me get back on my feet. They gave me a sense of security," Winston said. "They said, 'Jasmine, you have hope. Just calm down, get your head together.'"
"I'm really thankful for the opportunity Mercy Communities gave me. I saw them a few weeks ago and I had to stop and let them know that things were good," Winston said. "Because if it wasn't for them I don't know where I would be right now."
Winston now works at a job she "completely loves," helping individuals with disabilities.
"Some of their family members don't come and see them and I tell them, 'You are just as lonely as me, so how about we help each other,'" Winston said.
Winston's goal is to start a nonprofit organization for children who, like herself, come from toxic family environments. She wants to get those kids off of the streets and into after-school programs, and most of all to help them feel loved.
"I know that no matter where you come from, no matter what you go through, if you have determination, you can make anything out of yourself," Winston said. "I know where I'm headed, I know where I want to be, my head is clear, and I have the right support that I need."
"I'm thankful for the people who have helped me, for the life I have now," Winston said. "I'm thankful to be able to breathe again."
"We were able to make that pivot"
When COVID handed them lemons, the Hicks family made microgreens.
Jessica Hicks was a restaurant manager and her husband, Michael, was in transportation when the COVID-19 pandemic hit in early 2020. Both lost their jobs, and the couple spent much of the year trying to figure out if they should wait for the economy to open up again so they could resume their careers, or if they should start from scratch with a new life path.
"We spent a lot of time at home, started cooking more homemade food, and began working in our garden more," Jessica Hicks said. "We had always wanted a garden but because of our work careers we didn't really have time for one."
Hicks had previously grown microgreens on a windowsill because she felt it was a good way to incorporate real food into the family's diet without needing a full-sized garden.
Microgreens are the shoots of certain salad vegetables that are picked just after the first leaves have developed on the plants. Using them in the family diet was a good way for the couple's four children to try new things while learning about good nutrition. The family also added chickens in March 2020.
"We were able to start almost a homestead-type life in a really small space," Hicks said. "With winter coming in late 2020 and the garden being done, we thought about how we could continue growing, and we started producing more microgreens for our family and friends."
The additional microgreen production turned into Itty Bitty Micro Farm, and by the spring of 2021 the Hickses were selling their petite produce in grocery stores and at farmers markets. Hicks said the business has "grown exponentially" especially considering it didn't start until January 2021.
"We're incredibly thankful because 2020 was a rough year for everyone and I think it actually made us stop long enough to gain perspective and really evaluate what we were eating, what we were doing with our lives, and what we were teaching our children," Hicks said. "We were able to make that pivot, to grow food and share it."
The Hickses will not be going back to their pre-COVID careers.
"I loved my career before, but I feel we can have a better impact on the community by growing microgreens and really connecting people to their food," Hicks said. "I'm sticking with this. I love what I do.
"The heartbeat goes on"
Holly Shanks was in the right place at the right time on July 3, 2021, and is alive today because of it.
"It's very much a miracle, and everybody that played a part in it, the steps just fell together perfectly," Shanks said.
Shanks was attending the Fourth of July weekend festivities in the Morgan County community of Franklin, the town's biggest annual event that draws more than a thousand people. Her husband left briefly to visit a food stand, and at that moment Shanks had a heart attack. Bystander Jesse Culbertson immediately called 911.
Emergency Medical Dispatch 911 telecommunicator JaNece Sweeten, who is also a certified cardio-pulmonary resuscitation (CPR) instructor, sent emergency crews to the scene while talking to Culbertson.
"Jesse, I need you to get very close to her. Listen to me very carefully," Sweeten said in the 911 call recording. "I need you to lay her flat on her back. I'm going to teach you how to do some CPR. Listen carefully."
Culbertson started CPR but within seconds a succession of people with years of CPR training took over. Bystanders Gina Hamilton and Aleece Ford, both registered nurses, continued CPR and used an automated external defibrillator (AED) on Shanks.
The Morgan County Sheriff's Deputy, Waverly Rescue Squad members, LifeStar paramedics, and other emergency responders who arrived quickly at the scene ensured that Shanks had uninterrupted CPR and breathing assistance from the moment of her collapse through her arrival at the hospital. The people involved in saving Shanks, from the telecommunicators who talked bystanders through the situation to the responding police and emergency services personnel, had a total of 174 years of certified CPR experience.
"I don't remember much after I collapsed, but I do remember being in the ambulance and asking, 'Where am I?'" Shanks said. "Then I remember somebody saying 'I can't get her bra and shirt off of her' and I said, 'Just cut the damn things off! They can be replaced!'"
"Every rib in my body was broken (from the CPR) and that's fine. My whole body was bruised, and that's fine because I'd rather be here and have broken ribs and bruises than to not be here," Shanks said. "I'm here, I'm not a quitter, I'm not ever going to give up. The heartbeat goes on, and every one of my rescuers, even though I don't know you personally, you are in there somewhere."
Shanks got to meet most of her rescuers when they were honored in Jacksonville on Dec. 8 for their lifesaving efforts.
"It's gratifying to know that we saved a life, but it's really a pleasure to actually meet the life that we helped to save," said 911 telecommunicator Lynne Bell, who helped dispatch emergency crews to the scene on July 3. "It doesn't happen very often."
Morgan County Sheriff's Deputy Jamie Bettis observed that "generally not very often are there trained medical personnel already on the scene" when he arrives.
"Praise the Lord," said Waverly Rescue Squad member Ron Lyons. "I've worked at Memorial for a lot of years in the emergency room and often it doesn't happen like it did that day."
The July 3 heart attack was Shanks' second due to a congenital heart condition, and she continues to undergo chemotherapy as she battles cancer. But Shanks is alive this holiday season, and was able to thank those responsible in person.
"I couldn't have been in a better place at a better time," Shanks told the first responders on Dec. 8. "Thank God for all of you who played a part that day to save my life. You are all a blessing to me."
David Blanchette is a freelance writer from Jacksonville. He is thankful for several things this holiday season, including his fiancée Sue and his family, the opening of the Jacksonville Area Museum, and his ability to continue doing what he loves, meeting interesting people and bringing their stories to the public.