It's been a rough year where deaths in the world of film are concerned. While we acknowledge their passing and recognize the inherent misfortune that accompanies these events, we only begin to recognize the importance of these losses, from an artistic point of view, when we see them at work. Such is the case with A Most Wanted Man, an adaptation of the John le Carre novel featuring Philip Seymour Hoffman in his final starring role, a nicely executed bit of international espionage that's elevated by the actor's fine performance as he brings something special and humane to a part that could have been botched by making obvious dramatic choices, something he was rarely guilty of doing.
Fueled by urgency and paranoia, the film's setting is Hamburg, Germany where Gunther Bachmann (Hoffman) runs a small unit within the government's espionage division. They're charged mostly with surveillance where suspected terrorists are concerned and Bachmann's methods often run counter to those of other directors in the intelligence community. He runs into some internal resistance regarding the way he's handling his latest target, one Issa Karpov (Grigoriy Dobrygin), a half-Chechen, half-Russian Muslim who's snuck into the country, but not unnoticed. Instead of apprehending him immediately, Bachmann, as he often does, instructs the members of his team to watch and wait, allow the suspect to act so he may lead them to bigger fish in the terrorist world. This policy rankles his colleagues but it seems to pay off in a big way once Karpov shows his hand. Through Annabel Richter (Rachel McAdams), an idealistic but naïve lawyer, he informs Tommy Brue (Willem Dafoe), the head of a bank with a questionable past, that he's come to claim what remains in his dead father's accounts, a sum that's north of ten million Euros.
The cat-and-mouse game kicks into high gear once that card is played, with Bachmann and his crew watching Karpov's every step, wondering if he'll use his newfound wealth to fund terrorist operations, as it is revealed he has reason to do so, donate the money to altruistic organizations or simply take it and run. As with most le Carre stories, the twists, turns, red herrings and half-truths begin to pile up but never in a way that causes confusion or defies logic. We're made aware of all the players in the game, their motives and realize that no one can be taken at face value. Kudos to director (Anton Corbijn) for creating the proper tempo, stringing us along with one piece after another but never letting the line slacken to allow tedium or repetition to set in. Though the film runs two hours, it never seems like it.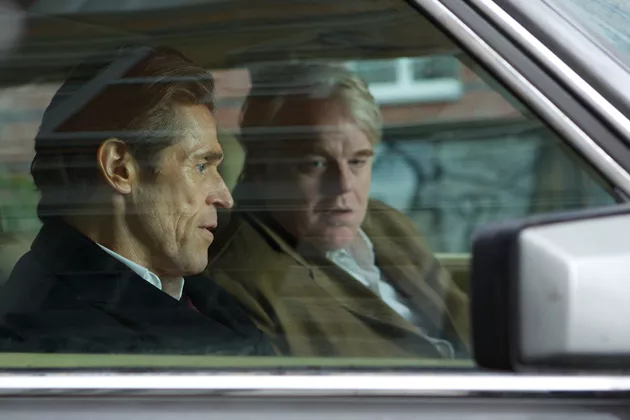 One of the most refreshing aspects of this spy thriller is that this is as far away from James Bond as you can imagine. Many of the operatives are in the shadows and Bachmann's team consists of seemingly everyday people, none of whom will be mistaken for men of action, particularly their leader. Hoffman is at his most vulnerable here, slovenly, overweight, chain-smoking, never without a drink nearby, he gives us a man who refuses to let this job get the better of him, though it's killing him as a result. Stress and fatigue are writ large on him from top to bottom and he mines the inherent tragedy of this man's situation to great effect. As you would expect, Dafoe, McAdams and Robin Wright Penn as a US operative all do fine work and keep up with the film's star. However, special mention should be made of Nina Hoss who plays Irna, Bachmann's Girl Friday, a colleague who perhaps harbors romantic feelings for her co-worker yet must stand back and watch helplessly as their work destroys the man she loves. At one point, they must pretend to embrace and kiss. Notice how Hoss grips Hoffman and releases him – with this one action, she tells you all you need to know about her character.

Man is a well-done spy thriller – it's tautly executed, contains very good performances and resonates with international concerns of the day. However, it will be remembered as Hoffman's last great screen triumph, a performance in many ways reflective of how he approached his profession – with complete and total commitment, blind to the harm it was doing to him all the way to the end.