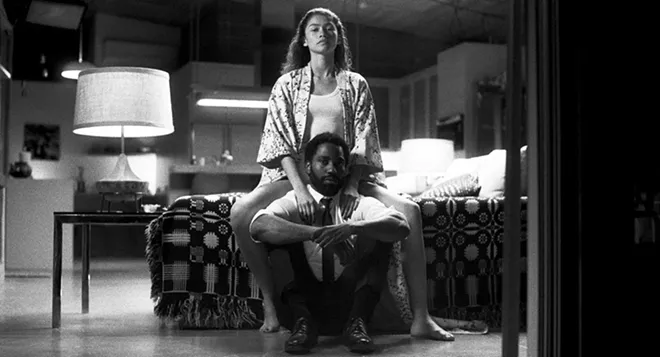 Wearing out their welcome
There's an undeniable energy in Sam Levinson's Malcolm and Marie, much of it provided by its stars, John David Washington and Zendaya, as the titular troubled couple. With its crackling dialogue and crisp visual style, it's easy to get swept into this domestic drama that takes place over the course of a very long night. Old hurts, hidden grievances and deep secrets all come to the fore as they emotionally eviscerate one another, and it proves to be incredibly engaging due to its honesty. But then it takes a turn and what once seemed genuine comes off as obvious and calculated, the movie turning into a piece of Oscar bait right before your eyes. Invigorating at first, the film ends up making you feel as if you'd been bludgeoned instead of entertained. Streaming on Netflix.
A true mind-bender
Mike Cahill's Bliss is a genuine mind-bender, a film that will keep you on your toes throughout and produce a great deal of thought after the final credits roll. Owen Wilson is Greg, an executive who finds that being fired from his mysteriously vague job is the highlight of his day. Before you know it, his fortune takes a turn and he's homeless on the street, yet he meets the mysterious Isabel (Salma Hayak), who takes him under her wing and convinces him that the world he's in isn't real, just a simulation. Whether it is or not is one of the central questions of this genre-defying entry that contains one surprise after the other. While Cahill could have told this tale a bit more briskly, the themes he tackles keep us hooked, as do the questions he asks about happiness and what we might do to attain it. Poignant and touching, the movie will ultimately have you questioning what sort of reality you've opted to live in and why. Streaming on Amazon.
This monster belongs dead
I understand what Nora Unkel is trying to do with A Nightmare Wakes, I just wish she had done it better. Concerning the writing of the novel Frankenstein, the film focuses on the turmoil Mary Shelley (Alix Regan) was dealing with when penning the classic horror tale. Emotionally abandoned by her lover, Percy Bryce Shelley (Giullian Yao Gioiello), and ostracized from her family, the pregnant woman is suffering from terrifying dreams concerning the upcoming birth of her child. With all this swirling about in her head, is it any wonder she would create a childlike character that's abandoned and the object of ridicule? Other than Regan, miscasting abounds with actors who are far too young or contemporary to be believed in the 19th century, while the execution of the story is muddled, making it difficult to become engaged in this obvious creation story, let alone care. Streaming on Shudder.
Get in the game with Ted Lasso
If you haven't seen Ted Lasso, you need to right now. I rarely watch anything twice that's less than a year old, simply because I don't have time, but I'm on my second go-around with this Apple TV series, charmed all over again by Jason Sudeikis as the titular college football coach who's hired to lead AFC Richmond, a struggling English soccer team. The culture clash that ensues provides big laughs, but what sets the series apart is the genuine optimism it has about the world and those struggling in it. I watched this not long after the COVID lockdown began and its unabashed, sincere sense of positivity gave me a much-needed emotional boost. I guarantee it will do the same for you. Streaming on Apple TV.