Restoration of the Governor's Mansion is wrapping up for a grand opening in July. The mansion is the third-oldest continuously occupied executive mansion in the United States and has been on the National Register of Historic Places since 1976. It has a rich history, in its occupants and frequent restorations.

The mansion has witnessed births, deaths, weddings, receptions, teas, parties and even antique shows. Its governors have hosted presidents, stars and dignitaries. Governors' children haven't always displayed the decorum of proper behavior. Many first ladies became part of the Springfield social scene, and the governors themselves have created intrigue and scandal.

The first governor to live in the house – Illinois' 10th governor – was Joel Matteson (1853-1857). Elected in 1853, he decided that the state-provided governor's home on the corner of Eighth and Capitol was too cramped. With a family of seven children and duties that required hosting meetings and parties, he wanted a larger residence. After he requested an appropriation from the state legislature to construct a new Governor's Mansion, $18,000 was approved, and architect John M. Van Osdel of Chicago was hired. (Among his other works are the Palmer House in Chicago and University Hall at the University of Illinois.) Designed in the Italianate style using red brick and sporting a large cupola, it had 16 rooms formed in an "H" shape, and featured an elliptical entrance hall staircase.
Matteson moved into the new mansion in late 1855 and hosted an open house, which the rIllinois State Register called "the gayest assembly ever marshaled in our city." Later, Matteson described the home as "dull and unfashionable." After leaving office in 1857, he bought land across the street (Central Baptist Church now occupies the site) and built a home for himself, which Mary Todd Lincoln called a "palace." It was destroyed by fire in 1873. For Illinoisans who know the criminal history of some of the Illinois governors, it won't be surprising to learn that Matteson was accused of becoming rich by selling scrips promised to construction contractors of the Illinois and Michigan Canal. Although never charged with a crime, he sold his new home to defray debt.

It was at the Governor's Mansion in 1872 that Frederick Douglass visited Gov. John Palmer. Also, many presidents have visited Springfield – some came to the mansion. In 1874, during his presidency, Ulysses S. Grant stayed overnight after dedicating the opening of Lincoln's Tomb and being feted at a reception by Gov. John Beveridge. (Grant had also been in Springfield in 1861 when Gov. Richard Yates appointed him as the colonel of the 21st Illinois Infantry.) Gov. Charles Deneen and his wife, Bina, hosted an elaborate reception for President William Howard Taft in 1911. President Herbert Hoover lunched with Gov. Louis Emmerson after speaking at the 1931 Lincoln Tomb rededication ceremony.

Gov. Shelby Cullom (governor from 1877 to 1883) hosted a breakfast for President Rutherford B. Hayes and his wife, Lucy, in 1879, and they visited the State Fair. In the same year, Cullom sat down for a meal in the mansion with Robert Lincoln.

President Theodore Roosevelt visited Gov. Richard Yates Jr. (1901-1905) in 1903 and attended the State Fair. Franklin Delano Roosevelt joined Gov. Henry Horner (1933-1940) and addressed a crowd on the front porch in 1936, promising federal aid to farmers. Gov. William Stratton accompanied President Dwight Eisenhower to the State Fair in 1954; Eisenhower commented that he had "just left the luncheon table of Gov. Stratton and his charming family." Stratton hosted King Hussein of Jordan at a dinner in the mansion in 1959.
Many celebrities stepped into the Governor's Mansion on their visits to Springfield. Ann Landers, well-known advice columnist, met with Gov. James Thompson at the mansion and then accompanied him to the State Fair. (She became angry when the emcee introduced her with her real name, Eppie Lederer, as no one really recognized her with that name.) Other stars came to the city, and it is not clear if they actually went to the mansion. Humphrey Bogart and Lauren Bacall came to town in 1952 to await the presidential election results for Adlai Stevenson (1949-1953) who they had supported in his bid against Dwight Eisenhower; Eisenhower won in a landslide.

Abraham Lincoln attended the inauguration of Gov. William Bissell (1857-1860), often visited Bissell in the mansion, and returned in 1860 to comfort his dying friend. Bissell, Illinois' 11th governor and the second one to live in the house, died in the mansion on March 18, 1860.

Lt. Governor John Wood (1860-1861), who then assumed the governorship, allowed Bissell's family to stay in the house for the remaining 10 months of his term. Wood is one of 10 governors – out of the 42 Illinois governors – who never occupied the mansion. The other nine governors served their terms prior to the mansion's construction.
Of course, whether a governor actually lives in the mansion always surfaces as a topic of discussion in Springfield. Most governors have divided time between the mansion and their home in another part of the state. Gov. Richard Yates Jr. built a home at 1190 Williams Blvd. in Springfield in 1905 where he lived after serving his term. Gov. Jim Edgar and his wife, Brenda, are often named as the family who lived in the mansion the most. Gov. Rod Blagojevich openly claimed it was an insult to stay in the mansion, calling the bed a mere two-by-four and rarely staying in the house (even though he demanded a heated driveway).
Gov. Jim Thompson (1977-1991) stayed often in the mansion and was occasionally seen walking around town and shopping in stores. His daughter, Samantha, was born in 1978 at Memorial Hospital and the first house she lived in was the mansion. (Samantha was the first child born to a sitting governor in 72 years; Bina Deneen had been born in 1906 in the mansion.)

The mansion and its grounds have been used for receptions, galas, teas and even antique shows. Jim Thompson, an antique lover, held an annual antique fair on the lawn of the mansion. (This author, once the owner of an antique shop, recalls watching Thompson's young daughter Samantha running around the lawn, security in hot pursuit to prevent her from upturning the antique-laden tables of the vendors who had set up.) Pictures of the Thompsons often appeared in the daily newspaper.
Gov. Henry Horner (1933-1940) was pictured in a newspaper article on a snowy day in December 1939. The Illinois State Journal reported, "… saw the Governor riding jauntily and having the time of his life in a one-horse sleigh. As the horse's bobbing head jangled the bells on the collar, pedestrians along the streets looked up, gaped in astonishment and then called greetings." Horner was a bachelor and so any lady visitors had to stay in downtown hotels rather than at the mansion so no "talk" would occur. Horner, the first Jewish governor (the second governor who was Jewish was Samuel Shapiro), was a member of Springfield's Temple B'rith Sholom. In 1939, four days before his reelection, Horner suffered a stroke and convalesced in Florida for five months. He died in office at his home in Winnetka in 1940.

Succeeding Horner was Gov. John Stelle (1940-1941). When he moved into the mansion he ordered 35 cases of beer and threw a party, the first of many. Entertaining 30-40 guests a night, it was said the mansion was "lit up like a Christmas tree" with parties going on into the late hours. Yet Stelle was always known to be up early for breakfast. It was during some of the late-night parties that he made decisions to fire people with no warning and replace them with his buddies. When he left office only a year later, it was said he had added 400 of his friends to the state payroll.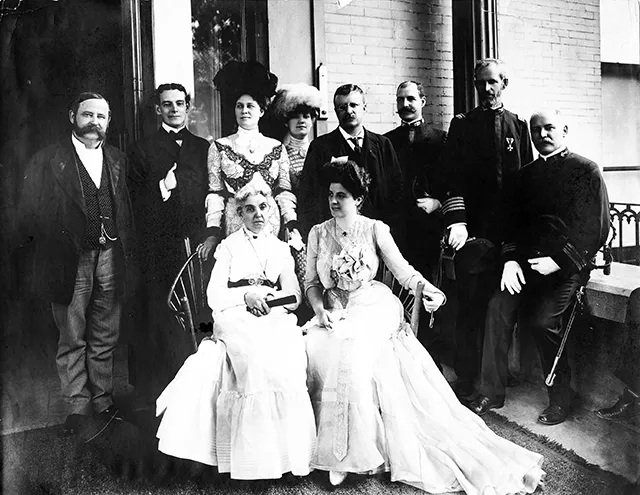 Parties were common during many of the governors' terms. Gov. John Tanner (1897-1901) celebrated for 12 days, with first his wedding to Springfield socialite Cora Edith English on Dec. 30, 1896 (she was 20 years younger than Tanner), and then his inauguration on Jan. 11, 1897. He invited over 1,200 guests and 50,000 people descended on Springfield. Farmers rented out rooms, and pickpockets were known to be on the prowl. Wedding gifts included, "5 chests of silver (one with 300 pieces), a carriage upholstered in blue leather, padded with blue quilted satin and pulled by a team of bay horses." During Tanner's time, the mansion was known for many social events, called "elaborate" by the newspaper. On New Year's Day, 1901, Tanner welcomed state officials and military officers during the morning; throughout the afternoon Mrs. Tanner hosted guests.

According to the illinois.gov website, Gov. Adlai Stevenson (1949-1953) used the mansion for his 1952 campaign headquarters in his bid for U.S. president. It is more likely, though, that the headquarters were housed in the Leland Hotel at Fifth and Capitol. (His campaign brought intellectuals and celebrities to town, including historian Arthur Schlesinger, Jr., and economist John Kenneth Galbraith. His campaign policy staff worked from offices in the Ellas Club building, now the Bucari Commerce Building, at 509 N. Sixth St.)
Gov. Dwight Green (1941-1949) wanted to honor soldiers on leave and was known for hosting many parties and dinners for the soldiers visiting Springfield.
Gov. William Stratton (1953-1961), elected at the age of 40, was the youngest governor in America at the time. He and his wife, Shirley, were known to entertain as many as 25,000 guests a year for various events. The Stratton Building, which houses state offices, was named in his honor. Three governors – Edgar, Thompson and Ryan – served as pallbearers at his funeral in 2001.
Throughout its history, the mansion has had structural issues. The Rauners were not the first to find the mansion in disrepair. In fact, since being built in 1855 up to today, renovations have occurred almost every 20 years. Governors and their wives often complained of the condition of the house. The mansion was almost torn down in 1963.
By 1877, Gov. Cullom complained of a leaky roof and termites in the then 22-year-old house.
In 1889 the legislature provided $13,500 for remodeling for the new governor, Joseph Fifer (1889-1893), to accommodate his large family. The red brick exterior was painted a light stone color, making the house look white.
In 1897, the Tanners found the house "uninhabitable." The central spiral staircase was near collapse; plaster and paint were crumbling in many areas. The governor and his wife pushed for state appropriations and $27,241 was approved. Local architect George Helmle was hired. The front portico with Corinthian pillars was added, and a new rectangular interior staircase replaced the elliptical design. The original cupola was enclosed. (During the current restoration, architects discovered the original cupola, but it is covered by steel beams and the roof, making it impossible to uncover.)
The year 1913 saw another $16,000 state appropriation to update the home for Gov. Edward Dunne, his wife Elizabeth and their nine children. Only four years later, in 1917, Gov. Frank Lowden (1917-1921) and his wife, Florence, complained of a leaky roof and pest infestations. They moved out of the house for several months, staying with John Black on Williams Boulevard, as another renovation occurred. The renovations cost $50,000, with the Lowdens paying half.
In 1929 another appropriation was approved by the legislature, this time for $90,000 to enclose two porches on the west side of the house.

In 1941, Gov. Dwight Green's wife, Mabel, asked for improvements to address termite damage that had ruined floors and part of the library, but her efforts were thwarted by the lack of money and shortage of materials and laborers due to the war. Servants had to resort to serving soybean loaves rather than the typical meatloaf.
Over the years more restorations and repairs were made, although requests for state appropriations often fell short of needed money. By 1961 criticisms were aimed at the lack of care for the mansion; newspapers called it a "firetrap." Floors were near collapse, the roof leaked and disrepair could be seen throughout. The Chicago Tribune called it a "hazard as well as a horror." In 1963 there were calls for demolition and construction of a new mansion. Although the proposal passed the House, it was never called in the Senate.

In 1865, Gov. Otto Kerner (1961-1968) signed legislation creating the Executive Mansion Commission to study a renovation project, while also vetoing $900,000 appropriated for repairs. Gov. Richard Ogilvie (1969-1973) followed suit and opposed additions of wings onto the house and called for a study. In 1970 new living quarters were recommended by the Graham, O'Shea and Wisnosky architectural firm, and in 1971 the home was restored to its 1855 design as much as possible. During the $3 million restoration work, the Ogilvies lived at Lincoln Towers. After the restoration, First Lady Dorothy Ogilvie became the honorary chairwoman of the Illinois Executive Mansion Association, a position since held by each first lady.
Throughout the years many of the first ladies engaged in their own redecorating projects. First Lady Catherine Yates in 1861 added rose-designed carpets and rosewood tables. Gertrude Fifer around 1890 installed plate glass bay windows in the west rooms and received criticism for changing the style of the mansion. Cora Tanner loved red and decorated the walls, woodwork and drapes in that color when she moved into the house in 1897, but when Richard Yates (1901-1905) and the son of the first Gov. Richard Yates) came into office, his wife, Helen, changed the décor – painting the woodwork black with gold specks.
Gov. George Ryan (1999-2003) and First Lady Lura Lynn raised private donations to refurbish much of the mansion's furniture. Lura Lynn Ryan coauthored a book, At Home with Illinois Governors: A Social History of the Illinois Executive Mansion.

Under Gov. Bruce Rauner and his wife, Diana, private donations have been raised to restore the home, and the design team chose 1890s as the restoration time period, the era of governors Fifer, Altgeld and Tanner.
Wear and tear on the house was aggravated by its occupants. With many hundreds of people coming through the mansion for entertainments, and with young children running through the house (Gov. Matteson had seven children; Gov. Dunne had nine), no doubt damage occurred. Gov. Fifer's 12-year-old daughter, Florence, made a grand entrance into her father's inaugural ball at the mansion by sliding down the staircase banister. She was known to ride her pony up the front steps and into the front hall and kept a baby alligator in the outside fountain. (Florence became the first female state senator in Illinois in 1924.)
In the 1940s, Gov. Green's daughter, Gloria, kept a baby pig called Confucius in the bedroom. And the governor himself often brought his pet deer, Billy Buck, into the mansion to be exhibited to his dinner guests.
First ladies participated in the Springfield social scene, hosting receptions and teas with the help of Springfield women. Susan Lawrence Dana lived just a few blocks away at her Frank Lloyd Wright-designed home at Fourth and Lawrence. She was friends with several governors and was often invited to the mansion. She assisted Gov. Altgeld's wife, Emma, at an event in the mansion and attended Gov. Tanner's inaugural ball. Under Gov. Dunne she was the only woman appointed to the Illinois Commission Half-Century Anniversary of Negro Freedom/Emancipation Proclamation.

Illinois governors have led interesting lives in the mansion. Now the old house has been given another new life to tell their stories.

Cinda Ackerman Klickna of Rochester enjoys exploring Springfield's rich and entertaining history.
Daily tours planned after July 14 reopening
The restored Governor's Mansion is set to reopen July 14, according to Justin Blandford, who was recently named to the post of curator of the mansion, after years as supervisor of Springfield's state historic sites.

Daily tours are planned, and a new visitor center will include exhibits. "This will be a living museum, and we plan to share the stories of the children such as Florence Fifer, who rode her horse into the house, or Richard Yates, Jr., who saw his father guide the state as governor, and later became governor himself," Blandford said. "These stories have never been talked about before. We will also highlight our first ladies and their leadership. Our goal is to convey civic responsibility." One item that will be on display is a drawing of the mansion done in 1972 by a teenaged Elizabeth Ogilvie, whose father, Richard B. Ogilvie, served as governor from 1969 to 1973.
The Mansion has been restored to the 1890 period when Henry Horner was living in the home. Repairs have been made and new carpeting installed. Draperies done in 2002 by Afar decorators Tara and Mike McVary have been taken down, sheers added to protect items in the house, and rehung.
A second-floor suite will showcase 14 hand-carved pieces of furniture from the 1893 World's Columbian Exposition acquired by Gov. James Thompson, and another area will display Civil War-era furniture, pictures and maps. Parlors will showcase various items such as paintings, maps, furniture and artifacts collected over the years.

Grounds have been redesigned by Massie Massie and Associates, the Springfield landscape architecture firm. The front "had become a jungle, and there were animals and drainage issues we had to address," says Kent Massie. Overgrowth was removed, a few diseased trees had to be removed, and around 10 trees have been relocated. The west yard and carriage house area have not been touched. Jackson Street will be the entrance into the grounds. Old stepping stones (discovered to be cutouts from countertops) were removed. "A lot of work that people won't see, though, has occurred," says Massie, "with drainage and sewer repairs. The water from gutters often drained into the street and froze in the winter. Now water will be held on site in underground areas."

Illinois artists will be featured once again. Gov. Jim Thompson opened an Illinois artisans shop in 1990 to highlight the many works of talented Illinois artists. The Artisans Program was later administered by the Illinois State Museum but met its demise during the Rauner administration's closing of the museum and shop.
Parking will still be available on Fourth, Fifth and Jackson streets, and visitors will be able to tour the Mansion as well as enjoy areas nearby with the new Bicentennial Plaza and walkway along the Realtor's Building.

–Cinda Klickna