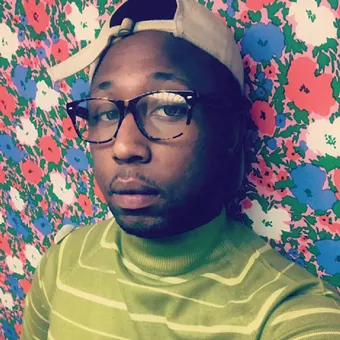 Vincent "June" Chappelle grew up in Chicago in the predominantly Black neighborhood of Chatham. As an adolescent he got into a box of family photographs and began to piece together his origins. He found out his family was tied to a plantation. He is the descendant of a slaveholder from South Carolina. Chappelle called the finding "conflicting."
"Knowing that you have the ancestry of a white supremacist running through your veins" is hard to deal with, he said. But that's what history is about for him. It's about exploring uncomfortable realities and situations so that they can be critically dealt with and learned from, so that they don't haunt the present. History can also be empowering, Chappelle said.
He especially enjoys researching the margins, the people who have largely been written out of the status quo version of history, a version which often centers straight white men. Chappelle lives at the intersection of various "minority" identities himself. Chappelle is Black, queer and disabled. "What would Black history be without our queer and transgender forebears who have been on the front lines of nearly every movement," he posited. "If it hadn't been for a Black gay man by the name of Bayard Rustin, the March on Washington would have never happened." Stonewall, the New York City riots in 1969 that led to the first gay pride parade and a shift in LGBTQ acceptance, was also led by trans women of color, Chappelle said.
His own challenges dealing with identity have affected how he sees the world. "I experience racism because I'm Black. I experience queerphobia because I am a queer-identifying person, and I experience ableism also because I am disabled," he said. "It can be a lot to bear." Chappelle spent almost a year, starting in 2017, hospitalized due to a neurological disorder he still lives with. Once confined to a wheelchair, he is now able to walk with the assistance of a cane.
In his late 20s, and having already lived through a number of adversities, Chappelle does not shy away from matters of equity. He's spoken with Illinois Times for its coverage of Statehouse statues. He was a proponent of removing the likenesses of those who profited from slavery. Late last month, monuments honoring Pierre Menard, a slaveholder and the state's first lieutenant governor, and Stephen A. Douglas, were taken down.
"It's been something that I've wondered about for quite some time, ever since I realized the state of Illinois had a hand in the execution of slavery," he said. This was a facet of history Chappelle said he hadn't learned while living in Illinois. Instead he learned it while attending Africana studies classes at a historically Black university in South Carolina. He had found the statue of Menard, a relic of the 1800s and positioned in a way where Menard was looming over a Native American, to be particularly white supremacist. "Our stories deserve to be told, and I'm glad that we are living in a time where they are going to be told, or the narratives are being changed."
Chappelle works at the Illinois State Museum, a job he began in August. He also serves on multiple boards for history organizations. In Springfield, he credits Black women in particular with supporting him. He assists Shatriya Smith, who directs a community group aimed at sharing Black history and art with youth. He considers others like Kathryn Harris, a high-profile state historian, as mentors. And the women in his family also encouraged his scholarship. Chappelle's preferred first name, June, is a nod to names given to enslaved people, often based on months or days of the week. He's also a junior, and was born in the month of June. It's a way he carries history with him every day, along with a strong conviction for rooting out racism.
True racial equity is "not something that will happen overnight. It may not be a complete 180-degree shift in my lifetime," said Chappelle. "But it's important for us to do the work, to make sure that the world of tomorrow is different from the one we're living in now."
Contact Rachel Otwell at rotwell@illinoistimes.com.