The Illinois Product Expo was held at the State Fairgrounds this past weekend, March 4-5. Sponsored by the Illinois Department of Agriculture, the event has been connecting Illinois producers directly with hungry customers for over 20 years.
When I arrived at the Orr building around midday on Saturday the parking lot was packed and the event space was bustling, with long lines for samples of Zio's frozen pizza and ice cream from Rolling Lawns Farm, produced in Clinton and Greenfield, respectively. Many of the booths were staffed by the producers themselves, and as much as I enjoyed the array of tasty samples, the real treat was getting to know the people and families behind these small, independent businesses. Here are some of my favorite finds from the event:
Glaciers End is an agribusiness located in Williamson County. Owned and operated by Derek and Libby Ervin, they use produce grown on their farm and from neighboring local farms to create specialty syrups, jams, pickles, hot sauces and shrub drinking vinegars, a concoction with roots tracing back to the 16th century. Long touted for their health benefits, shrubs have become increasingly popular on trendy cocktail menus. We took home a bottle of Apple Butter Ginger Shrub, which my husband was excited to try with bourbon, along with bottles of Phantom Honey Plum Fairy Hot Sauce, elderberry syrup and elderflower syrup. Libby Ervin explained to me that they are able to get two harvests out of their elderberry crop by collecting the petals from the plants as they drop, leaving the immature berries intact to be harvested later. More information can be found at www.glaciersend.com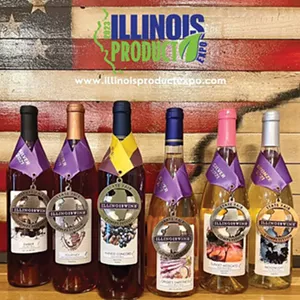 If you're a popcorn lover, then you need to know about Seven Forks Farm. Owned and operated by Matt and Vanessa Biven along with their five kids, the farm's name honors the family of seven's time around the dinner table using seven forks as they break bread together. The family has been farming in St. Clair County for five generations and began growing popcorn in 2019, offering several varieties of popcorn, including red, purple and tender white. They all pop up snowy white, but each variety has its own subtle nuance of flavor. The purple variety is slightly sweet while the red is more nutty. All varieties are non-GMO, and because their product is so fresh, it pops up incredibly tender yet crunchy with very few unpopped kernels left behind. We brought home a bag of their Fireside Blend, a mixture of red and tender white popcorn, which was quickly declared to be our new family favorite. Seven Forks Farm Popcorn can be purchased on Etsy. More information at www.etsy.com/shop/sevenforksfarm
Illinois Wine has come a long way. When I first became involved in the wine industry nearly 20 years ago, most of the Midwest wines that I tasted were overly sweet and not terribly well-made. However, I am pleased to report that the industry has made great strides in the past couple of decades, and today there are some incredibly good wines being made in Illinois and sold at competitive prices. The Illinois Wine Garden was a popular section of the Product Expo and had a large selection showcasing an impressive range of wine styles.
The Reserve Vignoles made by the Pour Vineyard located in Red Bud is bright and crisp with grapefruit and lemon aromas, similar in style to a sauvignon blanc. They also make an excellent dry wine made from norton, a grape native to the American Midwest. Robust with earthy cherry aromas and balanced acidity, the Pour Vineyards Norton made me hungry for a char-grilled burger with roasted mushrooms.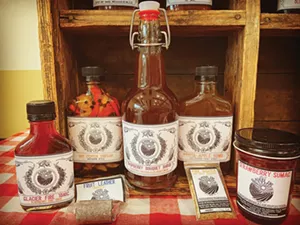 The Flyway Rosé from Kite Hill Vineyards was a delicious stand out. Made from the chambourcin grape, the Flyway Rosé is dry and makes good use of chambourcin's naturally high acidity and juicy strawberry and raspberry aromas. The Aeronaut from Kite Hill, a dry red wine made from chambourcin blended with a splash of vidal blanc, was also noteworthy.
West of Wise, located just a short drive away in Petersburg, had several tasty pours, including Tina's Red Blend, a dry meritage-style wine, and their Bourbon Barrel Aged Norton. Unlike most of the bourbon-barrel aged wines I've tried before, West of Wise managed to lean into the spicy, dark fruit characters of norton, complimenting rather than overpowering the wine with bourbon aromas. Find more information at www.Illinoiswine.com.
I was glad to have purchased a few bags of Umland's Crunchy cheese before I ventured into the wine garden. Made in Carlock, Illinois, the savory cheese puffs were a perfect portable snack to have with my wine. Created using a proprietary technique that removes water from the cheese before it reaches its melting point, these little cheese bites basically look like freeze-dried cheese curds. We devoured a bag of the crunchy gouda flavor as we perused the Expo, and I am currently munching on the pepperjack flavor as I sit here typing. High in protein, low in carbs, they even stayed crunchy in my soup. Find more information at www.umlandscrunchycheese.com