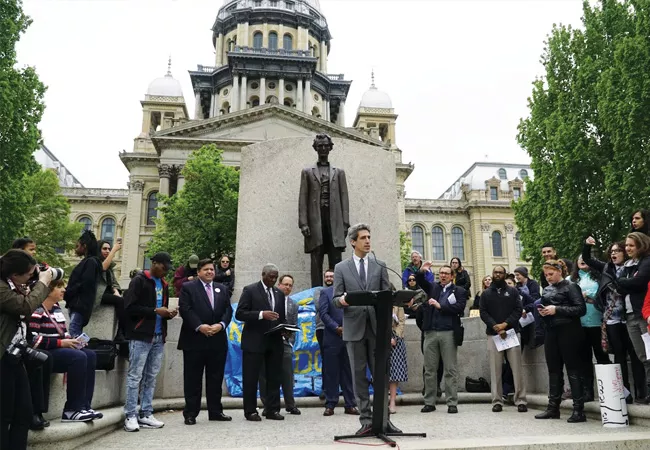 The rally began as students and faculty gathered around Illinois' Statehouse Rotunda, chanting "Fund our futures" and "Do your Job," calling on Gov. Bruce Rauner to fund higher education. It continued outside the Statehouse by the Abraham Lincoln statue with speakers firing up the crowd about the effects of the budget impasse on higher education.

William McNary, co-director of Citizen Action Illinois, noted that Rauner is the only Illinois governor who has not passed a budget.
"Gov. Rauner, we are calling on you to stop diving and start leading, stop dictating and start compromising, stop campaigning and start governing," McNary said at the April 27 event.
Rep. Chris Welch, D-Hillside, sparked the crowd to chant, "Rauner's got to go."
"We need to save higher education in Illinois and we are going to do that by getting rid of Bruce Rauner," he said. "People educated here stay here. They raise their families here. They pay taxes here."
Illinois' general fund investment in higher education has decreased since fiscal year 2000, according to the Center for Tax and Budget Accountability 2017 report on Illinois' disinvestment in higher education.
Fiscal 2015 funding was a 41 percent decrease from fiscal 2000 levels. Fiscal year 2015 was the last year Illinois public higher education institutions received complete state funding.
Sen. Daniel Biss, D-Evanston, a Democratic candidate for governor, said universities in other states believe Rauner is "doing a good job" of driving students out of Illinois and into their states.
"Universities in Wisconsin, Iowa, Indiana and Missouri think Rauner is doing a great job sending our young people out of Illinois...making our colleges and universities unaffordable," he said.
Biss called for free higher education tuition, and said "the people" are bringing change to the state.
"The solutions are not coming from that building right now (pointing to the Statehouse). The solutions are coming from the movement of people that is rising across the state to take our state back," he said.
J. B. Pritzker, a Democratic candidate for governor, who also supports making higher education affordable for everyone, criticized Rauner.
"Rauner cares more about spreadsheets than he does about people," Pritzker said.
Rep Katie Stuart, D-Edwardsville, spoke about the rippling effects of inadequate funding for higher education, which is one of many areas affected by the state's budget impasse. Stuart said the School of Pharmacy at Southern Illinois University Edwardsville has suffered from cuts the university has made to maintain their programs.
"You can't keep cutting away at the edges before you get to the heart of something," she said.
SIUE School of Pharmacy is only one of six pharmacy schools in the state, and only one of three that are public. The state would lose 33 percent of public pharmacy schools if SIUE closes its program because of lack of funding.
Cynthia Ramos, a student from North Central College majoring in elementary education, said the lack of funding for Monetary Award Program grants reduces opportunities for future students as well.
"When I have my own classroom, I want to be confident when I tell students of the opportunities ahead of them," Ramos said. "I will still encourage higher education, but now with the understanding that, financially, fewer of my students will be able to make the choice to attend college."
Patricia Burchfield, a senior student from Northeastern Illinois University, said students are often told to work harder when their grants are eliminated, while politicians "continue to not do their job."
"When we think of criminals, people think of prison, but the real criminal is in the building behind me," she said. "As long as Rauner collects our tax dollars and fails to represent us, he is stealing and that makes him a criminal."
Burchfield also acknowledged Rauner's lack of a budget throughout his term in office.
"If I had failed all my courses the first two years, I wouldn't be graduating, but you fail for two years and still want to be called governor," she said. "Politicians are supposed to represent us. We are not being represented, we are being ignored."
Contact Debby Hernandez at editintern@illinoistimes.com.