A political rematch two years in the making, with campaigns dictated by the COVID pandemic, will decide who represents a large swath of central Illinois in the nation's capital. And when it's over, whoever wins may not have a district in which to run for reelection in 2022.
The 13th Congressional District race is a repeat of the contest two years ago where political newcomer Betsy Dirksen Londrigan came close to unseating incumbent Rodney Davis. A mere 2,058 votes out of nearly 271,000 cast made Davis' victory one of the tightest in the nation, and Dirksen Londrigan hopes the math works in her favor this time.
"We are ready to finish what we started and flip this seat," said Dirksen Londrigan, a Democrat, who, like last time, has used Davis' support of President Donald Trump as a key component of her campaign.
Davis, a fourth-term Republican, thinks his support of the president plays well in the 13th District.
"Donald Trump is a lot more popular in my district than Mike Madigan is," Davis said. "I truly support President Trump."
The two candidates have done very little in-person campaigning due to the pandemic, although the fundraising dollars are still coming at a brisk pace in a race that both political parties feel has national implications. But with Illinois facing the possibility of losing a congressional seat due to declining population, there may not be a 13th Congressional District when the next election rolls around.
Pandemic politics
Prior to COVID-19, members of Congress typically spent three weeks out of the month in Washington, D.C., and came back for a week to travel around their districts, including campaign appearances.
"After mid-March our lives became endless conference calls," Davis said. "So we are doing more virtual events. I think I've had three live fundraising events, but the majority of them over the summer have been virtual."
Davis' summer campaigning was interrupted when he tested positive for COVID-19 and had to quarantine for 10 days. He had an elevated fever and lost some sense of taste and smell, but has since fully recovered.
"There's a lot less opportunity to go to different events to spread your message," Davis said. "So you have to adapt, you have to do them virtually, but in the end the same messages are going to get out.
"Our teams are out knocking on doors now but there are no public events, like the parades you normally did," Davis said. "The only local parade that they still held was July 4 in my hometown of Taylorville, and everybody wore masks because there's no way to social distance during a parade."
Dirksen Londrigan, a Springfield resident, wore a mask and gloves in that same July 4 parade and has worn a mask at several Black Lives Matter protests she has attended, but her campaign has not organized any in-person events.
"It was so scary when this pandemic started, people didn't know what was happening, so I asked my team to pivot away from making political calls and instead do wellness check calls to people around the district," Dirksen Londrigan said. "In mid-June when people started adjusting to this new environment, we were able to pivot back to more traditional volunteer recruitment and started doing Zoom calls."
Dirksen Londrigan said her phone bank volunteers had surpassed 100,000 calls within the district by mid-September.
"I miss being on the campaign trail, I miss being with people, but with what we have to work with right now I think we're doing great," Dirksen Londrigan said. "I recently did a Facebook Live and Zoom event at the same time and we were able to invite more people from across the district than for the same in-person event two years ago."
The police
Neither candidate supports defunding the police. Both advocate for additional law enforcement spending, but differ on the focus of that spending.
"Not every 911 call requires a law enforcement intervention. We need to add mental health and addiction professionals to the teams so that when somebody is suffering from a crisis, there is a professional on staff who can lead the intervention," Dirksen Londrigan said. "I've talked to sheriffs around the district and they have many people in their jails who are suffering from a mental health or addiction crisis, and that's not what they are trained to deal with."
Dirksen Londrigan said police chokeholds need to be banned nationwide, like they are in Illinois, and additional de-escalation training provided for law enforcement officers. She also said the issue of racism must be addressed head-on.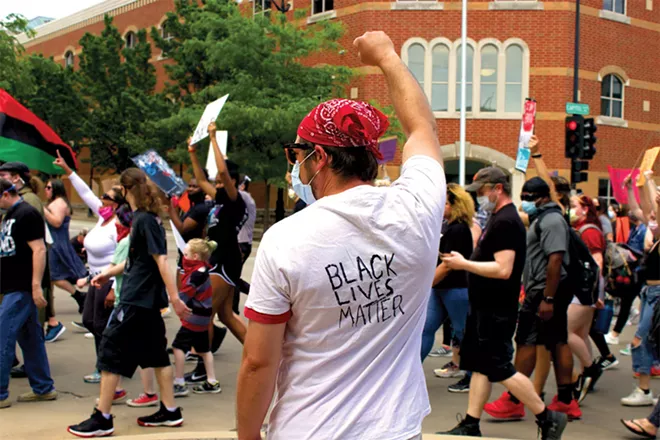 "Racism has to be rooted out, but not just in law enforcement. What people recognized this summer is that systemic racism has tentacles in all of our systems," Dirksen Londrigan said. "Yes, it is in our law enforcement system in the way we treat our Black and brown community members. But yes, it is in the health system as well, and in our education system, and we need to root it out there, too."
Davis supports providing additional funding for law enforcement, both for staffing and training. He has deep respect for law enforcement personnel like the two Capitol Police officers, both Black, who "ran toward gunfire so me and my friends could run off of a baseball field" when a gunman opened fire on a congressional game in June 2017.
"Unfortunately police get painted with a broad brush when a member of the law enforcement community doesn't follow the rules," Davis said. "We have to make sure there is equal treatment. Here in Illinois we've done a great job, Republicans and Democrats, of implementing training standards for all law enforcement officials. Illinois has gone above and beyond what other states do regarding de-escalation techniques and social justice issues."
Where does Davis stand on the Black Lives Matter movement?
"I believe every single life matters, but groups can be hijacked by people who have their own agenda," Davis said. "Again, painting with a broad brush – people who are bad actors, when really the goal should be that everybody is treated the same. That's what we should all strive for."
Davis pointed to his support for listing Springfield Race Riot sites with the National Park Service's African American Civil Rights Network.
"We need to study what Abraham Lincoln has meant to race relations in this country," Davis said. "Can we get better? Absolutely. But not at the expense of tearing down the greatest country in the history of the world."
Health care
Congressman Davis thinks the Affordable Care Act is broken and needs to be replaced.
"I want to create a system that's going to lower the cost of health care, because we have 60 million Americans that still don't have coverage or they have coverage that they can't afford to use if they are diagnosed," Davis said.
Davis voted for the American Health Care Act, the unsuccessful legislation that would have repealed and replaced the Affordable Care Act.
"It's a bill that clearly would have protected the preexisting condition coverage that I support," Davis said. "Preexisting conditions exist in my own family."
The nonpartisan Congressional Budget Office noted that the American Health Care Act would have altered the rules regarding coverage for preexisting conditions, and would have increased the number of uninsured people by 23 million over 10 years. But Davis said it would have been preferable to the status quo or to the alternative posited by the Democrats.
"The solution isn't supporting a program like Medicare X or Medicare for All," Davis said. "Medicare X would destroy rural health care in America."
"If you take away the Affordable Care Act, that expansion money goes along with it," Dirksen Londrigan said. "We need to make sure rural hospitals have what they need, including the expansion of broadband so they can take more advantage of tele-health."
Dirksen Londrigan supports the Democratic proposal to allow Medicare to negotiate directly with pharmaceutical companies for lower drug prices. She said that the 282,000 people with preexisting health conditions in District 13 must be taken into account in any debate over health care coverage.
"We have to protect the Affordable Care Act and all of the essential health benefits that go along with it," Dirksen Londrigan said. "We need to strengthen it and build on it. It was supposed to be a first step, and I know it doesn't work for everyone. So fixing the parts that are broken is something that I can't wait to do."
COVID Response
Both candidates feel the United States' response to the COVID-19 pandemic could have been better.
"The president, in his own words, admitted that he knew about this virus in early February, he knew it was deadly, he knew it was airborne, and then he stood in front of the American people and lied about it repeatedly," Dirksen Londrigan said. "He didn't even attempt to have a plan to address it. That is shocking."
Dirksen Londrigan pointed to the University of Illinois' innovative saliva-based COVID testing as an example of using science and the nation's best minds to address pandemic challenges. She said testing efforts need to be stepped up, unemployment insurance extended, Paycheck Protection Program (PPP) loan funds increased, and that some PPP loans should be converted to grants.
"We want those local businesses to come out on the other side of this," Dirksen Londrigan said. "And if we want that, we have to support them through this."
Davis characterized the initial U.S. COVID response as "a bipartisan failure to adapt that we can't have happen again."
"What we are doing right is fixing the problems that existed before COVID came on the scene," Davis said. "So knowing what we did wrong in the beginning in a bipartisan way, not blaming one party or the other, is how we solve the problems of a future pandemic that we now know will hit us."
Davis supports additional COVID antibody testing, which he feels is a more accurate way of determining who has had exposure to the virus and would better gauge which mitigation factors are working. Davis also pointed to an initiative he supported that may help debt-ridden college graduates during the pandemic, a program that allows employers to pay down, tax-free to the employee, a graduate's student debt in the same way that employers now do for tuition reimbursement.
"This is a very big deal for students who are graduating with too much debt" especially during the pandemic, Davis said. "The employer is incentivized to do this by a tax credit."
Voting by mail
Davis and Dirksen Londrigan both think Illinois is a model for voting by mail that other states would be wise to emulate in November.
"Here in Illinois, when we say vote by mail, we mean you are going to get an application mailed to you automatically to request a ballot," Davis said. "But what many other states allow is mailing live ballots to every registered voter. That is a process that is ripe for corruption."
"The Democrats I serve with argue that the percentage of fraud is miniscule," Davis said. "But I won one race by 1,000 votes and another by 2,000 votes, so every vote counts."
Dirksen Londrigan said voting by mail is a pandemic necessity.
"People should not have to risk their own personal safety to vote in person when they can vote by mail," Dirksen Londrigan said. "It's really disturbing that we have a president who is purposely trying to undermine voting by mail in the United States."
No more 13th District?
The 13th Congressional District crosses 14 counties in both urban and rural areas of central and southwestern Illinois. Illinois' declining population may determine if that district is recognizable, or will even exist, in 2022.
"We are probably going to lose a congressional seat in Illinois and it's probably going to come out of downstate," said Kent Redfield, professor emeritus of political science at University of Illinois Springfield. "The winner of the 13th might not have a district to run in two years from now."
Redfield said the 13th District race is of national significance both in terms of the stakes and the money coming in for the candidates. The most recent campaign finance report available by press time was filed in early July, and Redfield said it showed more corporate donations on Davis' side and more individual donations for Londrigan. The same race two years ago saw $13 million in spending, and Redfield sees no reason why it won't be at least as expensive this time.
"You're not generating $13 million worth of expenditures in the 13th District by small donors who live inside the district," Redfield said. "This is a shot for the national Democrats to pick up a seat. If the Republicans can't hold onto Davis, then that's a sign of big trouble. And Londrigan came ever so close to breaking through as a downstate Democrat the last time in a district that leans Republican."
In the required Federal Election Commission July 1 quarterly report, the Dirksen Londrigan campaign showed $2.88 million in contributions, while Davis reported $2.89 million.
The Dirksen Londrigan campaign has gone to great lengths to link Davis to President Donald Trump, while Davis' campaign seeks to align Dirksen Londrigan with Illinois House Speaker Michael Madigan, who is also the state Democratic Party chairman.
"If you're a Republican you're going to hope that Biden collapses and Trump looks really strong, and the anti-Madigan message and the progressive income tax referendum is going to drive turnout," Redfield said. "If you're Dirksen Londrigan you're hoping the race will be indirectly about Trump."
COVID may also greatly influence the outcome of the 13th District contest. The district includes universities in Normal, Urbana-Champaign, Springfield and Edwardsville, and the pandemic will determine where students at those universities cast their votes.
"If you don't have the students on campus, then you're not doing the organizing and voter registration, and the freshmen may or may not be registered where they go to school," Redfield said. "Two years ago the one county that Dirksen Londrigan carried decisively was Champaign. That has to give the Dirksen Londrigan people some concern in terms of trying to duplicate what they did two years ago."
The candidates
Dirksen Londrigan, 49, is a Springfield native who graduated from the University of Illinois at Urbana-Champaign, taught middle school and built an alumni program at University of Illinois Springfield. She was self-employed as a writer, editor and graphic artist before she joined the Abraham Lincoln Presidential Library Foundation in 2009 and worked there until announcing her congressional candidacy in 2017.
Dirksen Londrigan and her husband have two sons and a daughter.
"I'm not a first-time candidate, which helps. People know me, they know why I'm in this race, my whole life is invested here," Dirksen Londrigan said. "Nationally, people have recognized our race in central Illinois as a number one opportunity to flip the seat from red to blue."
What does Dirksen Londrigan admire most about her opponent, Davis? "He is a dedicated family man. He is devoted to his family and I admire that," she said.
Davis admires Dirksen Londrigan's "tenacity and desire to serve people in central Illinois by coming back from a loss in the last congressional election."
Davis, 50, was born in Des Moines, Iowa, and has lived in Taylorville since age seven. He majored in political science at Millikin University and in 1996 joined Congressman John Shimkus' staff. In 2012, Davis was elected to the first of his four terms as 13th District Congressman.
Davis and his wife have a daughter and two sons.
"When I was first elected in 2012 I told voters I would go to Washington and take a bipartisan approach," Davis said. "I am the 13th most bipartisan member of Congress out of 435 members, according to the Lugar Center."
Whatever the outcome, Davis is confident that local media like Illinois Times will do justice to the issues in their campaign coverage.
"We underestimate the opportunity that traditional news sources still have within the electorate," Davis said. "I trust a lot of local media, but I do believe there has become a bias in the 24-hour news cycle from both sides. Now that everybody has a camera on their phone and is on social media, these instances get called out more."
David Blanchette is a freelance writer and photographer from Jacksonville. He is a regular contributor to Illinois Times.