For a city where neighborhoods are often pitted against each other in battles for resources – or against various development projects — an uncharacteristically broad and diverse chorus of opposition is growing over a plan to run up to 40 additional freight and high-speed passenger trains that would require several overpasses for cars through center city.
And what had the potential to become another nasty fight between Springfield's east and west siders living along the two debated corridors hasn't. Residents near the 10th Street line say they are willing to live with extra trains if certain conditions are met.
Polly Poskin, president of the Harvard Park Neighborhood Association, initially opposed 10th Street consolidation in 2002, saying the move would enhance what she calls the "iron divide," the psychological barrier separating east and west Springfield.
However, as long as at-grade crossings are separated and whistle-less "quiet zones," along with some trash cleanup along the tracks, are incorporated into any consolidation plan, her association is not opposed to moving rail activity from Third Street to 10th Street.
"Everyone in Springfield has learned to live with trains, but if you're going to give us additional trains, you've got to do something that accommodates the residents," says Poskin, who attended both rail demonstrations.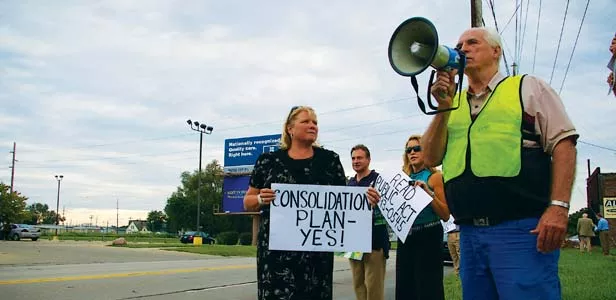 Not surprisingly, others who participated included Downtown Springfield, Inc., the Greater Springfield Area Chamber of Commerce, Springfield state Rep. Raymond Poe, Ward 5 Ald. Sam Cahnman Ward 6 Ald. Mark Mahoney, and members of the Enos Park Neighborhood Improvement Association (full disclosure: including Illinois Times editor Fletcher Farrar).
Much of their opposition centers around the expectation that additional trains will stifle expansion in the medical district and downtown.
"People are having a fit," says Beverley Beard, who lives in Enos Park and uses a wheelchair, worries that getting back and forth to the pharmacy and to see her doctors in the medical district will become more difficult if an overpass is constructed.
Victoria Clemons, DSI's executive director, says the plan could negatively affect local businesses, particularly luxury car dealer and downtown's top sales tax generator, Isringhausen Imports, which recently opened a new BMW showroom.
"People will always come to downtown but we don't want to make it any harder on them," Clemons says.
A pair of reports released recently by the Springfield-Sangamon County Regional Planning Commission underscores neighbors' concerns. The commission concludes that delays caused by added traffic on the Third Street rail corridor will "result in systemic changes," on area roadways. Even a delay of five minutes is expected to significantly change road traffic behavior, including shifting traffic away from downtown to the city's outskirts, creating a "potential for a decline in economic and social activity."
This week marked the second in a series of "rail rallies" against the seemingly fait accompli proposal. The protests were organized by downtown and near north side residents and business owners who would be impacted by the additional rail traffic and several proposed 24-foot overpasses. They support consolidating rail activity to the 10th Street tracks where there are fewer homes and rail crossings.
Mahoney and Cahnman, the aldermen, plan to introduce a non-binding resolution against the additional trains. Poe, a member of the minority party in the Democratic-controlled legislature, believes that lawmakers should not approve any appropriation of state funds for the project.
Time may be running out, however. This week, the Illinois Department of Transportation, which Third Street opponents have accused of backroom deal-making with Union Pacific, submitted its application to the federal government for various rail projects.
Contact R.L. Nave at rnave@illinoistimes.com
The Citizens Club of Springfield will discuss "High-Speed Rail and the Third and 10th Street Rail Corridors" at its next policy meeting, open to the public, on Friday, Sept. 4, 7:30 a.m. to 9 a.m. at the Hoogland Center for the Arts, 3rd Floor. Panelists to include Springfield Mayor Tim Davlin, Sangamon County Board Chairman Andy Van Meter and SSCRPC director Norm Sims.�