For those dining out, hitting the drive-thru lane, dropping their children off at the bus stop or walking through the aisles of retailers in Springfield, the news that 4.3 million Americans quit their jobs in August likely comes as no surprise in light of the many "Help wanted" and "We're hiring!" signs on display in recent months.
In its report detailing the historically high wave of resignations, the U.S. Department of Labor also numbered open positions at 10.4 million nationwide. Leading the resignations were restaurant and bar workers, 892,000 of whom left their jobs. Retail workers vacated 721,000 jobs, along with 534,000 in health care. While Illinois is among the states least affected by resignations (with 0.59 open positions per unemployed person, as opposed to Nebraska at 1.8, or the District of Columbia, at higher than 2), the effects are still being felt in the Springfield area, from restaurants to bus drivers.
Some establishments have reduced hours. Others, like the seven McDonald's restaurants in Springfield owned by McGraw Enterprises, have undertaken aggressive hiring campaigns that tout increased hourly wages and seek to draw in 14- and 15-year-olds, promising thousands of dollars in higher education subsidies for employees.
Why has it become so hard to attract and keep the in-person, frontline workers that local businesses need to function? It's a complicated issue, immediately related to the ongoing hardships of the COVID-19 pandemic, but rooted in dynamics that have been in place long before it, according to Jordan Coffey, who co-owns the Springfield restaurant Luminary Kitchen & Provisions with his wife, Aurora.
"I think the premise of labor right now, especially in entry-level, traditionally low-wage jobs, has just changed forever. The whole dynamic is different," Coffey said. "For the longest time, in sectors across the marketplace, it's been that you go to work because you have to, and I think for the first time in people's lives, there's been a pause."
Coffey said Luminary currently employs enough people to keep its posted hours covered and described his crew as tight-knit, with several employees who worked with him at a previous establishment. Even so, he said he could use more workers and that unforeseen absences, which are especially likely to occur due to the realities of the pandemic, can occasionally put his restaurant in a tough spot.
"Our son's class was cancelled for two weeks a few weeks ago because of a COVID exposure, and we had to get him quarantined and figure out how to manage without child care for two weeks," Coffey said, citing one example that he said is indicative of the kind of issues his staff also faces.
For Clique, the downtown gay bar that opened on Washington Street in March, the pandemic has been a fact of life since the beginning. It significantly slowed down and complicated the licensing process for co-owners Josh Delcour and Justin Rebbe, who both had experience working in bars prior to the pandemic. Clique has also not been immune from much-publicized supply chain issues, Rebbe said, which has occasionally meant a particular spirit might not be available when they need it.
While Delcour said Clique has been blessed with good staff, several of whom worked with him at a previous establishment, they have run into issues hiring for security positions and are not the only downtown bar to have problems doing so.
"There used to be a lot more people who would just come in and ask, 'Are you guys hiring? Are you guys looking for workers?'" Rebbe said.
"I think a lot of people left the service industry in general during this time, because they could find jobs maybe in retail, or office jobs that didn't require the hours that the service industry does," Delcour said.
The commonly heard statement that "nobody wants to work" due to pandemic-related unemployment benefits is not just one held by stressed managers and local employers, or bandied about sarcastically on social media. Akeem Sargent, 37, who has worked at Subway restaurants in Springfield since 2009, said that he believes both an enhancement of unemployment benefits and dissatisfaction with the pay and circumstances of service work are likely contributing to staffing shortages.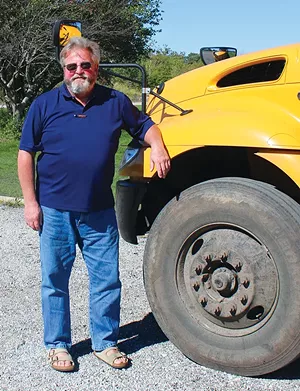 "I notice as I walk around that other people are short-staffed; it's not just food services," Sargent said. "My bosses, and I love them dearly, have been trying. They've been trying to find ways to make sure the good people like me don't leave."
Increases in cold, hard cash have been one means of doing so. Restaurant owner Coffey said he has adjusted compensation as a means of seeking to retain staff. Julie Henderson, director of operations for McGraw Enterprises, owners of the McDonald's restaurants in Springfield, said pay bumps have been part of recent recruitment efforts. The McDonald's on Jefferson Street recently had a sign seeking employees to cover opening and closing shifts, touting an hourly wage above $13.
"I think staffing has been challenging, and continues to be challenging for everyone, but I think we've had a couple really positive things that have come out of it," Henderson said. "The other thing has been focusing on taking care of the people we have. We have a lot of managers, core employees and trainers who have been with us a long time. Like everyone else, we've increased wages, and we offer free meals for our employees."
McGraw has also hired more high school students and offered tuition reimbursement, she said, which amounts to $3,000 annually for managers or $2,500 for other employees through a program run by McDonald's.
Food service isn't the only employment sector in Springfield reporting hiring difficulties or moving to increase pay.
"The labor shortage many businesses are facing is also affecting the YMCA of Springfield," the organization wrote in an Oct. 4 email to members on its efforts to hire and train enough staff to expand its weekend hours.
Memorial Health recently announced it will increase its minimum wage for employees to $15 per hour. Originally planned to take effect by 2025, Memorial Health instead instituted the increase this month in an effort to recruit and also retain its top talent, according to human resources officer Dolan Dalpoas. He said it will affect the salaries of about 2,000 workers.
"Our colleagues have shown unwavering resiliency to the people we serve during a global pandemic," Dalpoas said. "This wage increase is one small way we can express our gratitude for their commitment to our patients."
On Oct. 15, Hospital Sisters Health System announced its minimum wage would also increase to $15, a change that will mean additional earnings for around 3,000 HSHS employees systemwide. HSHS operates St. John's Hospital, Prairie Heart Institute and HSHS Medical Group clinics in Springfield, along with other health care facilities throughout Illinois and Wisconsin.
Another profession experiencing an immediate and concerning worker shortage is among school bus drivers, said Matt Ryan, a driver for Rochester Community Unit School District 3A.
Commuters around Springfield may notice posters from the area's bus company, First Student, advertising driver positions starting at $19 per hour. The company's recruitment site now advertises a $2,000 sign-on bonus, or a $2,500 bonus for those who already hold a commercial driver's license.
Ryan said he believes concerns over COVID and possible misconceptions about a driver's job may both be contributing to a worker shortage, which he said is making it difficult to get Rochester-area students to school on time and in a safe manner.
In its breakdown of COVID-19 cases by potential location of exposure, the Illinois Department of Public Health lists school as the source for the overwhelming plurality of cases, at 38.8%. The two next highest categories for potential location of exposure were "other" at 7.3% and hospitals or health care settings at 6.6%.
"It's pretty dire, and I'm not sure what it's going to take to alleviate the problem, but it definitely has to be addressed immediately because of the overwhelmed workforce," Ryan said. "We are in the midst of scrambling every day to combine routes. It's a new situation daily to make sure everything gets covered. Our transportation director is doing the best she can with limited resources, and she has the full support of the drivers."
Pay and benefits may not be the whole story when it comes to recovering from staffing shortages, at least in food service. A University of California study in February found that line cooks, without whom kitchens cannot function, had the highest risk of dying of COVID of any profession, including health care workers. Data on how many of the more than 28,000 Illinoisans who have died of the virus worked in that sector is not available.
Coffey said the food service industry has always been hard to work in, even apart from COVID safety concerns. For his part, he and his wife have tried to provide better compensation for employees, and they hope one day to be able to provide benefits to their workers. Restaurants may also need to change not just the fairness of their pay, but their culture, he said.
"I've been working in this industry for 20 years and know very well what it's like to be consumed by the grind, the extremely long hours, the lower pay, no benefits. Those are all things that came under the spotlight with COVID," he said. "Restaurants are notorious for being toxic work environments. I think my team and my wife and I all try to make a conscious effort to try to break some of those old habits and create a space where people feel welcome and want to work."
Kenneth Lowe is a staff writer for Illinois Times. Contact him at klowe@illinoistimes.com.