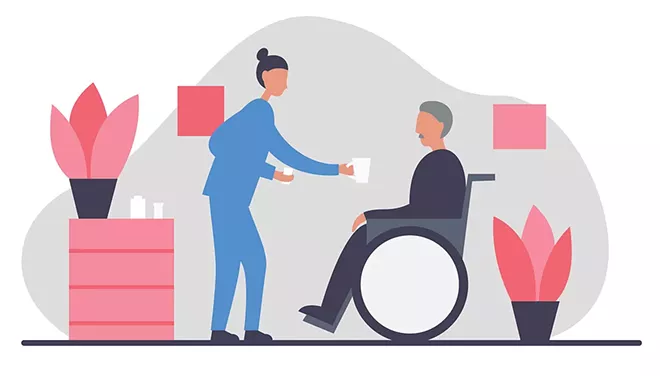 Home care can be back-breaking work. Sherry Morris of Riverton, 64, is a home health aide. She cares for a man about her own age who suffers from a degenerative disease. "I do all the driving to his doctors' appointments, to his pharmacy, to his groceries or anything he needs." Morris said after years of doing the manual labor the job requires, her own health is beginning to suffer. "It's taking a toll on my back here lately, and I'm probably going to need physical therapy," she said. "It's not an easy job at all."
While companionship is a part of the role, caring for people who are elderly or disabled also involves household chores and helping patients dress, bathe, get from a bed to a wheelchair and so on. Morris said she has seen some people try out the job, but give up after realizing how much it involves, how little it pays and the limited benefits it often offers. For instance, Morris said she has no paid time off for her position.
Morris said she originally had a desk job in the medical field, but switched to patient care in 2012. She said the average starting wage at that time was about $10 per hour. After union leaders negotiated with lawmakers last year, the minimum wage for workers in the state's Community Care Program, including Morris, is now $14 per hour. Morris credits being part of a union for the increase in wages.
According to the Service Employees International Union (SEIU), there are nearly 85,000 home-care workers in Illinois. Meanwhile, about 10,000 people in the U.S. reach the age of 65 each day, according to AARP. And according to the U.S. Administration for Community Living, the population of those who are 65 years of age or older increased nearly 30% between 2008 and 2018.
On June 28, U.S. Sen. Dick Durbin, D-Springfield, joined home care workers who are with SEIU Healthcare Illinois at a town hall at the NAACP headquarters in the capital city. Those in attendance spoke about why they support President Joe Biden's proposed $2.3 trillion infrastructure plan and the $400 billion within it that is earmarked for those taking care of seniors at home. Democrats have said that raising wages for home-care workers, the majority of whom are women of color, and creating more jobs is a priority. "I want to make sure that every caregiver has health insurance of their own," Durbin told those in attendance. "And how about a living wage too, shouldn't that be part of the deal?" Durbin said those who are entrusted with the lives of the most vulnerable deserve a wage that shows they are valued.
During the town hall meeting, Mary Hettel, a Springfield home care consumer, spoke through a speech-generation device. She said ever since she was a child, being able to live independently was one of her biggest dreams. "When I learned about home-based services, my world was positively changed forever." Hettel said workers helped her get through college and are a crucial part of her everyday life. "My parents are older now. It gives them a great amount of comfort when they know I am well taken care of." She said due to a lack of investment, not everyone who wants the same care she has is able to receive it.
John Herring, executive director of the Illinois Network of Centers for Independent Living, based in Springfield, said home care is a job that is a calling. "We are trying to compensate those who have that calling," he said. "There are some who may not answer the calling because of the pay." Caregiving should be respected as the necessary, valuable vocation it is, said Herring. But, according to the Paraprofessional Healthcare Institute, the majority of home-care workers in Illinois rely on public assistance to make ends meet.
According to SEIU analysis of data from the Kaiser Family Foundation, Biden's infrastructure plan could create about one million jobs nationwide for home-care workers, and roughly 15,700 new jobs in Illinois. But Republicans argue home care is not "infrastructure." Democrats argue that for many, having caregivers for their loved ones is just as essential to get to work as roads and bridges are. Still, on July 6, Senate GOP leader Mitch McConnell of Kentucky vowed to put up a fight against the infrastructure plan.
Morris not only is a home-care provider who is now nearly a senior herself, she is the single parent of an adult child with severe autism. Having him live with her is possible because of the Home Services Program through the Illinois Department of Human Services. Morris said she's starting to think about what both her care and her son's care might look like as she ages. Being able to stay at home is a matter of dignity, she said. Her son is nonverbal, and by having him live at home she is able to know firsthand how he is doing, even though he can't tell her himself.
Morris said investment in home care is needed in order to attract and retain workers. "There's a lot of pushback, so I really hope that they (lawmakers) come together ... and do this for our country."
Contact Rachel Otwell at rotwell@illinoistimes.com.