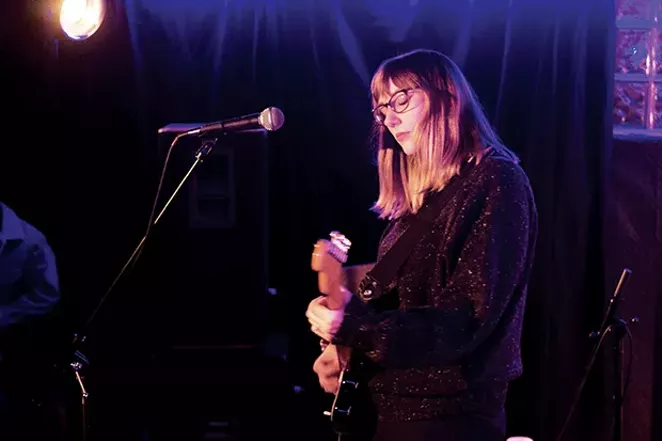 Thursday is shaping up to be a full night this week, which is not always the case but always welcome. The Curve Inn hosts a roots music night (replacing the Americana night) with Kate Laine, The Deep Hollow and Wayward Motel being your source of roots music for the evening. Expect a night of all-original music by several of Springfield's top songwriters in the Americana realm inspired by rock, country, folk, blues and other forms of what forms the basis for American roots music. Stuart Smith, another original artist in the Americana field, plays Pease's at Bunn Gourmet for a night of acoustic sounds. The singing and songwriting guitarist from Winchester recently released War Horse on LP (that's vinyl, folks), CD and streaming platforms to a receptive public with airplay happening worldwide. Our good friends in Hillbilly Casino race up from Nashville to bring some bad boy rockabilly to Bar None just in time to save the world from the sappy sounds of sugarcoated songs. These fellers play hard, but not hard to get, if you know what I mean. To complete our Thursday live music romp, Al Kitchen rolls on into Arlington's for a night of real country music played for real and Jones & Chase chases the muse at Craft Beer Bar, with years of music-making performances matched by superior set selection to back up the run of good songs sung well.

Pace yourself, my friends, as we have all week long left to go out. Friday brings us the first officially titled holiday happening as Captain Geech sails into Long Bridge for a Christmas party. It's definitely a party whenever Jaybird and crew whips it out (holiday or not), but I have a feeling there will be more than mistletoe hanging and sugarplums dancing and red noses on reindeer after the night is through. As the recent movie Bohemian Rhapsody tells the story of Queen on the big screen, our very own Black Queen tells the tale live right in the bar, right before your very own five senses this Friday at The Trading Post. Take in Take 10 at The Curve Inn for a large band playing a variety of dance numbers set to announce to your toes that it is time to move. Or how about a visit downtown for the early evening set at Robbie's with the emotive and sensitive jazz stylings of Johnnie Owens backed by a superb group of friends and musicians? On the north end, the Dew Chilli Parlor location on North Grand (the former Wayne's Red Coach for us old-timers) hosts music every Friday evening. This week it's our very own singing sensation Mary Jo Curry, who has carved a reputation on the national blues charts as the powerhouse singer we all know her to be. Next week singer, songwriter and rockabilly blues guy Mark Mills plays the joint and Al Kitchen and daughter Kathy make it the week after. So you can just plan on chilling with chilli (the original Springfield way with an extra "l") and songs for one night a week.
I am completely hornswoggled and bamboozled (but not utterly surprised) that we've reached the end of my column and never got past Friday. Now it's up to you, my intrepid and indomitable friends, to continue the adventure of discovering good music in our Pub Crawl. Carry on.