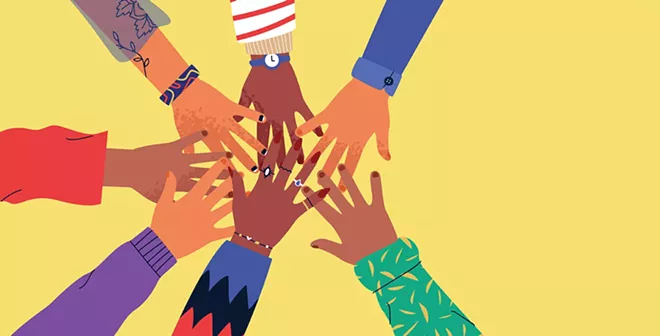 In the wake of the police killing of George Floyd and subsequent uprising, many have grappled with the question of how to address systemic racism in substantive ways. Last fall, the state launched the Healing Illinois initiative.
The goal is "to prompt ideas and activities that help build a bridge toward a racially equitable Illinois," according to the Illinois Department of Human Services, which oversees the program and $4.5 million in total funding. The funds are meant to address racial injustice and promote dialogue, education and healing. Organizations that applied were able to request up to $50,000.
The Illinois Public Health Association in Sangamon County, in partnership with Black Lives Matter Springfield and Memorial Health System, was awarded $40,000 to expand the Healing Ambassadors program and a storytelling project. Both initiatives are designed to address community trauma.
The Storyboard project focuses on mass incarceration, medical mistrust, access to education and discrimination within the education system. IPHA plans to collect data and provide personal stories to explain the impact COVID-19 has had on these issues. The stories will be available online.
The Healing Ambassadors program aims to help individuals share their stories and experiences surrounding community violence. This also provides an opportunity for communities to address police reform and to heal from trauma induced by systemic inequities. Current systems of support are designed to address individuals, but too often the community is unable to provide a collective perspective or voice their concerns.
Sunshine Clemons, co-founder of Black Lives Matter Springfield, said the group has worked with partners to decide how the funds would be used and who would be selected to facilitate the healing circles. The small circles allow individual members access to training and weekly healing sessions. Clemons said ambassadors with diverse backgrounds and experiences were chosen. She said her organization, along with IPHA and others, had for years discussed establishing a project aimed at addressing community trauma and creating an effective response network.
"We were looking for ways to promote some dialogue around healing," Clemons said. The goal was to "create healing within our communities and when the grant came it was an obvious first step." Since the killing of Floyd in May, Black Lives Matter Springfield has repeatedly met with law enforcement and hosted public panels to discuss reform measures addressing body camera equipment, police brutality and excessive use of force. Those conversations are another key component in helping communities heal, said Clemons.
Dr. Tracey Smith, IPHA's director of programs and community health, explained unaddressed trauma has an impact on the long-term health and wellness of communities. Until now there has been no system in place which allows communities to discuss issues and begin to heal collectively.
"There's a support system built-in for the police that responds to that. There's counseling that's available to the individual who maybe was the recipient of that trauma. But really, the community is often left out," said Smith.
Healing Ambassadors are initially being trained in McLean, Sangamon and Peoria counties. The first cohort consists of 20 facilitators and IPHA says there is another full cohort waiting to be trained when funds become available again. Meetings are held virtually, with group sizes limited to 11 participants. This is to ensure the program provides personal engagement and individualized healing. At the end of January, participants will receive a Healing Ambassadors certificate and are encouraged to begin leading their own healing circles.
Flexibility in the ways the grants are used is something the IPHA celebrated, but Smith added the hardest part of rolling out this program is doing so in a short period of time. The deadline to train ambassadors and implement programs is Jan. 31.
Healing Illinois also awarded a grant to the Abraham Lincoln Presidential Library Foundation. The funds helped the library establish the No Malice Film Project. It is aimed at youth and young adults between the ages of 11 and 21.
Heather Nice, education director at the Abraham Lincoln Presidential Library and Museum, said the project is focused on young people because "it has become clear that youth and young adults need a venue to express confusion, outrage and fear about the racial inequalities they see and experience."
"We feel the contest empowers them to express their feelings and beliefs, but particularly during the pandemic when they are isolated and have lost access to their typical social supports," Nice said.
A second round of grants was awarded in early January and winners have until March to implement programs. A list of Healing Illinois projects can be found at: tinyurl.com/y5j4ohwv
Madison Angell writes for Illinois Times as a graduate student of the Public Affairs Reporting program at University of Illinois Springfield. She earned degrees from UIS in sociology/anthropology, marketing and women and gender studies. She is a native of Decatur and a lifelong central Illinois resident. Contact her at mangell@illinoistimes.com.