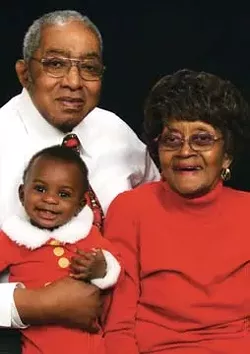 It's almost impossible to talk about the Springfield National Association for the Advancement of Colored People (NAACP) without mentioning Robert Goza. He was a life member of the national organization and an active member of the local chapter for more than 50 years.
Perhaps his work and dedication to the NAACP is the result of Goza's experience of being born and raised in the segregated Kansas City, Mo., in the 1930s and 40s, and his first taste of equality when he sat alongside whites at Lincoln Land Community College in the late 1960s.
Regardless of what led Goza to join the NAACP, with his Nov. 12 death from cardiac arrest, the organization, as well as the African-American community, has lost a precious gem who, without hesitation, championed the cause of equality.
Goza first became involved with the NAACP after attending one of the organization's events with Springfield's Rudy Davenport, a life member of the organization and longtime president of the local chapter. After attending the meeting, it didn't take long for him to roll up his sleeves and jump into the fray. During his tenure with the NAACP, Goza served as executive board member and treasurer for many years. He was also one of the members who led the charge in getting the Springfield police and fire departments to recruit more people of color and to make changes to entrance exams deemed biased towards people of color.
"He was a stabilizing force in the NAACP," said Archie Lawrence, a good friend and fellow NAACP member who knew Goza for more than 20 years. "When there was a task to be done, he was always there. And, he made sure that we got things done," explained Lawrence, who had weekly lunches with Goza, whom he called an advisor. "He was an in-your-face kind of person who made sure that everyone kept it real, and he pushed people to do the right thing."
He was a charter member and served as business manager of the Springfield African-American History Foundation. In a 2004 interview, conducted by Barbara Dickerman for the Springfield African-American History Foundation Project, Goza shared his views on integration, education, family and community.
"Integration is a way of life. We all have to share each other's culture. I grew up with all black people and I wasn't able to network with whites, only on the job. We were limited to what jobs we could get. Most of our work was servitude work and personally I hated it," stated Goza.
Though Goza emphasized the importance of integration, he also believed that in some ways it had a negative effect on the African-American community, destroying the sense of family that once caused the community to thrive. "When we were segregated, we were family. We took care of each other. When we integrated, we got so far apart from that family unity that black people just don't have togetherness."
In addition to his work with the NAACP, Goza, who lived on the city's east side, had a passion for helping young people. Shortly after moving to the capital city, he started a youth basketball team through the Springfield recreation commission. He also helped coach a Little League baseball team, and served as a cubmaster with the Cub Scouts.
In the 2004 interview, Goza demonstrates a sincere belief in youth. "I think basically most kids are good, but they have to be challenged, and they have to be told what is good and what is bad," said Goza, adding that it is critical for youths to have parental and community support. "I like children, and I wish I could do more," said Goza, who explained that children in his neighborhood are often unable to participate in programs and activities because there is often a cost involved. "I try to instill in them to be happy for what you have."
"My dad always took the time to talk and give advice to young people in the community," said Goza's son, Roger Goza. "Whenever there were positive things going on in the community to support youths, my dad was all for it. He never missed an opportunity to express upon them the importance of education and family. He loved people, and he really wanted to help."
For a number of years, Goza, Davenport and a number of others worked on the NAACP's "Back to School, Stay in School" initiative, which provides a support system for disadvantaged youths. While Goza praised the program, he also spoke of the difficulty in getting people in the community involved with NAACP's various programs. "There's a lot to be done, but we just need bodies," said Goza. "The NAACP needs people to come forward and help, and it's a lot of work and a lot of sacrifice," Goza said.
Lawrence: "Robert Goza really cared for the community. And he believed that everyone should do something to help someone else. For him, community starts with family and spreads for there."
To read or listen to Goza's 2004 interview go to:
http://www.alplm.org/oral_history/african_american/Goza_Robert.html
–Jolonda Young