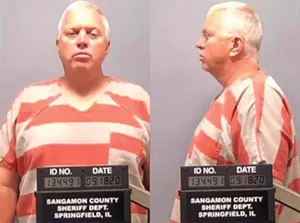 Legislators should hold hearings in the wake of an assault at McFarland Mental Health Center allegedly committed by a resident the state deemed safe for release, says the prosecutor who fought to keep the man at McFarland.
"Luckily, it happened inside rather than out in the community," says Effingham County State's Attorney Bryan Kibler.
Twice since 2017, McFarland psychiatrists and other staff have said that Gary Schmitt, an admitted killer, should be discharged to West Lake Center, a residential mental health center run by Memorial Health System. On Sept. 18, Sangamon County prosecutors say, Schmitt assaulted a resident in her room at McFarland, choking her to the point that she lost consciousness.
Schmitt, 56, is charged with aggravated criminal sexual assault, aggravated battery and unlawful restraint, with bond set at $100,000.
At the time of the attack, Schmitt, who killed his father a decade ago, was appealing a 2019 decision by Effingham County Circuit Court Judge Kimberly Koester, who refused to release him from McFarland. In her ruling, Koester criticized the community conditional release program, saying she was concerned by testimony from Andrew Jolly, the program director who is employed by Memorial.
"Specifically, this court notes that the program seems to not take seriously the potential for danger that this individual possesses," Koester wrote after hearing that six hours can pass before a West Lake resident is considered missing. "Mr. Jolly even seemed to be offended at points in his testimony when he was questioned regarding the time necessary to report an individual that may have eloped from the program. The court did weigh this factor when considering the rehabilitation of the defendant and the safety of the public."
Given testimony from McFarland staff who recommended release, Kibler says he figured that he had a 50-50 chance in the appeal of Koester's ruling that will be withdrawn in light of new charges.
"To be honest, I thought he had a decent shot," Kibler said. "He had a good chance of getting out within a year, and then this happened."
Schmitt's history of mental illness dates back decades. He once attempted suicide by driving his car into a bridge at 70 mph. He killed his father by bludgeoning him with a rock on Father's Day in 2010 but police initially didn't realize it was a homicide. He confessed after attacking a woman and her 15-year-old daughter with a hunting knife several months later. He told police that God had wanted him to kill the woman.
Found not guilty by reason of insanity, Schmitt was sent to McFarland in 2013. Within two years, he was living in a minimum security unit and allowed to roam the 150-acre campus. When Schmitt requested release in 2017, a McFarland administrator testified that he could have walked away because the facility has no gate across its entrance.
Despite recommendations by McFarland psychiatrists and other staff who deemed Schmitt safe, Koester in 2017 and again in 2019 rejected requests for release to West Lake. She also rejected a 2016 request by McFarland to allow Schmitt to spend two weeks or more, unescorted, at St. John's Hospital, where he received heart surgery.
Kibler said changes to statutes should be considered so that more attention is given to the underlying crime when people who've been found not guilty by reason of insanity request release from mental health facilities run by the state Department of Human Services.
"I think there needs to be more protections, or stronger weight given to why they're in there in the first place," the prosecutor said. "And you better be damn sure that the person is not going to commit any more violence if DHS wants to release you. Here, DHS was jumping up and down, adamant this guy was fine to release back to the community, and clearly he was not."
Marisa Kolias, DHS spokeswoman, wrote in in an email that the agency can't comment on specific cases. "Although the behavior of individuals committed to our facilities cannot always be predicted, we strive to maintain a safe environment for our staff and patients," she wrote. "This includes observation and periodic evaluation to determine individual treatment needs." In an email, Angie Muhs, Memorial spokeswoman, wrote that Memorial doesn't recommend whether a person should be granted conditional release from McFarland. "Staff may be called upon to testify as to the structure of our program and details of our treatment," she wrote. "In addition, being granted a conditional release does not guarantee a person will be accepted into our program."
Kibler said DHS should answer to lawmakers.
"I know they're beyond capacity, and I get why they're trying to release these people – they don't have any more room for them, and their budget's probably shot," he said. "Hopefully, the General Assembly will at least call some of these DHS guys into committee hearings: Can you explain how you were all set to release this guy, and then he messed up so violently. What's going on? What's your criteria for releasing people?"
State Rep. Mike Murphy, R-Springfield, whose district includes McFarland, says he's not sure a hearing is necessary.
"If this is something that's happened before, it would definitely be something we would have to look into," Murphy said. "If this is a one-time situation, I don't know if it's necessarily anything we need to look at. I'm just not sure if it's a problem or a one-time situation."