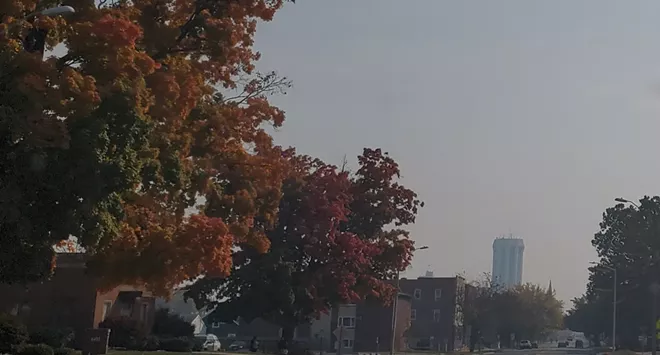 Springfield air quality was reported as "unhealthy" as of noon on Friday according to a government system tracking wildfires and air quality. A spokesperson for the Illinois EPA told Illinois Times the smoke is "being transported from wildfires."
A city spokesperson also said Friday that there has been misinformation about controlled burns in the area. The National Weather Service had apparently reported that CWLP, the public utility, was conducting controlled burns. That is not the case, though Friends of Sangamon Valley is apparently conducting controlled burns at Nipper Wildlife Sanctuary in Loami, the spokesperson wrote in an email. A CWLP spokesperson also told city officials that land managers near Lake Springfield report dust in the air due to harvest season.
The State Journal-Register reported last month that hazy air observed in central Illinois was also due to western wildfires, according to a meteorologist for the National Weather Service.
The Illinois EPA spokesperson added via email on Friday afternoon that the monitor tracking air quality in Springfield is "continuous" which means "the air quality at the moment is above the federal standard, but the standard is a 24-hour standard, so the area will likely drop below that level for the 24-hour period. Still, residents should be aware and take necessary precautions."
"When air quality is at the orange (unhealthy for sensitive groups) category or above, sensitive individuals (including those with respiratory or pulmonary disorders) should take special precautions and follow physician prescribed regimen. All residents should limit outdoor physical activity when air pollution levels are high," the spokesperson wrote.
The Illinois EPA provides daily air quality forecasts. An alert was issued for Springfield on Friday. The forecasts are available as a subscription, here.
This story was updated with additional comments from the Illinois EPA.