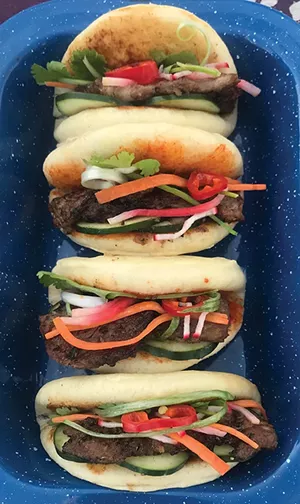 It's time to celebrate the Lunar New Year and 2021 is the Year of the Ox. In Asian communities around the world, families come together and celebrate over food. Though I don't have Asian roots, I love Asian cuisine, and though we're not holding big family gatherings during the pandemic, I still like to celebrate. This year my tiny Lunar New Year celebration will be centered around Taiwanese steamed buns known as Gua Bao. These bread-like folded buns, filled with grilled pork and pickled vegetables, are a popular Asian street food. Similar in concept to a Mexican street food taco, steamed buns have been appropriated by other cultures and adapted to the regional cuisine.
I first had steamed buns 15 years ago at Momofuku Noodle Bar in New York's East Village. At that time Momofuko was the city's "hot" new restaurant. It was tiny and nearly impossible to get into. Restaurant critic Ruth Reichel had been gushing praise for David Chang's new restaurant and had written: "The first bite felt as if David Chang had reached inside my head, seen my secret fantasies, and conjured up the perfect dish for me." His pork belly buns, a reinterpretation of the traditional steamed buns he had enjoyed on the streets of China, became wildly popular and launched David Chang to culinary stardom. Gourmet magazine wrote: "We knew Chang was something special when we tasted his signature dish. He plays with the classic Chinese pork bun, retaining its pillowy white wrapping, adding crisp cucumbers and scallions, and transforming it into an American original with pork belly."
I learned how to make steamed buns this past summer at Miss Kim's, a Korean restaurant in Ann Arbor. Wednesday mornings I would arrive at the restaurant at 6 a.m. to begin the process of shaping 250 of these little buns – a single week's worth. I would join up with a co-worker who had already been there since 4 a.m. starting the leavened dough. After shaping the buns and letting them rise, we would steam them in perforated trays stacked atop a giant wok of boiling water. After steaming and cooling the buns, they would be frozen and rewarmed to order. Miss Kim's steamed buns are filled with a choice of slow-roasted pork belly, sauteed mushrooms, fried tofu, or Korean fried chicken. When the pandemic led to suspension of indoor dining, the steamed buns became a hot-selling curbside pick-up item.
Premade steamed buns – labeled as "Lotus Leaf Buns"– can be found in the frozen food section of most Asian stores, but they are actually quite easy and fun to make at home. I've scaled down Miss Kim's recipe to make a dozen buns – a more manageable amount for home kitchens. They are traditionally made in bamboo steamers set atop a wok. Steamers can be purchased for under $30 at Asian grocers or from Amazon. If you don't have one, a steamer rig can quite easily be "MacGyvered'' with some aluminum foil, a dinner plate and a lidded stockpot: in a stockpot big enough to fit a plate into, fill with 1 inch of water, place 3 balls of foil on the bottom of the pan, insert the dinner plate and press down until it rests about an inch above the surface of the water. Be sure there is space between the perimeter of the plate and the sides of the pan to allow the steam to rise.
Filling options are endless. Proteins can include barbecued pork, sliced steak, roasted chicken, duck or shrimp. Vegetarian versions can be made with grilled portobello slices, sauteed shiitakes, or fried tofu. If you're planning a party and want to serve stuff-your-own buns, try to include something crunchy, some fresh herbs and something pickled. You'll also want to include some sauces such as hoisin sauce or sriracha mayo. Garnishes can include quick-pickled veggies, scallions, cucumber and jalapeno slices, kimchi and cilantro sprigs.
Gua Bao – Taiwanese Steamed Buns
Makes 12 buns
Ingredients
3 cups all-purpose flour
3 tablespoons granulated sugar
3 tablespoons kosher salt
¼ teaspoon baking powder
teaspoon baking soda
3/4 cup water, just above room temperature
2 teaspoons active dry yeast
2 tablespoons canola oil, plus more for brushing
¼ teaspoon granulated sugar
Also needed:
Steamer
Ring mold or biscuit cutter, 3.5-inch diameter (or substitute a similarly sized drinking glass)
Parchment paper
Preparation
In a small bowl, combine the water, yeast, canola oil and sugar. Set aside until yeast is foamy, about 10 minutes.
In a medium bowl, combine the flour, baking soda, baking powder and salt. Slowly add the dry ingredients to wet ingredients, one spoonful at a time.
Mix and knead by hand for 10 minutes. (Or, if using a stand mixer with a dough hook, mix on low setting for 8-10 minutes until dough gathers together into a ball.)
Place dough in a lightly oiled bowl and cover with a kitchen towel or plastic wrap. Allow the dough to proof at room temperature until it doubles in size – about one hour.
While dough is rising, cut parchment paper into 4-inch squares. (You can substitute flattened-out paper cupcake liners.)
Dust your work surface with flour and roll out the dough with a rolling pin until it's about a quarter-inch thick. Using the ring mold or biscuit cutter, punch out individual buns. Lightly brush the top surface of buns with canola oil to prevent the sides from sticking together. Fold each bun over into a semicircle. With your rolling pin, gently roll buns to flatten them slightly and smooth out the surface. Place each bun on a paper square and arrange on a sheet tray, leaving space in between to allow for expansion. Cover tray with plastic wrap and proof buns for 30 more minutes.
Bring water in a wide pan or wok steamer to a boil. Place the buns with their papers onto the steamer trays. Carefully place steamer trays atop the pan of boiling water, cover, and allow to steam for 10-15 minutes.
Transfer steamed buns to a sheet pan. Once they're cool, cover the sheet pan with plastic wrap or a towel until serving. If using later, freeze buns in a zip-close bag. Thaw and steam again for 5 minutes to rewarm.