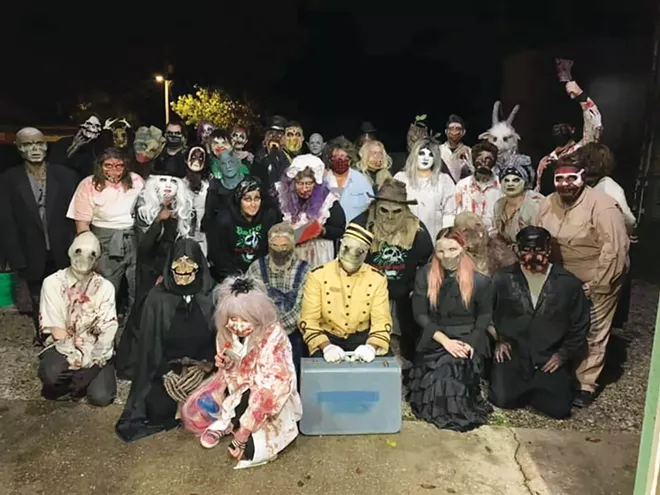 Terror on the Square is a long-standing tradition that returns to the Petersburg square this year, 119 S. Seventh St. Set in a 1930s funeral home, this haunted experience in Petersburg features old-school ghouls as well as creative illusions in this 12-13-minute event. The scare level is considered medium and is recommended for ages 10 and above. The scare dates for 2022 will include every Friday and Saturday, beginning Oct. 7, and running through the end of the month with a bonus day on Halloween night.
It's time for another murder mystery in Edwards Place: The Edwards Society for the Paranormal Murder Mystery, to be exact. From Oct. 21-23, the Edwards Place Historic Home presents "An Un-Eco-Friendly Death." The setting is in 1971 at a public meeting about the possibility of the expansion of a plastics factory. EverGreen, a nonprofit protecting trees, is rumored to attend and protest at the meeting, so there is tension in the air. That tension snaps when the EverGreen regional director is murdered. This fundraiser includes dinner, drinks, dessert and this thrilling show.
The 217 Terror Haunted House is located in Roodhouse and is quite possibly central Illinois' scariest haunted attraction. 217 Terror includes three haunted houses, three carnival games and an escape room. This is an in-your-face (although no-touch) old-school scare haunted attraction. The scare factor is high. The event runs every Friday, Saturday and Sunday beginning Sept. 30 through the end of October with a special final day on Halloween night. There will also be a Family Friendly Fear Festival on Sunday, Oct. 23, from 1-4 p.m.
Still ranked as one of the top 10 haunted houses in Illinois, the Boo Crew Haunted House in Mechanicsburg is open every Friday and Saturday beginning on Sept. 30 and each Friday and Saturday in October. The Trail of Lost Souls is a short outdoor walk through the woods where scary attractions are set up, and numerous "scareactors" loom along the trail, ready to pop out. After completing the trail, visitors will head inside and attempt to make it through the haunted building, which includes both old-school scares as well as creative animatronics. The scare factor is high, so it is not recommended for young children. However, there is a new Haunted Matinee on Oct. 22 from 3-6 p.m. This will be an actor-free, full haunted house experience.
Lincoln's Ghost Walk runs every Tuesday through Saturday night in September and continues every Friday and Saturday in October. It begins in downtown Springfield at the Old Capitol Plaza in front of the Lincoln-Herndon Law Office Historic Site. The tour consists of a 90-minute, five-block walking tour by lantern that uses the Lincoln sites as the backdrop for strange and bizarre stories that surrounded the life and death of Abraham Lincoln. Topics examined include Lincoln's dreams of death, spiritualism, Mary's seances in the White House and strange happenings at the Lincoln tomb. This is a factual history tour that also includes some of the ghostly lore surrounding the Lincolns. It is suitable for all ages and is not a scary tour.
The Carter Brothers Haunted Hayride will celebrate its 39th anniversary in 2022. The hayride, which runs each Saturday and Sunday in October, is described as "a fun-filled haunted hayride experience that will keep entire families laughing and screaming all night long." It is located between Springfield and Sherman – just look for the headless horseman by the side of the road. People can wait by the bonfire and enjoy refreshments as they prepare for the ride. The Haunted Hayride is a family event. There is no walking involved, the scare factor is medium, and it is acceptable for all ages.
Hell's Burrow Haunted Attraction is located in Hillsboro. It is run using mostly homemade props and costumes and promises that you will leave with some spooky and fun memories. The event will run Oct. 28-31 and is a kid-friendly attraction with a kids' trick-or-treat section. The theme this year is "The Substation."
Eric Woods is a die-hard Halloween fan and published horror author. He is a tour guide for the Lincoln Ghost Walk in Springfield and has a small role in the new independent horror film, Holes in the Sky: The Sean Miller Story.