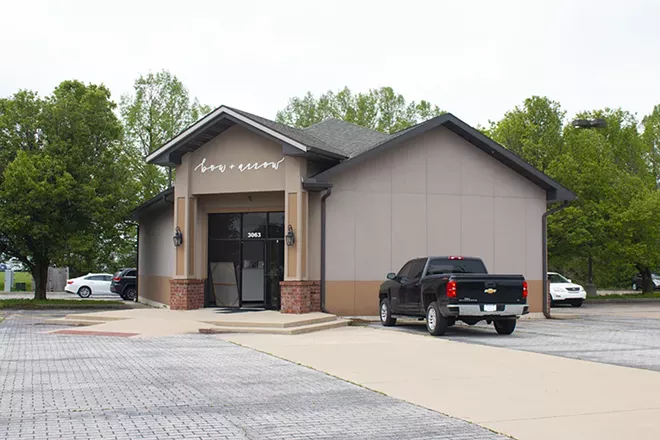 The Bow + Arrow Salon on Springfield's west side opened Tuesday despite a statewide stay-at-home order prohibiting hair salons and barbershops from opening their doors.
"It's going great," said owner Riley Craig Shaffer, who estimates that her salon has lost about $80,000 in revenue since closing in March pursuant to Gov. JB Pritzker's order that shut down all businesses deemed non-essential. "A police officer did sit out here, but he didn't do anything."
Springfield police officials could not immediately be reached for comment. Days ago, the governor issued an order allowing misdemeanor citations for businesses defying the stay-at-home directive. The maximum fine is $2,500.
Shaffer said she's not worried. "I have an attorney," she said. Thomas DeVore, Shaffer's lawyer, has represented plaintiffs, including state Rep. Darren Bailey, R-Xenia, who have sought to overturn the stay-at-home order.
Jeff Wilhite, Sangamon County spokesman, said that local officials with the county health department and other agencies who have been taking a coordinated approach have not decided what enforcement action, if any, to take. He said local officials are hoping for guidance from the state. He added that he believes that that the state could take action against any state licenses held by the salon or its stylist. This week, the state
ordered a Macon County bar shut down
after the watering hole opened this past weekend.
This afternoon, a man who spoke with Shaffer outside her shop tried making hairstyling arrangements for another person. "I think what you're doing is great," he told her. For now, Shaffer said, she's only accepting established customers. "We're not trying to get clients out of this," she said. "Obviously, our phone keeps blowing up."
Shaffer said that she and two other stylists were on duty today, with chairs six feet apart. Handwashing is frequent, she said, and customers must sign forms acknowledging that it's impossible to tell whether someone is infected with the virus and that visiting a salon may elevate risk. Customers must also state on the forms that they have no symptoms. They are also required to state whether they have traveled outside the United States within the past 14 days to countries affected by the virus and whether they have traveled domestically during the past two weeks by airliner, bus or train.
"Bow + Arrow Salon will NOT be liable if you contract COVID-19 while in our facility," reads the form above the spot where customers sign.
Contact Bruce Rushton at brushton@illinoistimes.com.