"Let food be thy medicine and medicine be thy food."


We've heard it time and time again, but Hippocrates' words seem to ring especially true now, during these last frigid months of winter. It's easy to feel out of balance when sunshine is fleeting and comfort is what we crave. Unfortunately, the insidiously delicious winter blanket of grilled cheese, red wine and Netflix that so many of us (me!) want to pull over our heads has a way of causing more than its share of discomfort in the long run. Whether it's to avoid the flu, relieve aching joints or simply feel a little brighter, we all benefit from plenty of rest, lots of water and enjoying more whole, unprocessed foods.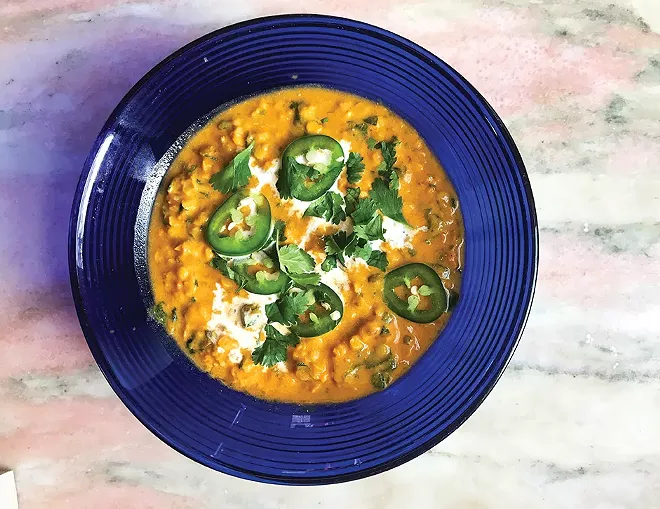 Terry Frank, L-Ac, with the Acupuncture and Integrative Wellness center in Springfield, told me that one of the first things he talks about with new patients is diet and activity level. "We don't want to make this overwhelming for people," Frank said. "Often rather than suggesting folks go on a specific diet we talk to them about getting away from any type of processed foods, removing refined sugars, grains and soda. In many instances this alone has an overwhelming positive benefit for people's health."
Frank, who is himself a skilled home cook, explained that balance is central to the concept of Chinese medicine and that the foods we eat play a large role in maintaining a healthy body. "You're trying to achieve a state of homeostasis. When something is cold, you heat it up. In the winter when our body is having to deal with cold all the time you fortify it with warm, savory foods that are going to reinforce that. I gravitate to the Middle Eastern spice profile in the winter months, warming spices like cumin, coriander, ginger, turmeric and black pepper. They're delicious and also powerful anti-inflammatories."
Foods like beans, lentils, nuts have long been traditional winter foods not only because they store well, but also because they are rich in fiber and nutritionally dense. Beyond sheer calories and protein, these foods contain a rich variety of essential nutrients, and they actively work to improve your health. "Anytime you eat a food that is naturally bonded with fiber it coats your intestinal layer, helping to reduce the absorption of sugars into the bloodstream, which in turn reduces overall inflammation levels," Frank explained. "Fiber obviously helps to clean the gut, and so the less gunk gumming up the digestive tract, the less the immune system has to worry about craggy bits in the lining of our intestine, where unwanted stuff in the biome hangs out."


All of this can seem a bit daunting when trying to decide what to make for dinner, but health experts unanimously agree that cooking at home, from scratch, is the best way to improve health. The trouble is we actually have to get it done, amid meetings that run late and soccer practice and all the other things we've overcommitted ourselves to do.


To that end I present the humble lentil for your consideration. Lentils are a lovely weeknight legume. They don't need to be soaked ahead of time like beans and they cook in about 20 minutes, enough time to chop up some herbs and make a quick salad. Or just dance around the living room.


Curried Red Lentil Soup


I'm obsessed with this pantry-friendly soup right now. Save time and use a food processor if you have one to chop up the onions, garlic and ginger. Feel free to use frozen spinach instead of fresh, or substitute other vegetables like cauliflower or kale.
1 tablespoon olive oil
2 onions, chopped
1 tablespoon each minced garlic and ginger
1 heaping tablespoon curry powder
1 cup red lentils, rinsed
1 28-oz can whole plum tomatoes and their juice (diced or crushed works too)
¼ cup each chopped fresh cilantro, parsley and mint, plus extra for garnish (or use whatever fresh herbs you have available)
1 14-oz can coconut milk
2 ½ cups water
5 ounces fresh spinach
Salt and black pepper, to taste


Heat the olive oil over medium-high heat in a large nonreactive soup pot. When the oil is shimmering add the onions, garlic and ginger and cook until softened and lightly browned, about 3-4 minutes. Add the curry powder, pepper and lentils and stir to combine, then add the tomatoes, coconut milk, water and herbs. Stir well and season to taste with salt. Bring to a boil, then reduce heat and simmer for 20-25 minutes, until lentils are tender. Stir in the spinach. Season to taste with salt and pepper. Garnish with a dollop of yogurt, chopped herbs and sliced chilis, if desired.


French Lentil Salad with Walnuts, Pickled Onions and Herbs


2 ½ cups homemade or low sodium chicken or vegetable broth, or water
1 cup French lentils
1 clove garlic
Juice of 1 lemon
¼ cup olive oil
½ cup each fresh mint and parsley, chopped
1 cup toasted walnuts
½ cup pickled red onions, drained
Crumbled feta and


Rinse the lentils, then place them in a saucepan with the broth or water, the whole clove of garlic, and a pinch of salt. Bring to a boil, then reduce heat and simmer until lentils are just tender, about 20 minutes. While the lentils are cooking, whisk together the olive oil, lemon juice and Dijon. Drain well, then transfer to a nonreactive mixing bowl. Add two-thirds of the dressing, along with a pinch of salt. Toss thoroughly to coat, then set aside to cool to slightly warm.


Once the lentils are only slightly warm, toss in the remaining dressing, carrots, walnuts, herbs and pickled red onions. Taste for seasoning and serve. If making ahead, wait to add the walnuts until the last minute. Excellent on its own or alongside grilled meat, fish or vegetables.


Ashley Meyer is a food writer and cook based in Springfield.