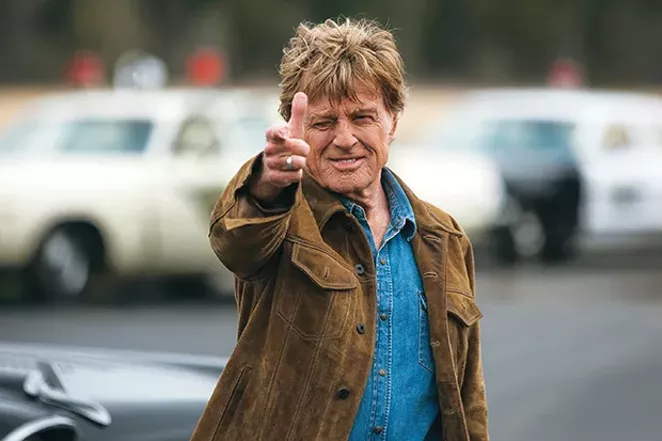 I have an old gray T-shirt. I can't tell you how many times it's been washed or how many times I've worn it. It's always at the top of the pile in my dresser drawer and it is the one I grab when I need something comfortable to wear under another shirt or just want to be casual around the house. If you hold it up to the light you can see through it. It is starting to fray at the ends. It doesn't have long before it gets tossed, and that'll be a shame as there's nothing else I feel as comfortable in – it's a second skin, if you will.

I was thinking about that T-shirt a lot while taking in David Lowery's The Old Man & the Gun. Robert Redford stars in the titular role and has said this will be his last on-screen appearance. If that proves to be true, he couldn't have chosen a better project for his swan song. He's front and center throughout in a role that fits him like a second skin – or an old gray T-shirt – and the charm that's made him one of the most likable stars is on full display.
Based on an article by David Grann that appeared in The New Yorker, the film recounts the adventures of Forrest Tucker, a career criminal who has a compulsion to rob banks and then escape from jail, which he's managed to do 18 times. He's just managed to flee from San Quentin in a homemade boat and is doing what he does best – robbing banks in a non-threatening and even charming manner – leaving those he encounters feeling as though they've met a long-lost friend rather than a hardened criminal. Tucker often works alone, but for bigger jobs he enlists the aid of Teddy (Danny Glover) and Waller (Tom Waits).
After one heist, Tucker stops to help a stranded motorist, a widow by the name of Jewel (Sissy Spacek), and after a cup of coffee and a piece of pie a spark is lit that offers each of them one last chance at love. The scenes between these two screen veterans have a lived-in feel to them that gives one the sense that we're eavesdropping on this couple rather than watching two actors perform. It's gotten to the point where I don't think Redford and Spacek think about the process of acting, it's just become second nature, a muscle memory they're able to recall and do without thinking, much as a normal person breathes. It's a pleasure to watch these two (as well as Glover and Waits) effortlessly spar with one another, a comfortable experience the sort of which puts a pleasant smile on the viewer's face.
Casey Affleck is along as well as John Hunt, a police officer who just happened to be at one of the banks Tucker held up, all of it happening right under his nose. The resulting embarrassment is the catalyst for his spirited pursuit of Tucker. (Think Javert on the heels of Jean Valjean from Les Miserables, but with much less intensity.) Affleck knows he's not center stage here, that he's on board just to move the story along. I think the one scene in which Tucker meets Hunt is the only reason he agreed to the film and that one moment is worth it.
The Old Man & the Gun will not be ranked among Redford's best, but it provides him a showcase in which he's allowed to remind us why he's been a movie star for over 40 years. The "aw shucks" grin, that sense of ease and his unassuming air are there for all to see and remember, making The Old Man & the Gun worth the price of admission.
Contact Chuck Koplinski at ckoplinski@usd116.org.