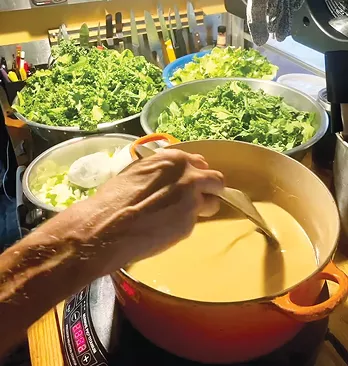 Fat Tuesday marks the last night of eating rich, fatty foods before beginning the Lenten ritual of self-sacrifice and fasting. In South Louisiana, Catholics go to Mass on Ash Wednesday, give up meat on Fridays and make small sacrifices until Easter to signify their piety and atone for the excesses of Mardi Gras revelry.
The word "Lent" comes from the Old English "lencten," which means springtime, a time of renewal, and cleansing. Fasting and self-denial were meant to restore simplicity and renew spiritual growth. The practice of the Lenten fast began in the fourth century, when all meat products, except for fish and seafood, were forbidden. Nowadays, many people consume meat sparingly during the Lenten season leading up to Easter.
In New Orleans and the Cajun country of Southwest Louisiana, it's a Good Friday tradition to serve a plant-based gumbo known as gumbo z'herbes (meaning a "gumbo of herbs") as a meatless alternative. The Cajuns pronounce it "gumbo zab," and it's soup made with several types of greens, always an odd number, and usually containing seven or nine different varieties. An even number of greens is believed to bring bad luck. It is also believed that the number of greens your gumbo z'herbes contains will be equal to the number of new friends you will make in the coming year.
There are three theories of the origin of gumbo z'herbes. The Cajuns were descendants of the French Acadians and gumbo z'herbes resembles the French potage aux herbes or herb soup. A green stew called callaloo came over from West Africa with the slaves. Germans who emigrated to the area brought their tradition of serving a dish of seven or nine different greens, called Grünerdonnerstagsuppe (Green Thursday soup), on the Thursday before Easter.
Regardless of religious beliefs, this is a time of transition from winter to spring, from freeze to thaw, from austerity to abundance, from dormancy to new life. After a winter of heavy foods and sedentary living, gumbo z'herbes is the heady spring tonic that the body is needing. The aroma of fresh greens simmering on a stovetop is heavenly.
This is a dark roux-infused gumbo. A roux is a mixture of flour and fat that is used to thicken sauces. Roux is made by heating a fat (lard, butter or vegetable oil) on a stove top, incorporating an equal weight of flour, and cooking until the desired color and consistency is achieved. A roux can range in color from white to dark brown; the longer it's cooked, the darker it becomes. Lighter roux are commonly used to thicken sauces but add little flavor. A darker roux imparts more flavor but is less thickening. The practice of using a dark roux in Cajun and Creole cookery probably developed as a way of masking the gamey flavors of such meats as squirrel, opossum and racoon.
Gumbo z'herbes
This gumbo is traditionally made on Maundy Thursday to be consumed on Good Friday. The gumbo is actually better the day after it's made. Serve over rice or just enjoy as a soup. It's also good with cornbread.
Serves 6-8
Equipment:
6-8 quart heavy-bottomed stock pot, whisk, wooden spoon and a small ladle

Ingredients:
3 thyme sprigs
2 bay leaves
4 whole allspice
6 whole black peppercorns
9 tablespoons canola oil (120 g)
1 cup all-purpose flour (120 g)
1 cup diced yellow onion
1 cup diced green bell pepper
2 ribs celery, finely diced
2 tablespoons minced garlic
2 quarts vegetable stock
Assorted greens (see note below)
½ small head green cabbage
1 bunch collard greens
1 bunch kale
1 bunch turnip greens
1 bunch mustard greens
1 bunch Swiss chard
1 or 2 heads green leaf lettuce
1 (5-ounce) bag baby spinach
1 (5-ounce) bag arugula
1 medium zucchini, chopped
Kosher salt and freshly ground black pepper
2 tablespoons tomato paste
Cajun Seasoning Blend, to taste
A few dashes Worcestershire (optional)
6 cups cooked long-grain white rice
1 cup diced green onion tops
Filé powder (look for in the spice section of your grocery or natural foods store)
Note: You may substitute other types of greens such as: dandelion greens, beet greens, carrot tops, bok choy, watercress or flat-leaf parsley
Preparation
In a piece of cheesecloth, make a sachet with the thyme sprigs, bay leaves, allspice, peppercorns, and tie off with a piece of kitchen string.
Wash the greens in several changes of water and trim away any hard stems. Chop greens into large pieces.
In the stockpot set over medium-high heat, heat the oil until just smoking. Turn off the burner and add the flour to the hot oil, sprinkling it in gradually to avoid splattering (it's called Cajun napalm for a reason), and stir with a wooden spoon. Turn the heat back on to medium, and continue cooking and stirring.
Once flour starts to brown, in about four to five minutes, reduce the heat down to low and stir slowly, until the roux is the color of milk chocolate, as much as 45 minutes longer, depending on your heat source.
Add the onion, bell pepper and celery, and stir to coat the vegetables in the roux. Increase the heat to medium and cook until the vegetables sweat well and turn soft, another six to eight minutes.
Stir in the garlic, turn off the heat, and allow the roux to rest off the heat for 10 minutes for the flavors to meld.
Deglaze the pot with half of the vegetable stock and simmer until everything is incorporated, about 5 minutes. It will get very thick. Add the remaining stock, bring to a boil, add the herb sachet and reduce to a simmer.
Add the greens in batches, adding the next handful after the previous is wilted and soft, stirring well before and after each addition. Once all greens are added and have wilted, add the zucchini, tomato paste and 2 teaspoons of the salt, stir the pot well, reduce to a simmer and simmer for one hour uncovered, stirring regularly. Skim off and discard any fat that rises to the top, using a small ladle. After an hour, remove the herb sachet, add the Cajun seasoning to your taste, more salt and black pepper to your taste, and Worcestershire if desired.
Serve over hot rice and top with the green onions and a light dusting of filé powder.
Peter Glatz is currently embarked on a 4,300-mile cross-country road trip in Bertha Bus, exploring the regional food cultures of America's backroads and byways.