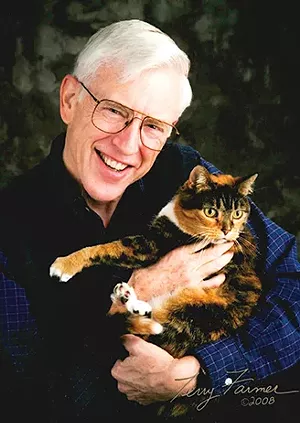 Guerry Suggs always had a smile on his face, a twinkle in his eyes and was quick to tell a joke. First Citizen of Springfield, philanthropist, volunteer, friend, mentor, champion, servant leader and avid baseball fan are a few descriptors of this beloved community leader.
Suggs graduated from Cornell University and had an MBA from the University of Pennsylvania Wharton School. Guerry and his wife, Michelle, moved to Michelle's hometown of Springfield in 1976. He worked in banking in New York City before joining First National Bank in Springfield, from which he retired in 2000 as senior vice president. For the next 10 years he served on the board of Security Bank. Throughout his career, Suggs was a tireless volunteer, dedicated to improving Springfield and the lives of others.
Guerry and Michelle were married at Douglas Avenue United Methodist Church in 1961. His involvement there continued until his death. "He was a pillar of our church," says Rev. Margaret Ann Jessup, associate pastor. "He lived out his faith through his actions." Jessup admired his wisdom, quiet generosity and beautiful sense of humor. She says everyone respected him, and when he spoke, people listened.
Many organizations benefited from Suggs' kindness and generosity. The YMCA, Springfield Urban League, Illinois State Museum, The Springfield Project, Governor's Prayer Breakfast Committee, Memorial Medical Center, the precursor to the Community Foundation for the Land of Lincoln, Lincoln Land Community College Foundation and University of Illinois Springfield are some. He was named Copley First Citizen in 2000.
When Suggs agreed to serve, he didn't do this passively. "Guerry's strong suit was that when he got involved with a board, he worked at it," says Harvey B. Stephens. Stephens met Suggs through First National Bank when Suggs came to Springfield and Stephens was attorney for the bank. As with others who first met Suggs professionally, business relations evolved into a longtime friendship.
For more than 40 years, Suggs was an advocate for the Illinois State Museum. Bruce McMillan, former museum director, met Suggs through Michelle's father, a long-term member of the Illinois State Museum Society, and First National Bank, which handled the Museum Society's account. Guerry and Michelle soon became members, and over the years he became a key person on the Museum Society board and later the board of the Illinois State Museum, which was appointed by the governor. "I could always count on Guerry for his pragmatic approach and realistic vision for the museum," says McMillan. They also developed a deep friendship, fueled by their common interests, especially sporting events. Suggs was in the vanguard of those defending the museum when former Gov. Bruce Rauner closed it. "The museum lost a great leader and ally when Guerry resigned," says McMillan.
The YMCA, where he wore many hats, also benefited from Suggs' dedication and service. "There was no task too big or too small for Guerry," says Angie Sowle, CEO of the Springfield YMCA. "His willingness to help was matched only by the size of his heart."
Believing in the importance of good health care in Springfield, Suggs was a strong supporter of Memorial Medical Center and its foundation. He was a champion for their educational endeavors and served on the MMC Foundation board. He enjoyed volunteering every year with his granddaughter at the Festival of Trees.
At University of Illinois Springfield his participation was wide-ranging and impactful. "Guerry put his financial resources behind his words and actions," says Jeff Lorber, UIS Vice Chancellor for Advancement. Suggs endowed a scholarship, supported the Performing Arts Center and the Student Union and established the Suggs Performing Arts Studio at NPR Illinois/WUIS. Guerry and Michelle Suggs received the University of Illinois Foundation's William E. Winter Award for Outstanding Advocate Leadership in 2006.
He and Michelle had three children – Gordon, Nancy Rosse and Margaret Herath – and eight grandchildren, to whom he was devoted. He was passionate about baseball and visited every major league baseball stadium in the country. Born in Atlanta, he was a lifelong Atlanta Braves fan. He enjoyed minor league baseball as well and was a part owner of the Springfield Capitals in the late 1990s.
Michelle passed away in 2007. In 2010, he married Jo Alessandrini. They shared affection for pets and connected while Guerry was shopping for cat food. During their eight years together, they enjoyed extensive travels and numerous sporting events.
Suggs was notorious for always having a joke to share, sometimes described as "off-color." But, Suggs knew his audience, and friends say his jokes were "appropriate" for the situation.
Guerry Suggs was always quick to help when there was a need, and he never sought recognition. He could light up a room with his presence and will long be remembered for his engaging personality and positive impact on Springfield.
Karen Ackerman Witter had the pleasure of knowing Guerry Suggs through the Illinois State Museum where she worked for many years. She heard him tell many jokes, none of which she could remember. She does remember laughing at the time and will always remember Guerry with fondness and appreciation.