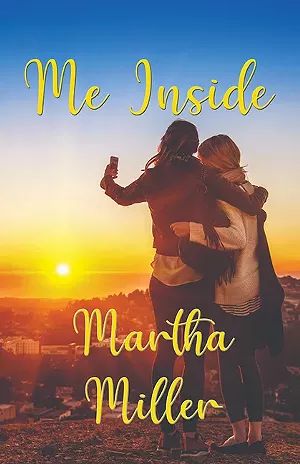 Springfield native Martha Miller, a retired composition instructor who taught at Lincoln Land, is a versatile writer. She has written several novels, as well as reviews, articles and a column about her life. Her book of short stories, Tales from the Levee, explores the gay and lesbian community in Springfield from the mid-1960s into the 1970s, and while officially labeled fiction, it was inspired by the interviews she conducted and the people she knew in the city. Miller's last book was a memoir centered on an abusive relationship. Now she has branched out into young adult LGBT fiction in order to add a story to the genre where the main character's sexuality is not the cause of any angst, but instead, remains secondary to other much more dramatic events that unfold.
Miller's latest novel, Me Inside, begins when Jeannie Baker's father gets out of prison for bank robbery. She believes her family will finally return to normal. However, the very next day, while Jeannie and her father are gone, her mother packs up and leaves. The woman pilfers every bit of cash in the house, including the money Jeannie made collecting cans, and is even petty enough to take the leftover cake from her father's welcome home party.
Her ex-felon father turns out to be an improvement over her vindictive mother, and they settle into a routine. For the next five years he works and raises Jeannie. Then one night she hears him talking heatedly with a stranger, he leaves, and is found murdered.
Jeannie navigates her grief and the seismic shifts in her life. Now 15, she is taken in by her paternal grandmother, a pragmatic and resilient woman whose name she shares. Grandma, who once was married and had two children, is a lesbian who came out and made a life for herself during a less accepting era.
Jeannie decides she's going to investigate her father's murder with the help of Ruthie, her friend since kindergarten. As they dig deeper into his past, the story grows more ominous when we learn the money from the bank robbery was never recovered, and it appears that someone dangerous believes Jeannie may be the key to recovering the fortune. This novel, like the rest of Miller's work, is a well-structured and fast-paced read.
Miller's novel works on two levels. While it is meant for young adult readers, it will also resonate with adults who have experienced the complicated grief of losing loved ones who made bad choices and have hurt them. Jeannie's mother returns for the funeral and tries to explain herself and it gives Jeannie a chance to vent her anger in a satisfying scene.
We see two types of adults in this story: those who stay and take responsibility when tough stuff happens and those who run from it. We also get a realistic depiction of the aftermath of trauma borne by those who get left behind. Nobody's perfect, and everyone in this novel has made mistakes and suffers the consequences.
The story presents readers with modern themes and doesn't pull any punches. A recurring element in the book is that when birth mothers fail their children, others step in as surrogates to provide support and love.
Despite some of the heavy subject matter, the book is full of dark humor as Jeannie isn't shy about expressing herself. She describes the funeral director as "a shark-jawed, everyday jackass" and claims "the morgue had a better atmosphere" than his funeral home. She also takes her coffee black, a habit she picked up from her father, and grudgingly decides to quit smoking in order to be a better athlete.
The Me Inside is both Jeannie's growing awareness of her sexual identity, and her developing maturity that helps her to let down her guard and trust the people around her after so many losses and betrayals.
Miller has written a contemporary coming-of-age novel that has tension, humor and heart. This book is identified as the first in a planned series to feature Jeannie Baker, and the reader will certainly look forward to meeting her again to see how she overcomes her struggles and thrives.
Shawna Mayer is a graduate of Quincy University and UIS. Her poetry, short fiction and articles have been published in many journals over the years. She is active in the Springfield writing community.