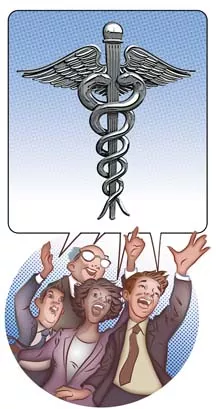 A group of organizations and business owners in Illinois have banded together to create a united voice about health care reform for small businesses.
The Small Business Health Care Consortium, or SBHCC, formed in March 2011, with the goal of advocating for Gov. Pat Quinn to issue an executive order creating a pro-consumer, pro-small business competitive health care marketplace in Illinois. This would better provide small businesses with a chance to purchase and provide affordable health care coverage to their employees.
Joyce Harant, SBHCC project director and Peoria resident, said the process of creating the SBHCC began after a discussion with Jim Duffett, executive director of the Campaign for Better Health Care.
"He saw, through his organization's work, that small businesses were really underrepresented," Harant said.
The SBHCC defines small businesses as businesses with fewer than 100 employees. Harant said a majority of the businesses she has spoken with have fewer than 50 employees. There are about 300,000 total businesses in Illinois around that size. According to the Small Business Majority, there were 203,600 businesses in Illinois with 25 or fewer workers in 2010.
Harant said a partnership between the SBHCC and the Small Business Majority – a statewide advocacy group run by small-business owners focused on addressing problems facing small businesses – helped her contact small businesses interested in joining the organization, which began as a difficult task.
"I learned that small-business owners are so busy that they barely have any time, outside of keeping their businesses going, to look at something like health care reform and what's going on with it," Harant said. "When we started to contact these business owners, we began setting up around 13 or 14 free webinars to update them about what was going on with health care reform in Illinois." (A "webinar" is a presentation, lecture, workshop or seminar that is transmitted over the Internet.)
Harant said some of the small businesses she has spoken with are unable to provide health care insurance for their employees due to the cost.
"The small businesses I have spoken to all wish they could provide health care for their employees," Harant said. "When you employ only four or five people, they are like family and you want them to be taken care of."
Duffet said last week's decision by the U.S. Supreme Court to uphold the Patient Protection and Affordable Care Act will have a huge impact on small businesses in Illinois.
"This is definitely a historic decision. We are absolutely elated," Duffett said. "This decision will have a tremendously positive impact. A number of small businesses, who provide health insurance to their employees in Illinois, will now be eligible to receive the tax credit. Employees will no longer be able to be ripped off by the insurance industry."
The ACA requires states to create a health-care marketplace, where businesses can purchase and negotiate with insurance companies for health care. If a state does not create a marketplace model by Nov. 12 this year, that state will have to accept a federal model.
Since 2010 under the ACA, companies with fewer than 25 employees with average employee wages of less than $50,000 could have received tax credits for the health insurance they provide, which helps small businesses stay operational.
Despite the Supreme Court's decision, Duffett is still encouraging Gov. Pat Quinn to sign an executive order to create a health care marketplace.
"We wish he would had done it two weeks ago," Duffett said.
Contact Neil Schneider at nschneider@illinoistimes.com.