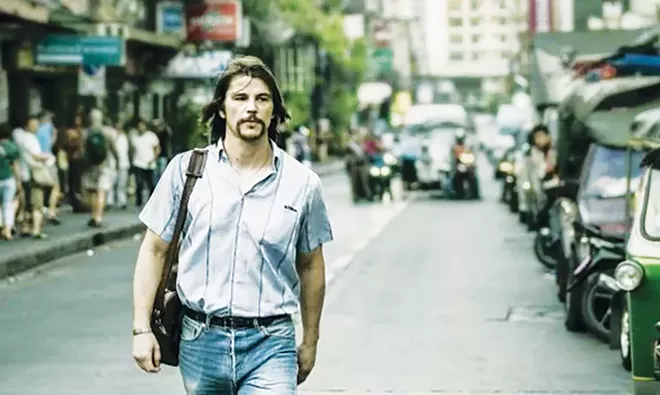 I think it's safe to say that none of us know how strong we truly are until we're faced with a dire situation. That was certainly the case with Alain Olivier, a Canadian with a troubled past who found himself in the wrong place at the wrong time to tragic results. Ensnared in a fraudulent sting operation concocted by the Canadian Security Intelligence Service (CSIS), the young man ended up serving eight years in a Thailand prison, freed only by the tenacious investigation of a dedicated reporter who just happened to stumble onto his case.
Daniel Roby's impressive Most Wanted recounts Olivier's experiences and the complex circumstances that led to his unjust incarceration, a story with so many moving parts and odd circumstances you'd be tempted to discard it as impossible if it weren't true. It's a compelling story, not simply because of its unique circumstances but also because of its cast of characters, a collection of morally questionable, duplicitous men who put themselves first, no matter which side of the law they happen to be on.
Daniel Leger (Antoine Olivier Pilon) is a young man who's squandered his fair share of opportunities. A recovering drug addict, he's been cut off by his parents and survives by working laboring jobs whenever they happen to pop up. Emotionally vulnerable, without a home and constantly battling his inner demons, he gravitates towards get-rich quick schemes and questionable characters. He crosses paths with Picker (Jim Gaffigan), a predator who takes him in, gets him hooked on cocaine and convinces the young man he's in debt to him. He manipulates Leger into believing that he's establishing a drug network with a pipeline from Thailand to Canada and he wants him to be the courier to help with this enterprise. Little does he know that Picker is setting him up to be arrested by officers from the CSIS who are desperate to make a big splash, wanting to make an arrest that will garner favorable media. They're led to believe by that Leger is the big fish they are looking for.
As this is playing out, we become acquainted with Victor Malarek (Josh Hartnett), an investigative reporter who seems to specialize in alienating everyone around him. Hanging by a thread professionally, he convinces his editor to finance a trip to Thailand where he hopes to interview Leger. By doing a little digging, the writer figures out his subject is not the major player everyone's been led to believe and there are certain parts the CSIS official story that simply don't add up.
As complex as this sounds, Roby does a masterful job keeping the three parallel storylines clear and easy to follow. This is even more impressive considering the filmmaker tinkers with the timeline throughout, sometimes fast-forwarding to events that have yet to occur. Rather than alienating the viewer, this approach sucks you in, as not only is the story fascinating, but the bits Roby supplies hint at what will happen, which just increase the curiosity factor where these events are concerned.
That none of the characters are particularly appealing proves fascinating as well. In some ways, Malarek is no better than the men he investigates as he manipulates and uses others for his own ends with little regard to the consequences. Redemption is elusive for them all, yet it does occur through the most unusual circumstances, making it all the more powerful. In the end, Most Wanted's most powerful message is one of hope, the notion that a chance to turn your life around is available to any who have been discarded.