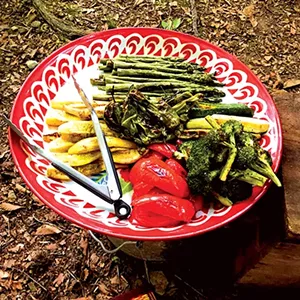 My earliest grilling memory dates back to Brat Day, an annual summer tradition in the neighborhood where I grew up. Once a year my dad and I would drive to Sheboygan, nearly 150 miles away, to bring back coolers full of Sheboygan bratwurst for the neighborhood. This was back in the 60s when regional specialty foods weren't readily available in the local grocery stores. Upon our return, we'd distribute the brats to everyone who had placed an order. Later that afternoon everybody would fire up their grills. With the whole neighborhood grilling at the same time, the smoke would become so heavy that you couldn't see three feet ahead of you. The kids would play hide-and-seek in the smoky fog which I always found hysterical. My dad liked to make shallow cuts the length of the bratwursts before placing them cut-side down on the grill. As they cooked, the brats would unfurl and their fatty juices would start dripping onto the coals and send up billows of aromatic smoke. He'd then serve the brats on a toasted bun with some sauerkraut and Dusseldorf mustard. The kids would drink lemonade and the grownups would drink Garten Brau beer out of quart bottles. These are wonderful memories.
Throughout my life, grilling has been a great social event and usually centered around meat. But as much as I love grilled skirt steak, lamb loin chops, or Korean short ribs, the times they are a-changin'. Eating meat is no longer cool.
After the pandemic shutdown, Eleven Madison Park, NYC's top fine dining restaurant, reopened with a meatless menu. To Daniel Humm, its celebrated chef, it was clear that after everything we experienced this past year, he couldn't reopen the same restaurant. "We couldn't go back to doing what we did before. The idea of removing all animal products felt limiting at first, but what we're realizing now is how freeing it actually is. The options of a plant-based menu are endless. This is the most exciting time I've had as a chef."
San Francisco chef Dominique Crenn, the only female chef in the United States to attain three Michelin stars, made all of her restaurants meat-free in 2019. The popular cooking website Epicurious recently announced that it would not publish new beef recipes over concerns about climate change; it's estimated that 14.5 percent of global greenhouse gas emissions come from livestock.
I'm not ready to totally give up meat, but I'm moving towards a predominantly plant-based diet. So this summer, when I'm outside chillin', it will be mostly veggies that I'm a-grillin'.
It's not difficult to make fresh, seasonal vegetables the focus of your outdoor cooking. There are so many vegetables that lend themselves beautifully to the searing heat of charcoal and the gentle aroma of wood smoke. All it takes to transform a platter of grilled vegetables into a delicious meal is some marinades, sauces and a little ingenuity. Here are two of my favorites.
Grilled Ratatouille
Traditional ratatouille is a stewed vegetable dish from Provence. This preparation takes the same ingredients and amps them up with a little char and caramelization.
Ingredients
2 Japanese eggplant, halved lengthwise
2 zucchini, cut into quarters lengthwise
2 yellow summer squash, cut into quarters lengthwise
2 red bell peppers, seeded and quartered
2 yellow bell peppers, seeded and quartered
2 red onions, quartered
8 scallions, trimmed
1 pint cherry tomatoes
2 tablespoons neutral-flavored oil, such as grapeseed or canola
For the vinaigrette:
2 cloves garlic, minced
½ teaspoon Dijon mustard
2 tablespoons balsamic vinegar
2 tablespoons extra-olive oil
Salt and freshly ground pepper
2 tablespoons fresh basil, cut into a chiffonade
1/4 cup finely chopped flat-leaf parsley leaves
Preparation
Build a medium fire in a charcoal grill or heat a gas grill to medium high.
Sprinkle salt on the cut sides of the eggplant and place in a colander to drain for 20 minutes. Rinse and pat dry.
Make the vinaigrette: In a small bowl combine the vinegar with the mustard and garlic, then whisk in the extra-virgin olive oil. Season with salt and pepper.
Lightly brush the cut vegetables and the tomatoes with 2 tablespoons of the neutral-flavored oil and season lightly with salt and pepper. Place the vegetables on the grill and cook for 5 to 6 minutes, turning occasionally. Remove the tomatoes, cover the grill, and cook the remaining vegetables for another 2 minutes. Coarsely chop all the vegetables except the cherry tomatoes. Transfer the vegetables and tomatoes into a large bowl and toss gently with the vinaigrette.
Taste and season as needed. Top with the herbs and serve at room temperature with grilled bread.
Grilled Cabbage with Radish Tzatziki
Grilling wedges of cabbage until charred and caramelized, with lacy, crisp edges and a soft center, is revelatory. Serving it with a creamy tzatziki offsets the char.
Ingredients
1 head of cabbage
¼ cup olive oil
Kosher salt and black pepper
For the radish tzatziki:
6 radishes, ends trimmed
2 garlic cloves, grated on a microplane grater
1 ¼ cups full fat Greek yogurt
1 tablespoon extra-virgin olive oil
1 tablespoon fresh squeezed lemon juice
¼ cup thinly sliced scallions, white and green parts
2 tablespoons mint, julienned
Salt and pepper
Preparation
Build a medium fire in a charcoal grill or heat a gas grill to medium high.
Make the tzatziki:
Grate the radishes on a box grater. Wrap in a towel and squeeze out the liquid.
Combine the radishes, garlic, yogurt, olive oil, lemon juice, scallions, and mint. Season to taste with salt and pepper.
Cut the cabbage through the core into quarters or eighths depending on the size. Brush all over with olive oil, and season with salt and pepper. Grill over direct heat for about 10 minutes, then move to a cooler part of the grill, close the lid and cook for a few more to ensure the center is fully tender.
To serve, top the wedges with the radish tzatziki.
Peter's short-term job as a 68-year-old baker at Spoon and Stable in Minneapolis might turn into a longer stop on the journey. Restaurants are desperate for workers. The younger people don't want to work this hard and the willing immigrants can't make it across the border. It looks like it's up to the oldsters to cook your food.