click to enlarge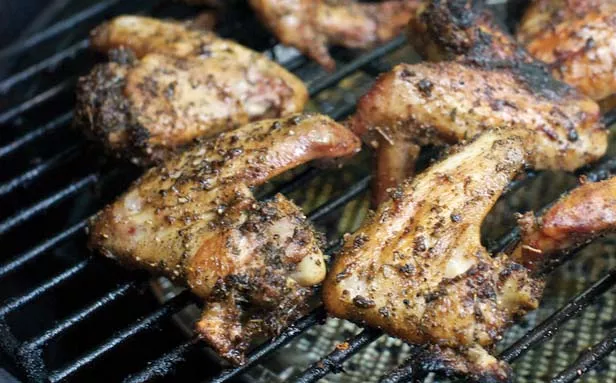 Though this recipe comes from New Orleans chef Emeril Lagasse, it utilizes classic Southeast Asian ingredients.
3 lbs. chicken wings, tips removed, then halved
4 scallions
2 T. roughly chopped garlic
1/4 c. chopped shallots
1/4 c. chopped fresh ginger
1/2 c. roughly chopped lemongrass bottoms
1/4 c. packed light brown sugar
1/3 c. fish sauce
3 tablespoons fresh lime juice
3 tablespoons peanut oil

For garnish:
1/4 cup dry-roasted peanuts, chopped
1/4 cup chopped fresh cilantro
Reserved scallion greens
Place wings in a large resealable plastic bag.

Thinly slice the scallion greens and reserve. Coarsely chop the scallions' white parts. Combine with the remaining marinade ingredients in a food processor; process until smooth. Pour over the wings, squish out the air, and seal the bag. Refrigerate overnight.
Preheat a grill to medium. Remove the wings from the bag, reserving the marinade. Place on the grill and cook, turning occasionally and basting with the marinade for about 20 minutes. Continue grilling until the wings are cooked through, about 10 minutes more. The wings can also be broiled.
Garnish with the peanuts, cilantro and scallion greens.