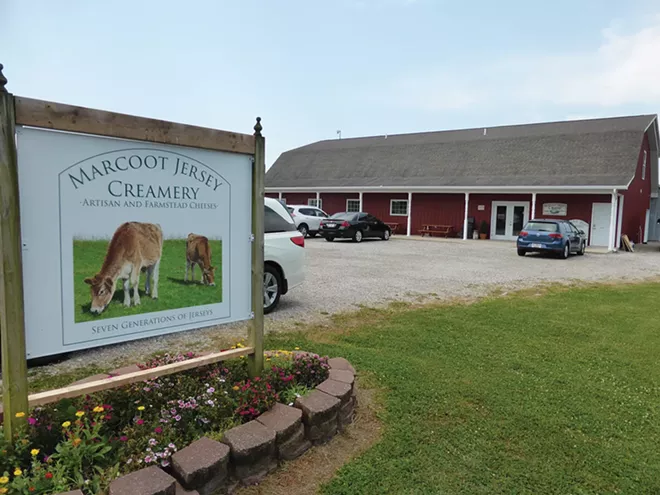 If you think playing a trick on someone is child's play, wait until you see the collapsing stairs, fake guillotine and spinning wheel goat in Greenville, Illinois. Such adult hazing devices and more await you at the DeMoulin Museum in this town 70 miles south of Springfield.
In Greenville you can go from learning the sometimes bizarre story of initiation rights for fraternal organizations to viewing world-class sculpture. Top it all off with a rich ice cream cone at a working dairy.
This town of 7,000 also hosts a small university, a county historical museum, a display of antique farm machinery and a federal prison, not that you would want to stay at the latter for very long. Besides, there is plenty to do here legally, though some of the shocking devices at the DeMoulin might cross the line.
You should plan your visit for a Saturday when the two primary attractions, the DeMoulin Museum and the Richard W. Bock Sculpture Museum, are open.
Housed in an old Episcopalian church building, the DeMoulin features a collection of devices and regalia manufactured by the DeMoulin Bros. Company for men's fraternal groups popular in the late 1800s and early 1900s. John Goldsmith, whose mother worked for the company, oversees the museum and explains the collection.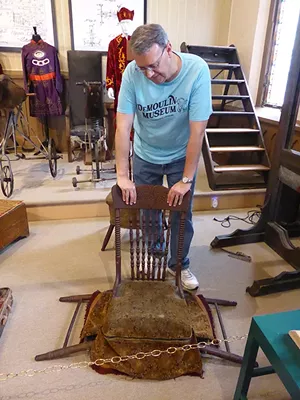 "They made some pretty wild things and those were very elaborate," he says, noting that a lot of trick devices involved the firing of blank cartridges sure to frighten potential lodge members. A telephone, mirror, collapsing chair, stairs that drop into a slide and a wooden "spanker" all used blank cartridges to give an extra shock. The three DeMoulin brothers had mechanically trained minds so they made devices to order for various groups.
Some lodges used the fake guillotine near the end of a ceremony when a potential new member would be told he wasn't lodge material but now knew too much to be released. The DeMoulin brothers had a French heritage so they thought they should have a fake guillotine in their inventory, Goldsmith says.
"Riding the goat" was a broad term in lodge circles, but the DeMoulins took it literally and designed goat wheels, where a person would be strapped into a wheel on a goat head seat and rolled head over heels.
By the 1930s, such extreme initiation devices faded from popularity, and the company turned its attention to making choir robes, graduation gowns and marching band uniforms. Samples of that merchandise also inhabit the museum.
The museum's collection got on the radar of Atlas Obscura and Roadside America, bringing in visitors from afar. "People like that oddball, weird experience," Goldsmith says. He also says many magicians are fans of DeMoulin things, including David Copperfield, who has a large collection of them.
At the other end of the sophistication spectrum is the Richard W. Bock Museum, housed in a historically significant building on the Greenville University campus. Bock worked with architect Frank Lloyd Wright the longest of any sculptors, 12 years, according to Sharon Grimes, the museum's director.
Among the pieces on display are the art deco "Lure of the Rhine Gold" from 1932, commissioned busts and the Hippach Chapel urn showing the stages of life. Sculptures of a stork and a dog were once displayed at Marshall Field's in Chicago.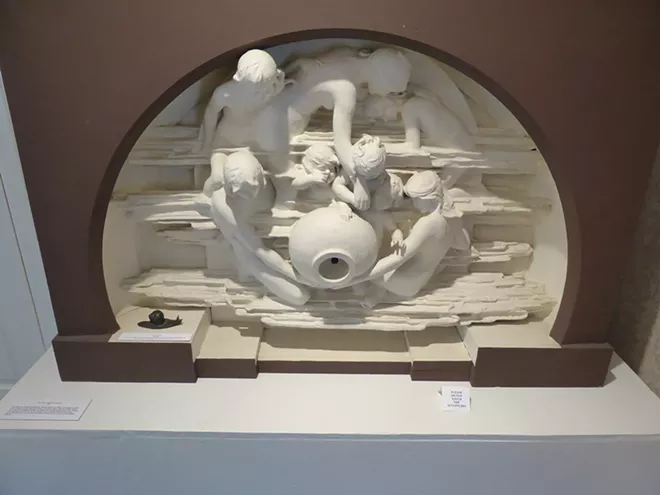 Another room holds work Bock did for Wright, including a moon children's fountain and flowers on a crannied wall. Also on display is a sumac stained glass cathedral window, which will look familiar to anyone who has toured the Dana-Thomas House in Springfield. Grimes says the Bock and Wright families had close ties until the relationship soured when Bock chose not to go to Tokyo to work on Wright's Imperial Hotel.
A more modern connection to Wright contributes to the Bock collection of more than 300 bronze and plaster sculptures ending up in Greenville.
Grimes says Donald Hallmark, long associated with the Dana-Thomas House and a former art history professor at the university, founded the museum in 1975 after researching Bock and contacting his family. The family told Hallmark the campus could have the collection if it provided a permanent exhibit space, unlike some other universities that wanted to display it temporarily.
The university transformed its historic Almira College House into the museum. Named for Almira Blanchard Morse, the college was the forerunner of today's Greenville University. The university enrolls 800 students and is associated with the Free Methodist Church. The small but pretty campus merits a quick tour.
If you have time and interest, you can visit the Bond County Museum to learn more about the area's history, including its location as part of the Historic National Road running from Cumberland, Maryland, to East St. Louis. Just south of I-70 is the American Farm Heritage Museum with some antique farm machinery and a reproduction of Hill's Fort Blockade Building.
After all that touring, treat yourself to some of the best ice cream around at the Marcoot Jersey Creamery, seven miles south of town. Run by the seventh generation of dairy farmers, the creamery also offers nearly two dozen kinds of artisan cheese, including cave-aged, farmstead, fresh and seasonal varieties.
You can take a self-guided tour to see the robot milking parlor, calf barn and creamery before indulging in your choice of ice cream. The dairy is open Monday through Friday from 10 to 4 and Saturday from 10 to 3.
The Bock museum is open most Saturdays from 10 to 2, but call ahead to make sure (618-267-1174). The DeMoulin also is open from 10 to 2 on Saturdays from September to May and Friday through Sunday in the summer (www.demoulinmuseum.org). Both operate on donations.
For more information on Greenville, go to www.greenvilleillinois.com.
Mary Bohlen is a Springfield travel writer who enjoys quirky museums and good ice cream.