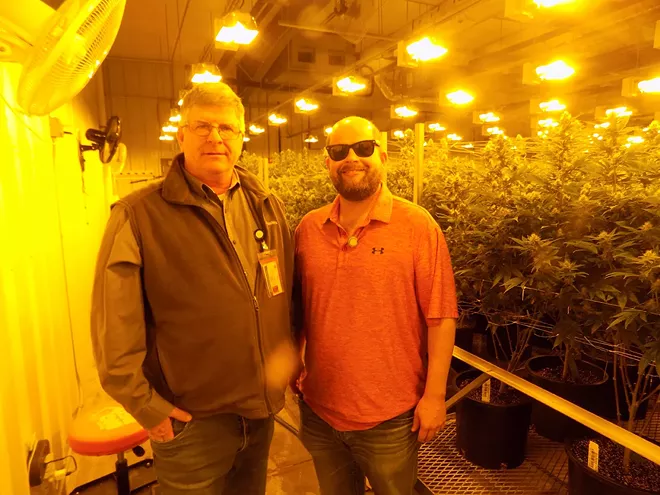 Just taking a photograph at Nature's Grace and Wellness in Vermont, about 75 miles northwest of Springfield, can be tricky.
Fire away, you're told in the grow area, where glare from high-pressure sodium bulbs makes ordinary cameras go nuts, drawing excessive amounts of blues and purples from rows of lights above hundreds of pot plants on which owner Larry O'Hern and his family have staked a considerable sum of money. A room where employees are packaging joints is off limits to cameras. Tim O'Hern, who is Larry's son, the company's chief operating officer and a licensed attorney, says that regulators take a dim view of photographing products. Similar concern outside the plant, where Tim O'Hern worries that taking photos that include "Under Surveillance" signs on the front gate might somehow get him and his dad in trouble.
The law also forbids depictions of marijuana plants on retail packages of marijuana, but the ban apparently doesn't extend to posters promoting Blue Dream, one of dozens of strains grown here. Along with a poster, Larry O'Hern gives a reporter sundry swag that includes a t-shirt, a lighter, a key chain and coozies. Such is life in the world of legal cannabis in Illinois, where anyone older than 21 will be able to buy weed as of Jan. 1, presuming that predicted shortages don't materialize.
Already, top-shelf strains cost more here under Illinois' medical marijuana program than in most other states that have legalized pot for recreational or medical use or both. A gram of Blue Dream averages $22 in Chicago, according to marijuanarates.com, twice the national average. In Springfield, a gram of Birthday Cake sells for $19 at HCI Alternatives; in Denver, where recreational pot has been legally sold since 2014, a gram goes for $10 at Herbs4You, according to leafly.com, a website that helps folks find the best prices.
Cantaloupe Kush and names of other strains – he's cultivated more than 30 — roll easily from O'Hern's tongue. Afghan Humboldt was a dud; Skywalker, harvested just in time for the release of a Star Wars movie, did great. A farmer who raises soybeans, corn and cattle on 5,000 acres, he bills himself a least-likely candidate to get into the weed business. Never touched the stuff in high school or college, he says. He says he spent 17 days, considered a fairly short time frame to fill out and gather documents and forms required by the state, putting together an application to open a cultivation center when the state legalized medical marijuana in 2013 – the name Nature's Grace and Wellness was thought up on the spot, when his attorney told him he needed to pick a name pronto to put on a form. He figured to spend $1.5 million on his operation. To date, he says he's invested $8 million, and he's spending millions more on an expansion now underway to accommodate expected demand for recreational weed.
O'Hern says he mortgaged his house and put up land to secure loans for his pot enterprise. "I'm a farmer – I look at this cultivation as farming," he says. As he strolls through the facility, a workman toiling on new space that will double the amount of room for growing asks how many deer hunters bagged last weekend. "Twenty does and nine bucks," answers O'Hern, who sells hunting rights on his land.
More lucrative than farming
Set amid pastures and cropland, Nature's Grace and Wellness is a considerable distance from the nearest house or other building. A power line that dead-ends at the business cost $500,000, O'Hern says. He's struggled with water. First, he dug a well, but found salinity levels too high for pot plants. A grant application to improve the village water system was denied, O'Hern says, partly because water from a better system would be used to grow pot, and the federal government didn't approve. He's learned that what works in Colorado, where humidity is low, doesn't always work in Illinois. He's lost crops to inexperience and a state prohibition on using pesticides and other chemicals.
Medical marijuana entrepreneurs have an inside track on growing and selling weed for folks who just want to get high, but riches haven't come easy thanks to tight restrictions. Until last year, applicants for medical marijuana cards had to submit fingerprints and pass criminal background checks. Doctors once had to write letters stating that patients would benefit from using marijuana, and many physicians proved reluctant. Medical card numbers were so low in early years – fewer than 3,000 cards were issued during the first year of the state's medical marijuana program – that Chicago-based Green Thumb Industries in 2015 gave up one of its three cultivation licenses rather than pay a $200,000 license fee, plus put $2 million in escrow as required by the state.
Now, doctors need only certify that patients suffer from one of nearly 50 medical conditions the state has decreed qualifies a person to obtain a medical marijuana card, which costs $100 for one year or $250 for three years. The state also has made it easier for terminally ill people and those who have been prescribed opioids to obtain medical marijuana. Unlike recreational buyers, cardholders, who pay a 1% tax, won't have to pay state taxes that run as high as 25%, depending on a product's potency.
The number of medical marijuana cards has crescendoed as the state has backed off restrictions but some remain. Patients, for instance, must register to buy from a single pot shop and can only buy elsewhere after notifying the state Department of Public Health, which is supposed to grant approval within 24 hours. Patients are limited to 2 ½ ounces every two weeks, but the state grants waivers for a $25 fee, in one case authorizing a patient to buy up to 15 ounces in a two-week period, according to the state Department of Public Health.
The number of medical marijuana cardholders has grown to more than 90,000, which includes more than 36,000 cards issued during the fiscal year that ended last summer. Medical marijuana cultivators and dispensaries have an inside track in the recreational game, with permits available in short order. The application window for new recreational weed shops opens on Tuesday and closes on Jan. 2, with the state expected to issue licenses next spring.
The state has no plans to issue more permits for large-scale growing operations beyond the 21 that now hold licenses to cultivate medical marijuana. Each will be allowed to grow as much as 210,000 square feet of recreational weed. The number of smaller grow permits for recreational pot will be capped at 100, each limited to 14,000 square feet of plants. The state plans to issue the first so-called craft grow licenses next summer, and so existing growers will have the market to themselves for the better part of next year.
The lean days, O'Hern says, have been worth it. Even without recreational weed, he says he believes his investment would pay off. Cannabis, he says, holds more promise than corn or cattle. "Gross revenue will surpass agriculture revenue, and margins are better," he said.
A growing business
Unlike with recreational pot, the state hasn't capped square footage for medical marijuana growers. Revolution Global, which is doubling the size of its 75,000-square-foot cultivation center in Delavan, about 55 miles north of Springfield, is taking advantage. The company plans to more than quadruple its existing medical marijuana growing facility to 340,000 square feet in two years, more than 100,000 square feet beyond the maximum allowable size for a recreational grow, says Revolution CEO Mark de Souza. The company also has purchased buildings in Delavan with the aim of providing housing for employees, with the workforce expected to swell from fewer than 100 today to as many as 400.
The state's expansion of qualifying medical conditions and the recent surge in numbers of medical marijuana cards justifies such plans and optimism, de Souza says. Certainly, the money looks good: In October, Illinois cardholders spent more than $25 million at pot dispensaries, up from less than $4.5 million a month three years ago, and estimates of the Illinois recreational market run as high as $1.5 billion a year.
Revolution last year sold a Pike County cultivation center; de Souza says his company, which won the Pike County license when the state first legalized medical pot, made money on the $19 million sale to a California real estate investment firm that owns two other Illinois cultivation properties that are leased to growers. The decision to concentrate operations in Delavan was, de Souza says, a matter of efficiencies and economies of scale.
In October, Revolution announced a deal with Freehold Properties, a Las Vegas real estate investment company, that will provide nearly $29 million to fund expansion at the Delavan cultivation center, with the Nevada company getting an option to purchase the facility in the spring of 2021 and Revolution planning to lease the facility after that. "We've never found it more easy to access capital than we do today," de Souza said.
A fast track
Legalization of recreational cannabis a half-dozen years after Illinois legislators approved medical marijuana has come about with stunning speed compared with other states.
A platform of Gov. J.B. Pritzker's 2018 election campaign, legal recreational pot is set to be sold seven months after the legislature passed the law. In Michigan, by contrast, the first buds legally purchased for recreational use were sold last weekend, one year after voters approved a recreational marijuana initiative. After Massachusetts voters decreed that recreational marijuana should be legal, it took two years for the state to approve regulations before the first store opened in 2018. The governor of Vermont signed a legalization bill more than a year ago, but the legislature hasn't agreed on a taxation and regulatory framework, and so sales remain illegal.
By the time the first medical marijuana hit the Illinois market in 2015, two years after the bill was signed into law, the state Joint Committee on Administrative Rules (JCAR) had approved regulations drafted by the departments of agriculture, health and financial and professional regulation, which all have a hand in enforcing both medical and recreational marijuana statutes. So far, JCAR, a bipartisan panel of lawmakers tasked with approving rules to ensure that agencies charged with enforcing statutes comply with legislative intent, hasn't approved any rules on enforcing the recreational marijuana statute.
Vicki Thomas, JCAR executive director, said that the committee expects agencies to submit draft rules, but doesn't know when they might arrive. "As far as knowing exactly what the timing of each agency is, you'd have to ask them," Thomas said.
Jordan Abudayyeh, the governor's press secretary, said via email that agencies are drafting rules. "The legalization of adult use cannabis will occur in waves and the requirements to implement the sale of adult use cannabis come Jan. 1, 2020, were written into the bill," she wrote.
Chris Stone, a senior adviser for Ascend Illinois that owns both a cultivation center and dispensaries, says the state wants to move quickly. "They tried to address the rulemaking process as best they could in statute in order to be able to get this implemented faster," said Stone, former CEO of HCI Alternatives, which ran dispensaries in Collinsville and Springfield until less than a year ago, when the company merged with Massachusetts-based Ascend, which has also signed a lease for the Pike County cultivation center sold by Revolution. "I think they are going to be looking at introducing rules through the normal rulemaking process," Stone says. "The rulemaking process does take time. In some cases, it takes more time than getting legislation passed."
Licenses and regulation
The licensing process is as lengthy as it is expensive.
The state Department of Financial and Professional Regulation, which is creating 23 new positions to process applications and otherwise enforce the law, acknowledges that even short applications might run 500 pages. Among other things, applicants for state licenses to grow or sell pot must submit tax returns, "community engagement" plans, fingerprints, resumes, floor plans, copies of contracts with private security companies and essays spelling out plans to ensure diversity. Although applicants for retail licenses can wait until after they're approved to find sites, they must nonetheless include in their application "a reasonable assurance that the issuance of a license will not have a detrimental impact on the community in which the applicant wishes to locate," according to the statute that became law last summer.
Existing medical marijuana shops wishing to serve recreational customers must pay $230,000 in fees and an additional $330,000 if they wish to open a second location; new entrants must pay $5,000 application fees plus $60,000 fees if they are awarded licenses. By May 1, the state must issue an additional 75 retail licenses, with the statute decreeing which areas of the state will get how many new shops by next spring. The Springfield area is set for one, which would bring the total number of shops to five, given that two existing medical dispensaries are set to expand operations. The names won't necessarily be sexy. In Springfield, Stone says a new Ascend location set for a former restaurant near the Crowne Plaza Hotel on the east side will be called Illinois Supply and Provisions. Municipal permits for the new store haven't yet been secured, but Stone says he expects to open the new location during the first quarter of next year.
New retailers must pay $5,000 application fees, plus $60,000 annual fees if they are awarded licenses. By the end of 2021, the state can issue an additional 110 dispensary licenses, with a cap of 500 licenses going forward. Once the first wave of pot shop licenses are issued, there will be no hard geographic restrictions on where shops can open.
Big growers will pay the most in licensing costs. Fees for large cultivation centers such as Nature's Grace and Wellness that wish to grow recreational weed can reach $950,000, with the exact amount depending on sales volume. The tab includes $100,000 in loans that existing growers must give to so-called social equity license applicants, who have been arrested or convicted of marijuana-related offenses, who have relatives who've gotten busted for pot or who come from areas deemed to have been disproportionately impacted by the war on drugs. By July, the state is slated to issue 40 licenses for growing operations that each will be capped at 14,000 square feet. The application fee is $5,000, and those awarded licenses must pay annual fees of $40,000.
At the retail level, state taxes on pot and marijuana products such as concentrates and edibles will range from 10% to 25%, depending on product and potency, with buds and other smokable parts of the plant taxed at the lowest rate. Edibles, lotions and other products infused with pot will be taxed at 20%; concentrates or anything else with that is at least 35% THC, pot's psychoactive ingredient, will be taxed at the highest rate. Municipalities can tack an additional 3% onto retail sales. A wholesale tax of 7% will be levied on growers.
Social equity
Estimates of annual state tax collections have ranged as high as $500 million, but the governor and backers of the state's legalization law have long said that social equity and repairing harm done by the war on drugs is more important than money. Based on arrests, unemployment rates and poverty, the state has identified areas deemed disproportionately impacted by the war on drugs, and folks who either live or have lived in such areas qualify for reduced licensing fees and low-interest loans. They will also get bonus points when the state scores applications to determine who will get licenses. Some of the areas don't seem obvious.
Jerome, for example, is deemed to have been disproportionately impacted by the war on drugs, perhaps because the mostly white village, where the median home value is $112,372, lies in the same census tract as a large apartment complex that once had a high crime rate and was riddled with code violations. Under pressure from the city, the complex was sold and renovated a few years ago so that calls for police are no longer a constant. But the state, in deciding areas that have suffered from the war on drugs, considered crime and poverty rates when the complex called MacArthur Park was so substandard that the Springfield Housing Authority stopped issuing Section 8 vouchers. Farther from Springfield, Roodhouse, a rural Greene County town with about 1,800 residents, also has been deemed disproportionately impacted.
Not everyone is convinced that the state's push to open the marijuana industry to the disadvantaged, particularly minorities, will be successful. Efforts in other states have fallen short. In Massachusetts, just two of 184 licenses issued for marijuana businesses, as of September, were awarded to applicants who were part of the state's social equity program. When the city of Chicago last month held a lottery to determine which applicants for pot shops would get which locations, virtually all of more than 30 would-be retailers operators were white males. "Our communities are going to get left behind," Chicago Ward 28 Ald. Jason Ervin, chairman of the city council's black caucus, told the Chicago Tribune.
In a recent column published by Crain's Chicago Business, Kayvan Khalatbari, who sits on the board of the Minority Cannabis Business Association, recalled starting a Denver pot delivery business in 2009 with just $4,000. Colorado licenses are more plentiful and cheaper than in Illinois, where a cottage industry of advisers to help applicants negotiate the regulatory maze has sprung up. Khalatbari predicted that the Illinois social equity program will fail, owing to a short timeline to apply for licenses and the high cost and limited number of licenses. "To competitively apply for a license in Illinois is going to cost upwards of six figures," Khalatbari wrote. "Tell me: Which victim of the failed war on drugs has that kind of money to spend without the promise of a license?"
Stone has heard the concerns, including the prospect of wealthy white entrepreneurs using folks who qualify as social equity applicants as fronts to get licenses. He said he thinks the social equity program will work as designed.
"I hope that there is not a bastardization of the social equity program," Stone said. "I'm actually optimistic that we, the industry, will do really well in bringing social equity qualifying employees and owners into the business in 2020."
Contact Bruce Rushton at brushton@illinoistimes.com.