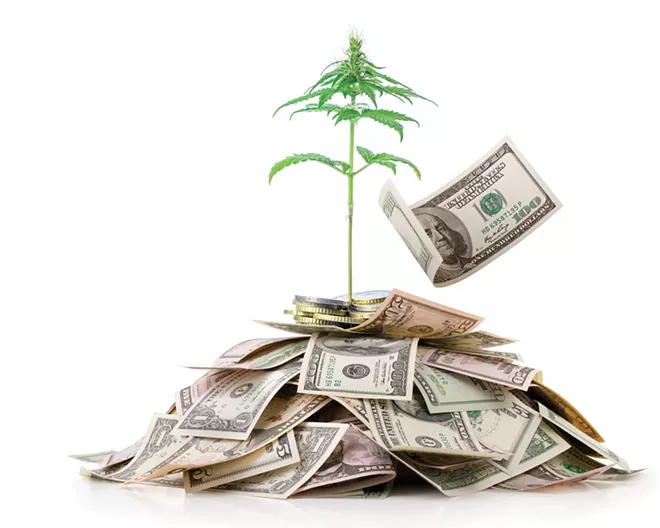 In many ways, the legal pot industry in Springfield is flowering, but the success of the industry's next phase appears to be in the City Council's hands.
Home to three adult-use marijuana dispensaries – and with four more dispensaries potentially on the way in the next 12 months – Springfield is in the sights of a half-dozen or more entrepreneurs who want to open small-scale cannabis cultivation centers known as craft grows.
But advocates of these indoor centers – led by Sherman resident and north-end native Jeff Fulgenzi, 51, the son of Ward 4 Ald. John Fulgenzi – contend current zoning rules are too restrictive for this sector of the state's two-and-a-half-year-old cannabis industry to thrive in Springfield.
The City Council updated Springfield's zoning law for cannabis establishments in late 2019, before the state's adult-use cannabis law that passed the General Assembly and was signed by Gov. JB Pritzker took effect on Jan. 1, 2020.
"We think there's tremendous opportunity for continued growth in the market for boutique cannabis, which is like craft beer," said Fulgenzi, a former state employee who serves on the board of the Illinois Craft Grow Association.
But Fulgenzi, a former Republican Sangamon County Board member who is married to Republican County Board member Annette Fulgenzi, said current zoning in Springfield created "investment exclusion zones," primarily in "long-vacant industrial use structures in the north, east and southern areas of Springfield."
Ward 3 Ald. Roy Williams and Mayor Jim Langfelder recently proposed an ordinance that eventually would relax the current zoning requirements, and Fulgenzi was lobbying for its passage.
But the proposal failed on a 4-6 vote of the City Council on Aug. 16, with several council members saying the proposed changes were too drastic or their constituents were against the plan.
Voting in favor were council members John Fulgenzi, Shawn Gregory of Ward 2, Roy Williams Jr. of Ward 3 and Joe McMenamin of Ward 7. Voting "no" were Chuck Redpath of Ward 1, Lakeisha Purchase of Ward 5, Kristin DiCenso of Ward 6, Erin Conley of Ward 8, Jim Donelan of Ward 9 and Ralph Hanauer of Ward 10.
Langfelder, who didn't take part in the vote, said he will ask the Springfield-Sangamon County Regional Planning Commission to study comparable zoning rules in other communities and make recommendations in the next 30 to 60 days.
The mayor said he's interested in bringing a tweaked proposal back to the council, though he acknowledged that Springfield may lose some potential craft grow investors because of the delay.
Fulgenzi and representatives of several other craft grow companies said they now will consider opening facilities and employing people in other central Illinois communities that are recruiting them. That way, they said they could meet the state's one-year deadline for newly awarded craft grow licensees to open facilities.
Maurice Williams, an Athens resident who is representing of a craft grow company called Lincoln Labs and not related to alderman Williams, said: "With the shocking result there from the aldermen, it just really seems like Springfield does not want to be proactive on what's going on around them. It's just lack of awareness. People just have that stigma with marijuana. ... It's not going away."
Fulgenzi added, "It's unfortunate that these businesses are going to be forced to leave town due to, I think, a lot of misinformation and demagoguery by one of the aldermen." He said he was referring to DiCenso. She has denied Fulgenzi's allegations.
If the council had given its blessing Aug. 16, the Springfield Planning and Zoning Commission, and then the council, would have considered the proposed ordinance, which would change the city's zoning ordinance in the coming months to allow craft-grow and cannabis infusing operations to open in industrial zones as close as 200 feet to residential zoning and 500 feet to schools and day care centers.
The current Springfield zoning ordinance requires at least 1,500 feet of setback for craft grows and 2,500 feet for infusers. The 2020 marijuana law gives municipalities and counties wide latitude when it comes to zoning restrictions for cannabis businesses – they can even outlaw adult-use businesses in their jurisdictions.
DiCenso, a Democrat on the officially nonpartisan City Council, has been critical of Fulgenzi for what she sees as overly aggressive lobbying tactics, the decision by Fulgenzi's father not to recuse himself from the debate, and the overall effort to change the zoning ordinance.
"I'm shocked that a man who is married to a County Board member and the son of a sitting City Council person thinks he should get special treatment," DiCenso said.
She said she has long been a supporter of legal cannabis and has used Springfield's dispensaries, but the proposed zoning changes go too far.
"What we have in place currently is what's appropriate for now," she said. "We were very deliberate in how this ordinance was drafted. I've been a strong supporter of cannabis because we put strong protections in place for neighborhoods and for homeowners, and we feel like we want to stick to that.
"Things can change. I'm not opposed to change – lowering the setback to a reasonable degree. But a 200-foot setback is not reasonable."
Fulgenzi responded: "People historically have chosen to build homes adjacent to industrial parks. They wanted to live near where they worked. The existing zoning allows chemical plants or steel manufacturing in industrial zones without the setbacks that are required for craft grows."
Under the proposal, any cannabis businesses qualifying for zoning approval still would have to ask the council and receive a conditional-use permit before proceeding.
The proposed new setbacks also would apply to infusers, which are businesses that process cannabis buds into oils, gummies and other concentrated products.
The current zoning ordinance confines craft grows and infusers to areas zoned for industry and businesses. The proposal would tweak the setbacks only in industrial zones.
Springfield's zoning rules for craft grows and related businesses are more restrictive than the rules for dispensaries and among the most restrictive in the state, Fulgenzi said.
"There's tremendous hypocrisy here when the council allows loud bars, gaming and liquor stores within 100 feet of neighborhoods while craft grows and infusers have to be 1,500 feet away," he said.
At a time when interest rates and building costs are skyrocketing, Fulgenzi said craft-grow investors such as those associated with his company, Rt. 66 Rec LLC, are looking for abandoned buildings to renovate. And he said the supply is most plentiful in Springfield in low-income areas that are zoned industrial.
Craft grows in Illinois are indoor-only operations that operate with 5,000 square feet and may be allowed to expand to 14,000 square feet.
They cost several million dollars to start but are more affordable than the huge cultivation centers operating in Lincoln and elsewhere in the state where marijuana is grown in factories covering up to 210,000 square feet, Fulgenzi said.
Craft grows, like their larger counterparts, are not open to the public, sell their cannabis only to dispensaries – not directly to the public – and face stringent state-mandated security requirements, he said.
The city's setback requirements make almost all industrial zones in Springfield ineligible for cannabis businesses because of the city's setback requirements, he said.
Among the companies that received craft-grow licenses from the state this year, a half-dozen or more would like to open in Springfield but will leave for other, more welcoming communities if the zoning restrictions aren't eased, Fulgenzi said.
"Every industrial park in town has this 'exclusion zone,'" he said. "There are homes near every one of these."
Unlike investors with dispensary licenses, who are granted those licenses for specific parts of the state, those with craft-grow licenses can open anywhere in Illinois.
Record cannabis sales and tax revenue
No craft grows have opened yet in Illinois, but other parts of the industry appear to be continuing a steady upward climb in production and revenues.
Pritzker announced this summer that the state experienced a 50% increase in total tax reported from adult-use cannabis, from $297.7 million in the fiscal year that ended in June 2021 to $445.3 million in the fiscal year that ended in June 2022. Total adult-use cannabis sales also rose 50%, increasing from $1 billion to $1.5 billion, respectively.
The Democratic governor said cannabis tax disbursements to local governments increased 77%, from $82.8 million in fiscal 2021 to $146.2 million in fiscal 2022.
"Illinois has done more to put justice and equity at the forefront of this industry than any other state in the nation and has worked to ensure that communities hurt by the war on drugs have had the opportunity to participate," Pritzker said in a July 25 news release.
"The $1.5 billion in sales of adult-use cannabis in Illinois translates into significant tax revenue, with a portion of every dollar spent being reinvested in communities that have suffered for decades," Pritzker said.
Total sales of adult-use cannabis – which is taxed at total rates ranging from 30% to 40% or more by the state and local municipalities and counties – reached $135.6 million in July. That was the highest since the $137.9 million in sales reported in December 2021, according to the Illinois Department of Financial and Professional Regulation.
The City Council has decided to devote half of revenue from the city's 3% sales tax on recreational marijuana sold by three privately owned dispensaries to help pay off city government's pension-related debt. The council is directing the other half for economic development on the east side, and the first round of grants to businesses there have been awarded.
The city has received $1.4 million to $1.5 million in cannabis-related taxes so far and this year has budgeted $456,000 each for pensions and east-side economic development, according to Springfield budget director Bill McCarty.
The city also receives $150,000 in state cannabis tax revenues each year, and by law, must devote that money to crime-prevention programs and training, he said.
The additional money the city is able to devote to funding pension liabilities will save taxpayers in the long run and avoid the need for future cuts in city services, he said.
Cannabis-related tax revenue for the city climbed steadily during 2020 and until mid-2021 but has since leveled off over the months and posted a "bit of a decline" the past six months, McCarty said.
Even though demand for legal cannabis for people 21 and older continues to increase statewide, McCarty said he doubts demand will rise much in Springfield and the rest of Sangamon County.
"Any new dispensaries will just cannibalize the existing demand," he said.
Cannabis businesses seek to open in Sangamon County
New York-based Ascend Wellness' recreational cannabis dispensary at 3201 N. Horizon Drive, visible from Interstate 55, opened in November 2020 in a former Outback Steakhouse. The company's first site in Springfield continues downtown at 628 E. Adams St.; it opened for adult-use customers in January 2020 and has served medical cannabis clients since 2016.
When asked about cannabis demand and sales in Springfield, officials from the publicly traded company, which also operates a cultivation center in the Pike County community of Barry and dispensaries in Collinsville, Fairview Heights and the Chicago area, wouldn't comment on specifics.
Ascend spokeswoman Kathleen Olivastro said in an email that the "cannabis business in Sangamon County remains healthy. There is a strong medical and adult-use customer base in the area."
Maribis of Springfield, which operates an adult-use and medical cannabis dispensary in Grandview at 2272 North Grand Ave. E., opened a second recreational cannabis location in April 2021 at 3025 Lindbergh Blvd. in Springfield, in the former AMC Parkway Pointe 8 building.
Maribis' owner, Chicago-based lawyer Laurel Dineff, couldn't be reached for comment. Maribis has filed a petition for a zoning change to allow a dispensary at 2451 Denver Drive, near I-55 on the city's northeast side.
The zoning application indicates the company wants to move from Grandview. The Springfield Planning and Zoning Commission is expected to consider the request at its Sept. 21 meeting.
Chris Stone, a Springfield resident who is an Ascend shareholder and the landlord for Maribis' Parkway Pointe location, is among investors who have been granted several craft-grow licenses, and he has consulted with other craft-grow entrepreneurs on their license applications.
Stone was among the original investors in the company that first opened the dispensary downtown that later was acquired by Ascend.
He said he expects demand for adult-use cannabis in Sangamon County to revert from "exponential, month-over-month growth" to 3%-5% growth in 2022 and beyond.
"I could see more growth, but it's going to be more tapered," he said.
As in other parts of the state, broader groups of adults are learning about the many uses for cannabis, depending on the potency of THC, the chemical compound that causes euphoria, he said. For example, he said people are finding out about edibles and other forms of marijuana they can enjoy without having to smoke and inhale.
Stone used baseball terminology to describe the status of the legal pot industry in Illinois. "We're in the second or third inning of this deal," he said.
Pamela Althoff agreed. The former Republican state senator from McHenry County is now executive director of the Cannabis Business Association of Illinois.
Supporters of the industry have done an "extremely good job" of "normalizing the responsible use of cannabis" and dispelling the notion that marijuana is a "gateway drug," she said.
Inflation that is driving the cost of essential goods and services may be dampening demand for cannabis, but she said the resolution of lawsuits that have allowed more dispensary licenses to be awarded will make cannabis more accessible across the state.
There are 110 dispensaries currently operating, and licenses for 180 more have been awarded, all to businesses that have qualified as "social-equity applicants" as part of the state's effort to diversify the cannabis industry.
A social-equity applicant must have majority ownership and control by people who have either lived in an area disproportionately impacted by the war on drugs, been arrested or convicted of cannabis-related crimes, or have family members arrested or convicted of those crimes. Applicants also can qualify based on the backgrounds of their employees.
Three of these businesses have been awarded conditional adult-use cannabis dispensary licenses to open somewhere in Sangamon or Menard counties and identify locations sometime in the next 180 days.
The businesses, which either couldn't be reached or didn't return emails and calls from Illinois Times seeking comment, are: Dealership LLC, based in Western Springs and affiliated with Clean Slate Holdings as manager; Bolden Investments III LLC, based in Maywood with Charles M. Bolden as manager; and Herban Quality Control LLC, with Chicago residents Kamau Murray and Brian Scruggs as managers.
As it does with craft grows, the Springfield City Council requires all dispensaries, even for sites with appropriate zoning, to receive council approval for conditional use permits, or CPUs.
The craft-grow debate has attracted interest beyond Jeff Fulgenzi's company. Stone said the potential Springfield craft-grow sites he is interested in could progress without the zoning ordinance change Fulgenzi is seeking, but he and other cannabis entrepreneurs would appreciate a reduction in the setback requirements.
The current setbacks "definitely could be a negative in terms of job opportunities," he said, without specifying the setbacks he would prefer.
Stone said he plans to submit conditional-use permit applications to the city for sites in the northeast and southwest quadrants by the end of August.
Langfelder said he favors Fulgenzi's proposed changes to the setback requirements because "it puts in play existing areas" for development.
"We have buildings that are underutilized," the mayor said, noting that the CPU process creates a "check and balance" in which the council can consider neighborhood concerns that may vary for each case.
Stone said he has hopes the disagreements over setbacks can be resolved soon.
"I believe a majority of the City Council and the mayor are committed to easing setback requirements and making some other changes to the cannabis ordinance that will attract businesses," he said.
Stone said he doesn't think the regional planning commission study of setbacks "will substantially delay a future amendment to the cannabis ordinance.
"I believe there will be discussions to produce an ordinance that neighborhood associations, City Council and the mayor and industry can get behind and be introduced and potentially passed by the end of the year or sooner."
East side resident and Springfield native Dameon Johnson said Springfield's zoning ordinance ruled out so many potential sites for his craft-grow license that his company, Emerald Valley Industries LLC, left Springfield.
Emerald Valley received zoning approval from the village of Tilton, near Danville, to renovate an existing building there, he said. The approval was confirmed by Tilton's village clerk.
Emerald is awaiting state approval for its designs so it can proceed in Tilton, Johnson said. He said he and his two business partners are Black, and two of the three live in the state-designated "disproportionately impacted area" in Springfield – primarily the north and east sides.
Johnson said he would like to develop future craft grows in Springfield, so he hopes zoning ordinance changes eventually are approved.
"I love my community. That's never going to change," said Johnson, 44. "I just hope our business climate gets a little better in Springfield."
Fulgenzi said two of his three partners – Sonny Day, who is Black, and Gary Alexander – lived in Springfield's disproportionately impacted area at the time they submitted their application. If allowed to open, their craft grow would have employed 25 to 30 full-time workers when fully operational, he said.
One of the sites Fulgenzi was considering, in the 2700 block of South 11th Street, is in DiCenso's ward. DiCenso said she has been contacted by constituents who worry that a craft grow would emit unwanted smells, and the air-handling equipment would be loud.
Fulgenzi said those concerns are unwarranted, and he said 96% to 99% of any smell would be removed by high-tech air-scrubbing equipment.
He said he uses cannabis to deal with chronic migraine headaches and neck pain. The expansion of adult-use cannabis makes these health benefits available to people who don't want to or can't get their doctors to certify applications for the state's medical marijuana program, he said.
"Any notion that somehow we're creating a risk to homeowners or schoolchildren is absolute nonsense," he said.
In a dig at DiCenso, chief of staff at the Illinois Department of Natural Resources – part of the Pritzker administration – Fulgenzi said, "Some elected officials are preying on the fears of the public in a misleading way to stop Gov. Pritzker's program."
DiCenso said it's "rich" that Fulgenzi, a Republican, is now a supporter of Pritzker.
"I don't think anyone's preying on the fears of the public," she said. "I think we're listening to what our constituents are saying. That's the job – listening to your constituents and respecting what they want. ... I'm not fearful of marijuana. I'm fearful of going too far too fast, and then you can't go back."
Dean Olsen is a senior staff writer for Illinois Times. He can be reached at dolsen@illinoistimes.com, 217-679-7810 or twitter.com/DeanOlsenIT.