Vocalist Pavlos Vasileiou has been performing in Athens, Greece, as leader of the band Rebitiki Istoria for 35 years. Practitioners of the musical genre known as rebetika, Vasileiou and company were joined about a decade ago by violinist and bouzouki player Yona Stamatis, who also happens to be a professor of ethnomusicology at University of Illinois Springfield, as well as a violinist with the Illinois Symphony Orchestra and an arts reporter for NPR Illinois. The other four members of Rebetiki Istoria continue to live in Athens, and are joined by Stamatis when possible.

"Our music is popular music," said Vasileiou during a visit to Springfield the week before their Nov. 11 concert at Sangamon Auditorium, "meaning that it starts from the lowest levels of society – the working class." He describes the music of rebetiki as analogous to the blues in that it talks mostly about poverty and the daily tribulations of everyday people. "But if we compare the blues with rebetika, ours is much more rebellious and resistant," he continued. "It is not defeatist or lamenting." Instead, he said, rebetika lends itself to overt social commentary, particularly in relation to Greece's ongoing economic crisis. "Some of the older songs we do are from the turn of the [20th] century but they are completely relevant to today's economic crisis. They foresaw today's crisis 50, 60, 70 years ago, as a systemic issue."

The band has been together 35 years – they play traditional Greek folk music and some newer compositions, though nothing from after 1950 – and have usually performed in Pavlos' tavern, also called Rebetiki Istoria, which was located in the center of Athens until its recent closure due to the economic crisis after more than three decades in business.

"This group is unbelievably special," said Stamatis, who wrote the dissertation for her doctorate from the University of Michigan about the band and ended up joining it in the process. "It is very rare for musicians to keep so strictly to that older style," Stamatis explained. "Now everyone just picks up a bouzouki [the pear-shaped, stringed instrument popular in Greece and central to rebetiki] and plays without being versed in that background."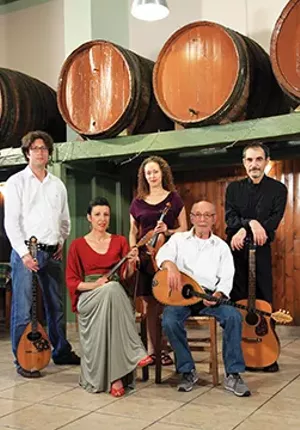 A decade ago, while working on her dissertation, Stamatis was searching for an early-style rebetika band in Athens. "I searched and searched and didn't find anything – until I finally came across these musicians by chance." She discovered them in 2007, completed her doctorate in 2011 and has been publishing academic articles about rebetika in general and the group in particular ever since, along with performing with them and organizing concert tours every couple of years.

As part of an overall ideological stance, Rebetiki Istoria always refuses to play outside of a tavern when in Greece, never releasing a recording or even charging admission. But the educational, academic aspect of their periodic U.S. tours allows them to loosen those strictures a bit. "Every time we go on these American tours we make sure there is an academic element so people are learning about the music in its original style and the resistance it represents," said Stamatis, who had the band members visit her UIS classes while they were in town last week. "This music is politically charged for these musicians so they wanted to resist the commercialization of rebetika – they don't ever want to sell it."

Attendees of this tour will have a chance to purchase Rebetiki Istoria's debut compact disc, a limited edition item which will not be released into the Greek market. At Saturday's concert – which fits in neatly with Sangamon Auditorium's frequent world music concerts but which was specially arranged by Stamatis and auditorium director Bob Vaughn prior to his recent retirement – the band will be joined by the Springfield International Folk Dancers and will engage with the audience, talking about the songs throughout, explaining the music's traditions and social significance.

Rebitiki Istoria will perform at Sangamon Auditorium on the University of Illinois Springfield campus Saturday, Nov. 11, at 8 p.m. For tickets go to www.sangamonauditorium.org.

Scott Faingold can be reached at
sfaingold@illinoistimes.com.