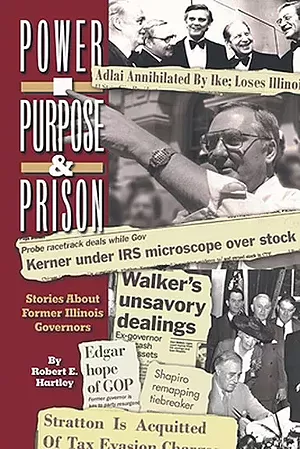 Sadly, when one thinks about Illinois' former governors, legal problems and prison terms come to mind. In fact, however, quite a number of former governors continued to be useful and productive (and legal) after their terms in office. Few biographers have given any of their post-gubernatorial careers much attention though. Robert Hartley wanted to change this situation. A former journalist and a student of history who has been studying and writing about Illinois politics since the 1960s, Hartley puts his background to good use in this volume.
Reasonably, Hartley chose to limit his study to the post-gubernatorial experiences of 11 governors who served between 1933 and 2003, but there are several caveats. First, Henry Horner died in office and had no post-gubernatorial career. But Hartley alleges that by his two-year fight against his lieutenant governor, John H. Stelle, Horner left a legacy of damage to the Illinois Democratic party that extended for years, so Hartley included him. Second, Dwight H. Green is entirely omitted except for a paragraph (p. ix), for reasons that seem vague and inadequate: neither Republicans nor Democrats liked him because he allegedly tolerated gambling while governor, and after his two terms he practiced law. Third, the three most recent former governors – Rod Blagojevich, Pat Quinn and Bruce Rauner – are deemed to be too early in their post-official careers for proper assessment and are only mentioned in passing.
The book's presentation is chronological, a chapter per governor, with as much as a third devoted to context – biographical background and the highlights (or lowlights) of the subject's gubernatorial career. In the interests of efficiency, however, I am going to note the men by category.
Hartley is not a fan of two governors whose reputations, he believes, are highly overrated – Horner and Adlai E. Stevenson II. Horner's issue has been noted above. In the case of Stevenson, his indecisiveness and failure to actually declare until the last minute that he was running for president in 1952, prevented him from concentrating on his gubernatorial duties beginning in 1951. This wounded Illinois generally, but also prevented the Illinois Democrats from selecting a candidate early enough to campaign effectively, and thus they were soundly defeated.
Then, there is the criminal element, with all of the cases related to fiscal irregularities: questionable receipt and use of campaign contributions (William G. Stratton); investing in and profiting from racetrack stocks while governor (Otto Kerner Jr.); post-gubernatorial business fraud (Daniel Walker); and scandals relating to the purchase of commercial driver's licenses by unqualified drivers while the accused was secretary of state (George H. Ryan). Stratton was not convicted, but his reputation was ruined. The others spent varying amounts of time in prison.
Five ex-governors made substantial contributions of one sort or another during their post-gubernatorial years. Stelle, a controversialist even without Horner, served only 99 days as governor and afterwards devoted his time to veterans' affairs, especially leading the fight for the G.I. Bill of Rights. Samuel H. Shapiro, another short-term governor (about eight months), served on Illinois commissions on salary increases for state government officials and congressional redistricting, with not entirely impartial results. Richard B. Ogilvie served as state co-chair for Gerald Ford's unsuccessful 1976 presidential campaign.
In contrast to Stelle and Shapiro, James R. Thompson served the longest of any Illinois governor – 14 years. His later activities included being CEO of a large law firm, service on many corporate boards and appointment to the federal 9/11 commission. Ironically, Thompson also provided some advice to former governors Ryan and Blagojevich in their legal distress. James Edgar was part of the Institute of Government and Public Affairs at the University of Illinois at Urbana-Champaign, as well as being involved in the establishment of the Abraham Lincoln Presidential Library and Museum.
In an oral history interview cited by Hartley, former governor Edgar explained the main problem of being a former governor – not being a governor. All the privileges and power were gone. Suddenly he had no clout, and no staff to rely on to meet needs or solve problems.
Hartley's book is a worthwhile read, as a summary of gubernatorial terms, as a refresher on Illinois politics in general, and as a source of "the rest of the story" on former governors. For those who might want to know, the book contains endnotes, a bibliography, an index and some photographs.
Unexpectedly, the writing of this review has coincided with the passing of one of the book's subjects, former governor James Thompson, on Aug. 14. For those who might wish to learn more about him, this book is a good place to start. For further detail on Thompson's pre-gubernatorial career, see Hartley's, Big Jim Thompson of Illinois (1979).
Historian Glenna R. Schroeder-Lein of Springfield is a former manuscripts librarian (for the non-Lincoln manuscripts) at the Abraham Lincoln Presidential Library. She is the author of The Encyclopedia of Civil War Medicine and Lincoln and Medicine, among other publications.