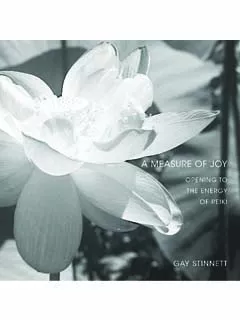 "We are all connected." So begins Gay Stinnett's lovely new book about her experiences with the ancient art (she calls it the "wondrous gift") of Reiki (pronounced ray-key). The International Center for Reiki Training defines the practice as "a Japanese technique for stress reduction and relaxation that also promotes healing. It is administered by 'laying on hands' and is based on the idea that an unseen 'life force energy' flows through us and is what causes us to be alive. . . . The word Reiki is made of two Japanese words — Rei which means 'God's Wisdom or the Higher Power' and Ki which is 'life force energy.' So Reiki is actually spiritually guided life force energy." Reiki practitioners believe, therefore, that if one's "life force energy" is low, then we are more likely to get sick or feel stress, and if it is high, we are more capable of being happy and healthy.
The idea that everything is made of energy and that energy vibrates at different frequencies and appears in different ways is one that Stinnett says took her years to acknowledge. But having come to believe in this energy-connectedness, she has seen firsthand how Reiki's power can calm people, soothe them, ease their pain, aid them in finding focus and ultimately bring them joy. "When we are at our best," Stinnett explains, "we are vibrating as perfectly as we can." Maybe the Beach Boys knew what they were talking about.
A Measure of Joy is a very personal book – a memoir of sorts – that allows the reader in gently by sharing several stories of how the author came to see and experience the world through what most of us would consider a very different path. In fact, one of the strengths of the narrative is that Stinnett makes clear her lifelong proclivity for taking the path less traveled. She is a self-proclaimed "rebel" complete with red hair and freckles, who has come to embrace her first name for it's lightness of spirit. It is the perfect moniker for one of her calling. Gay's work life has taken her from behind a candy counter to the world of high-finance banking. But she always felt a connection to the community at large, finding a way to emphasize service to others in whatever career she pursued.
It is obvious that in her current role as an Integrative Therapy Consultant she has found her true home. She shares the fact that her "awakening" came as her mother was dying. Stinnett's sister practiced Reiki but Gay says her own "strident Virgo traits" of control had kept her from really embracing this alternative form of healing. But seeing her mother's peaceful passing in a hospice setting, aided by Reiki, began her conversion.
There are many stories here of the benefits of approaching life's challenges in different ways. Gay believes that Reiki can lessen frustration, anger and fear, and that it can slow down the frenetic pace of modern life. She explains that it can heighten our senses, and open lines of communication by relaxing into a place where insights can be examined and shared. We reach this "calm awareness" (an oxymoron to those of us most driven) by "letting go of behaviors that are shields that might hide our true issues."
As a Reiki practitioner, Gay finds herself in varied settings — hospital rooms with patients before and after surgery, in hospice with the dying, at funerals or other emotional farewells, on Alzheimer's wards, and very often, with ordinary, healthy people who want to feel better by fine-tuning their energy and thus their appreciation for the world and the people around them.
As good vibrations would have it, Stinnett went searching for a photographer to illustrate her words and found the perfect partner in Carin Roaldset. Her black and white images of nature capture the energy and express the joy of the world around us. Inanimate objects, like the scroll on a wrought iron gate or a glass inkwell come to life on the page. Her pairing of the animate and inanimate – a wagon wheel in a bed of hosta, a lantern against a flowering vine – illuminates the connectedness at the heart of Reiki philosophy.
In a world filled with global and everyday conflict, many of us are seeking ways to be more at peace. I hesitate to use the word escape because that feels too closed, too negative. As I understand it, Reiki seems to be an excellent way of interacting with other people and with our surroundings, of connecting to their positive energies. I'm grateful for what I've learned reading A Measure of Joy and I recommend it to anyone seeking a better way.
Corrine Frisch is a poet, gardener, animal lover, homemaker and former public relations director at Lincoln Library in Springfield.
A Measure of Joy – Opening to the Energy of Reiki by Gay Stinnett.