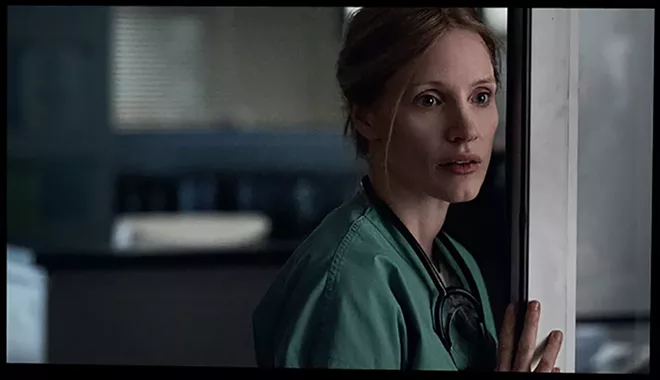 True-crime story Nurse takes different tact
While there is an intriguing true-life crime story at its core, director Tobias Lindholm takes a different tact in exploring it in The Good Nurse. Instead of the villain, serial killer Charlie Cullen (Eddie Redmayne), being the focus, the titular character is Amy Loughren (Jessica Chastain), a single mother doing her best to raise her two daughters while working the nightshift. That she is dealing with a degenerative heart condition only adds to her troubles. Doing her best to keep her condition under wraps – for fear of being fired before her health insurance kicks in on her one-year work anniversary – she ends up befriended by her new co-worker Cullen, who discovers her illness.
This friendship, how it develops and ultimately is turned on its head when Loughren learns Cullen is quietly killing his patients, is the foundation of the movie. As you would expect, the two Oscar-winners provide the sort of subtleties in their characters and interactions they have giving their relationship an authenticity that provides the film's climax with a poignant and horrific punch. It's not news that there are monsters among us, but the revelation of how Cullen was able to go on killing for years is what's truly horrifying. Streaming on Netflix.
Adam bludgeons instead of entertains
There's much too much of everything in Black Adam, except for character development and plot, that is. A loud, empty tantrum of a movie, this soft reset of the DC Comics cinematic universe is the sort of film a teenager would make, one stocked with ain't-this-cool action sequences that soon become repetitive and dull. What story there is revolves around the title character, a just-resurrected, pissed-off demigod who is the champion of the Middle Eastern country Kahndaq. Seems he was once a slave, then he was given superpowers by some misguided gods who soon realized he was a lethal weapon, and so imprisoned him.
Now that he's on the loose, he's the Justice Society's problem, Hawkman (Aldis Hodge), Dr. Fate (Pierce Brosnan), Cyclone (Quintessa Swindell) and Atom Smasher (Noah Centineo), sent to bring him in. They're horribly outmatched, leading to the endless on-screen chaos that ultimately proves numbing. There are so many things wrong with this movie, I wouldn't know where to begin. However, most obvious is that its star, Dwayne Johnson, gives a one-note performance that runs counter to his usual self-effacing persona. As a result, we can't relate to Adam or his plight and see him as nothing but a blunt instrument, devoid of personality. In theaters.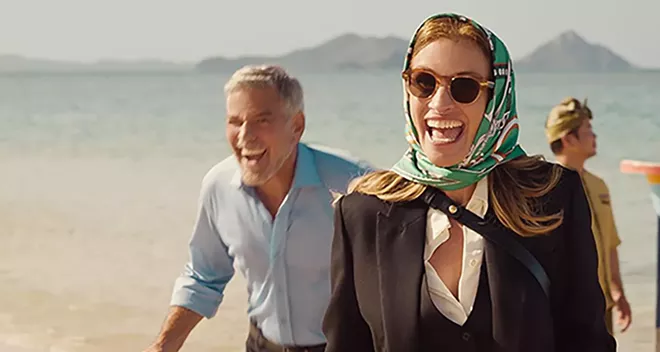 Predictable Paradise still fun
I refer to films like Ticket to Paradise as "meatloaf movies." Sometimes, you don't want any surprises when you eat. Sometimes, you just want a nice piece of meatloaf and mashed potatoes and to call it a day. There's a certain measure of comfort gained from this, and there's nothing wrong with that. That's what you get with Paradise. There isn't a single surprise in this charming rom-com and that's just fine. We get to spend time with two of our most charismatic actors – George Clooney and Julia Roberts – drink in the gorgeous views of Northern Australia (filling in for the film's Bali location) and have a laugh or two. What more could you want?
Hopefully nothing, because there's nothing else to this light-as-air concoction that's buoyed by the two stars' easy-going attitudes and their delightful chemistry. By the time you reach your car, you'll likely not remember much of this movie, but then again, the sense of escape it provides from your workday woes is the payoff. The two-hour respite gotten from taking in these shenanigans is what the film delivers. That at times it proves to be smarter and more poignant than expected, well, that's the gravy on the potatoes. In theaters.