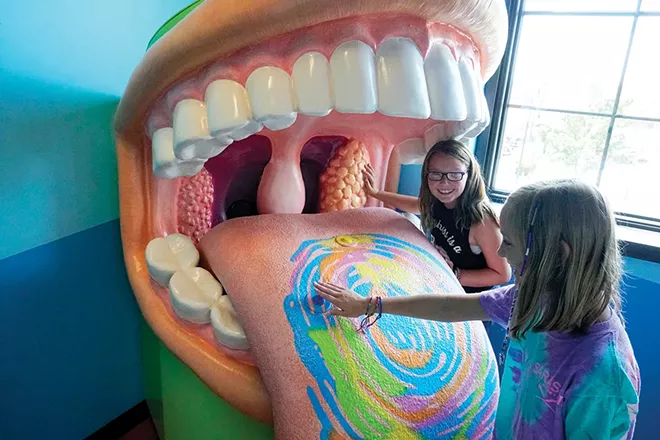 First, the bad news.


The Kidzeum of Health and Sciences on Adams Street isn't turning out as hoped when doors opened in 2018. Attendance hasn't met projections. Revenue has lagged and debt is being restructured. Premises include 5,000 square feet of empty space. The business plan is being revisited. Staff has been cut.


Public money is at stake. Before opening day, the city committed more than $1 million in tax-increment financing money for construction costs, with the state kicking in an additional $1 million. All told, it took many years to raise $7 million in public and private funds before the museum welcomed its first visitor.
Now, the museum says it needs money for operations. The plea bordered on existential during a city budget hearing last month.
"It is very easy for Kidzeum to fail, in my opinion," Karen Witter, president of the museum's board, told aldermen.


Ward 5 Ald. Andrew Proctor told colleagues that the museum's request for $50,000 won't become an ongoing ask. "It's a one-time deal – it's not going to be a multi-year request," Proctor said.


It didn't sound that way. Witter mentioned Normal, where the city gives the Children's Discovery Museum six figures a year, plus administrative support. "Do we want a partnership with the city?" Witter said. "Of course."


The museum wanted more, but alderman slashed a $100,000 allocation in half rather than take hotel-motel tax revenue away from Oak Ridge Cemetery. Beyond funding operations, it isn't clear exactly how the $50,000 would be spent. Witter told the council a subsidy would be a signal to others: "You will give us an incredible opportunity to go to the bank to tell them we have support, to go to our donors and say, 'People are invested in us,' and to give us a chance to carry things forward to be as responsible as we can to implement these programs."


Exhibits are an issue. The museum is centered largely around health, with a three-story-high figure dubbed Active Alex giving youngsters the chance to crawl through giant intestines and tickle an oversized nose to learn about sneezes. That's great for kids between 3 and 8, museum director Leah Wilson tells me, but it doesn't hold much interest for older kids, and so Kidzeum isn't on itineraries for 80,000 schoolchildren who visit Springfield each year to learn about Abraham Lincoln. There's also the matter of parking, which can be tough to find, Wilson says.


Race, also, is an issue, according to Ward 3 Ald. Doris Turner, who said she's visited Kidzeum with grandchildren four times and seen no other black people. "There's no diversity at all within those four walls, none whatsoever," Turner said. "It was always an upper middle class white organization that targeted upper middle class white kids. That has to change."


There is diversity on the staff and board, Wilson responded, but she promised improvements. "I can't change the past," she said. "I can't change a lot of things about the way Kidzeum got started."


In the end, the council allocated $50,000, but a second vote will be needed before the money can be released.


IN THE GOOD NEWS DEPARTMENT, a few folks got in touch after a recent column on Phyllis Brissenden, who died in December and left $45 million to the Opera Theater of St. Louis.


Ann Hamilton says she'd always wondered what Brissenden meant when she would talk about doing desk work. She found out when she opened her late friend's desk. Drawers were crammed with canceled checks. For years, Brissenden had been making between 40 and 60 gifts to people and causes every month. One drawer was filled with thank-you notes. Thank you for paying my tuition. Thank you for covering my medical bills. Thank you for the trip to Europe. "It was incredible," says Hamilton, who also picked up 100 or so Christmas cards sent by people who weren't aware that Brissenden had died.


Attorney and history buff Richard Hart recalls Brissenden calling him within the past two years. My niece Elizabeth is in town, she said – could you please give her a tour of Iles House? Sure, said Hart, who remembers Elizabeth saying how much she enjoyed staying at Brissenden's home on Bates Avenue and walking Brissenden's dog Fergus around the neighborhood. Not long afterward, Hart got a thank-you letter on expensive stationery.


Elizabeth, it turns out, is better known as Lady Ashcombe, keeper and resident of Sudeley Castle in England. She landed there after marrying the son of the castle's owner. After he died, she gained her title by virtue of marriage to Lord Ashcombe, who passed in 2013 and was uncle and godfather to Camilla, Duchess of Cornwall. Dating to the 15th century and set on 1,200 acres, the castle is final resting place of Katherine Parr, last bride of Henry VIII, whom she outlived.


Just goes to show: You never know who's walking pooches on your street.


Contact Bruce Rushton at brushton@illinoistimes.com.