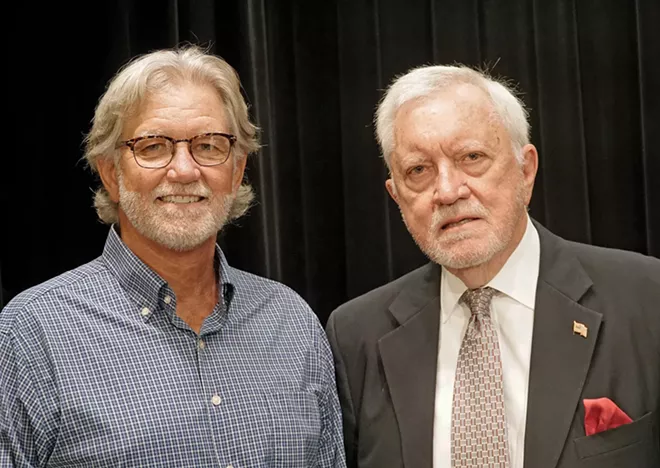 Bob Gray says the Citizens Club of Springfield has accomplished many of the goals he set as founder and president since the club's inception 16 years ago.
"I think we've done a good job at getting a good mix of ideas and civil conversations on major issues," Gray told Illinois Times after his retirement from the volunteer post in July. John Kelker, the club's new leader after retiring in April after 26 years as president and chief executive officer of United Way of Central Illinois, said he appreciated Gray's work and plans to continue the club's tradition as an 'apolitical' group that doesn't take stands on issues.
"We don't want to tell people what to think but hope to help them know what to think about," Kelker said.
The club's board of directors and other club members are planning to recognize and thank Gray for his leadership at a public reception in the near future, he said.
Gray, a widower who retired from the state in 2002 after a long career in vocational education and other education work, said he turned 82 in March and "just reached a tipping point where it was time for a change."
Gray said he will remain involved with the club, which generally meets the fourth Friday of each month in the Club Room of the Hoogland Center for the Arts, 420 S. Sixth St.
On those days, club meetings, which are open to the public, include a coffee reception that begins at 7:30 a.m. and a public program from 8 to 9 a.m.
Speakers brought in by the Citizens Club have included local and statewide politicians seeking office and area experts to discuss everything from the Hunter Lake proposal, race relations, health care, fracking, an efficiency study on the Springfield Fire Department and the impact of the COVID-19 pandemic.
The club includes a president, vice president, secretary and treasurer among its board members, who serve alternating three-year terms. The president serves a two-year term, and there are no term limits.
Gray has lived in the Springfield area – first in unincorporated Woodside Township and then in the city – since 1966. He said he got the idea for the Citizens Club from the City Club of Chicago, which bills itself as "Illinois' premier public affairs forum since 1903."
"My feeling was that people needed to know more about what was going on," Gray said.
He was born in West Frankfort and grew up in several communities in southern Illinois, later earning bachelor's and master's degrees in industrial technology from Southern Illinois University at Carbondale. He has one son, Kent Gray, a lawyer based in Springfield.
Bob Gray, who is white, conservative and a former Republican precinct committeeman, said he is proud of the diverse range of people who have participated in the club.
Founding members included prominent Black Springfield residents who have since died, including Rudy Davenport, James Forstall and Kenley Wade Jr.
Other founding members include Ward 9 Ald. Jim Donelan, Willis "Bill" Logan and John Allen.
The club tries to schedule speakers so various sides of issues can be discussed and debated, with time set aside at each meeting for questions from the audience, Gray said.
Attendance at the club's meetings, which used to range from 100 to 125 people and sometimes attracted several times as many – has dropped during the COVID-19 pandemic, he said. Attendance currently averages about 50 to 60 per meeting.
Gray, who received the First Citizen award from The State Journal-Register in 2009, said he thought more community leaders would regularly attend club meetings. That's an area that could be targeted for improvement in the future, he said.
But Gray said the breadth of topics explored at club meetings was better than he expected.
Kelker, 64, was born in Pennsylvania and raised in Ohio and in Wheaton, Illinois. He first moved to the Springfield area when he came to attend the now-closed MacMurray College. He played goalkeeper on the soccer team and graduated with a bachelor's degree in psychology in 1980.
Kelker said he doesn't plan changes to the club "in terms of what Bob has built." The group's goal is to illuminate and explore issues, he said.
"My intent is never to be adversarial," he said, adding that the lack of a political bent helps the club promote discussion of issues affecting the state capital.
"It's a politically divisive community," he said.
Kelker said he is working with John Stremsterfer, president and chief executive officer of the Community Foundation for the Land of Lincoln, to formally incorporate the Citizens Club as a tax-exempt organization so donations to it will be tax-deductible.
Kelker also plans to delegate more tasks and has put in place committees to promote engagement by members.
He only had compliments for Gray and the club's other pioneers.
"I think Bob should be thanked for being a visionary," Kelker said.
He said Gray and others have done "yeoman's work" in developing a relationship with the Hoogland center and arranging for livestreaming of club meetings and archiving of videos on the club's Facebook page.
Dues to join the club and offset expenses for the all-volunteer organization are $30 per year.
Anyone wishing to be included on the club's email list, which has 700 to 800 recipients, can send a request to citizensclubofspringfield@gmail.com.
Upcoming programs include the Oct. 28 meeting, which will feature the Heartland Continuum of Care's soon-to-be-released strategic plan for addressing homelessness in the region, and the Dec. 16 meeting, which will feature Dr. Janet Gooch, new chancellor of University of Illinois Springfield.
Dean Olsen is a senior staff writer for Illinois Times. He can be reached at dolsen@illinoistimes.com, 217-679-7810 or twitter.com/DeanOlsenIT.