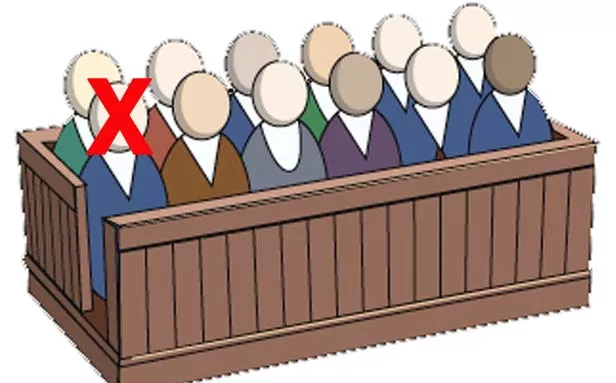 Here's a recap for those who spent the past few weeks standing in line at Walmart: In November, Bill Cellini, Springfield's very own robber baron, was convicted on federal charges of attempting to extort a Hollywood producer eager to protect a profitable business deal with a State of Illinois agency. After the trial, it was revealed that one of the jurors failed to reveal to the court that she had been convicted on charges of crack-cocaine possession and aggravated DUI, facts that might have led to her not being seated on the panel. Mr. Cellini's lawyers hustled back to court to move for a mistrial with that glow that one sees only in people who have been given reason to believe that prayer really does work.

The incident made me think of the Monty Python sketch in which a Russian military officer, in charge of a firing squad that has just failed to hit its target, exasperatedly cries out, "How could you miss?" It was just such revelations that led to the dismissal of two jurors during former Gov. George Ryan's trial in 2006. Federal prosecutors put in place their own background check procedures to prevent such a farce repeating itself, at least in so-called high-profile cases (that is, cases with the potential to embarrass Mr. Patrick Fitzgerald, the U.S. attorney). Yet those background checks weren't used in the Cellini trial.

While the judge searches for a rationale sufficient to save the case for the prosecutors, we can take up the larger issue, which is what needs to be done to save the criminal justice system from biased jurors. Illinois law requires that jurors be "free from all legal exception, of fair character, of approved integrity, [and] of sound judgment." More than 30 states do not allow felons on juries because they presumably fail those tests. Illinois does allow them to serve, but then Illinois, as the recent parade of political figures through the Dirksen Federal Building has made clear, defines "character" and "integrity" pretty generously.

Don't get me wrong. I have no problem with convicted felons being allowed to take part in Illinois civic life. It's only fair, considering how very large is the part played in it by unconvicted felons. A criminal past is thought to matter to trial attorneys, but only because going through the criminal justice system biases a person against cops, judges and courts. No state, however, assumes that a member of the propertied class might be biased in favor of cops, judges and courts for their success in keeping the blacks and the browns off their front lawns.

A record of past convictions doesn't necessarily make it impossible for ex-cons to be impartial, but it makes it nearly impossible for prosecutors to trust that they will be. The specific issue in the case of the Cellini juror is not that the juror in question (since identified as a woman named Candy Chiles) might have lied to the court – not whether she is a legal juror, in short, but whether she is a fit juror. Sympathetic observers have speculated that Ms. Chiles might have merely been embarrassed to admit to her past, feared that disclosure might cost her a job or stigmatize her family or simply didn't understand the rules. Cellini's lawyers note that when the judge asked her whether a DUI she had disclosed on her jury form was her conviction or someone else's, she answered "someone else." That sounds like a lie, even in Illinois.

Among the other factors assumed to create bias are being related to the parties in a case, having a vested or personal interest in the outcome and having been paid or coerced to render a particular verdict. I have known and liked Bill Cellini since I was a boy, but while I cannot be disinterested, I believe I could be fair. I also believe that no prosecutor would believe me when I say that.

The holdout in the first Blagojevich trial arguably was biased because of her experience as a State of Illinois employee. As I noted in "Tangible rights" (June 23, 2011), she concluded that Blagojevich in fact did what the feds alleged, but that what he did was not a crime, because in Illinois rewarding politcal allies with state grants is merely politics. Is that a bias, or a judgment?

Of course, if the courts insist on clean juries they won't be able to seat many juries at all. There are alternatives, but none will be tried until we accept that in Illinois, as in most places, finding the proverbial 12 men good and true to fill a jury box is even harder than finding the truth in a courtroom.

Contact James Krohe Jr. at KroJnr@gmail.com.